Forever diva Sophia Loren won 22 international awards for "Two Women".
Sophia Loren is among those few women in the world who have withstood the test of time. The most acclaimed international actresses of all-time, Loren had earned the first Oscar nomination for a non-English speaking role for an actress for the movie Two Women in 1960.
Sophia Loren (born 1934) has covered in acting career over 50 years and acted in more than 60 films. Her work has earned virtually every major acting award the international film community has to offer.
An Academy Award-winning Italian actress, Sophia is often listed among the world's all-time most attractive women. Here are the top 10 pictures of Sophia during her young times.
10. Boy on a Dolphin
Sophia Loren's English-language debut movie, Boy on a Dolphin.
SOURCE: Amazon
Sophia first starred in the English language movie in 20th Century Fox romantic film named "Boy on a Dolphin". The actress starred opposite Alan Ladd and Clifton Webb, with   Alexis Minotis and Laurence Naismith in support.
9. Her own story(1980)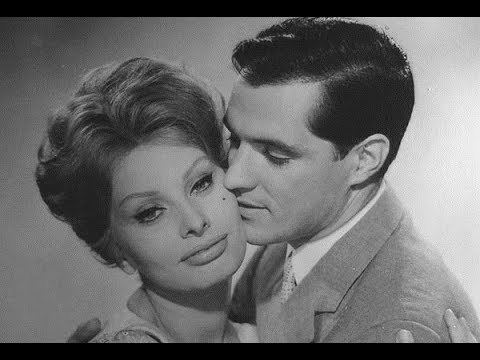 Sophia played the role of her own mother in a dramatized television film about her life.
SOURCE: Youtube
In this dramatized television film, "Her Own Story" about her life, Italian actress Sophia Loren played the role of her mother herself who gave birth to Sophia in a home for unwed mothers after becoming pregnant by a man who claimed to be a film producer.
8. Sophia awkward moment with bombshell actress Jayne Mansfield.
Sophia and Jayne Mansfield.
SOURCE: Reddit
Though Sophia Loren and Jayne Mansfield didn't know each other at all, they will always be cosmically bonded by this legendary photo.
7. Sophia Loren's love for jewelry
Jewellery lover Sophia Loren.
SOURCE: nasvete
In the above photo of 1956, Italian film actress Sophia Loren is in awe of a Cartier 200 grain pearl ring in a Parisian boutique. She did not buy anything there, the jewelry boutique managers gave her a bronze Eiffel tower.
6. Two Women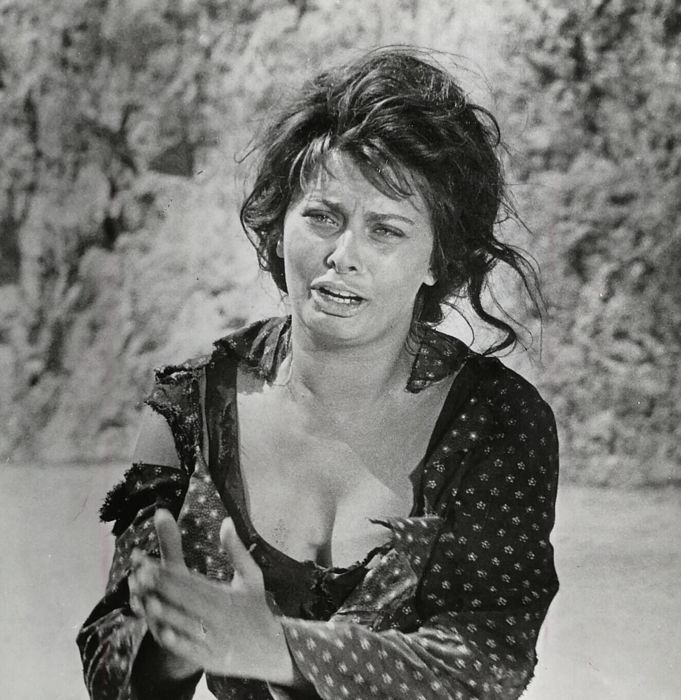 Sophia's emotional scene in the movie "Two Women".
SOURCE: Catawiki
In "Two Women", Sophia portrayed a shopkeeper enduring the horrors of World War II with her adolescent daughter in Vittorio De Sica's landmark drama. In the scene above, Sophia was screaming and throwing rocks at the troops in the Jeep.
5. The Pride and The Passion
Sophia starred with Caty Grant in the movie The Pride and the Passion.
SOURCE: Kitt Noir
English-born American actor Cary Grant and Loren had begun a romance while filming 1957's "The Pride and the Passion". Though the actress declined his proposal for marriage, he continued to woo her during the making of the "House Boat"
4. Oscar winner Sophia
Sophia won Oscar for Best Actress for her role in, 'Two Women'.
SOURCE: Pinterest
Sophia Loren received an Oscar for her performance as Cesira in "Two Women" directed by Vittorio De Sica in 1962. She became the first woman to earn an Oscar for a performance in a foreign language film.
3. The Millionairess
Sophia Loren as played as Epifania Parerga.
SOURCE: AmazonItalian actress Sophia Loren as played as Epifania Parerga in The Millionairess, British romantic comedy film and is a loose adaptation of George Bernard Shaw's 1936 play of the same name set in London which was directed by Anthony Asquith.
2. Sophia Loren Portrait Photo
Sophia's portrait by  Wallace Seawell.
SOURCE: Chairish
Italian actress Sophia Loren is forever young and beautiful in this fabulous portrait taken in 1959 by Wallace Seawell.
1. Cannes Film Festival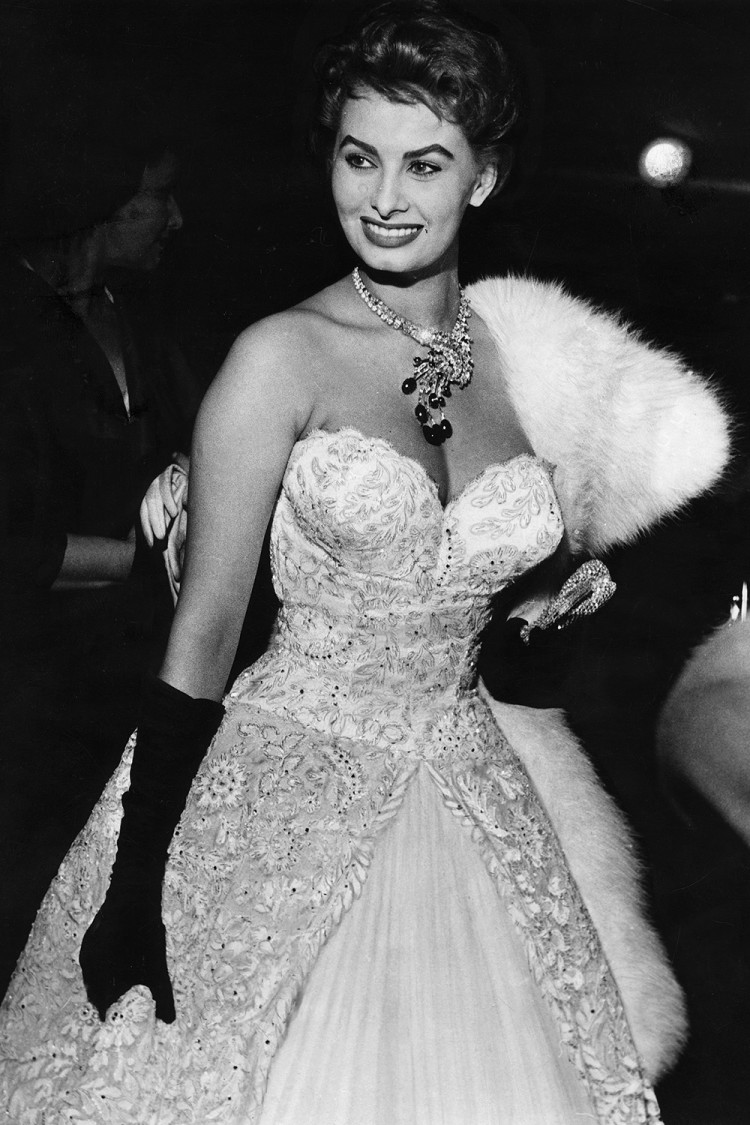 Sophia stunning in Cannes Film Festival 1955.
SOURCE: InStyle
Sophia Loren looked dead drop gorgeous while attending the Cannes Film Festival in 1955. The actress caused a stir at the red carpet, becoming the most photographed woman at the event.
Ever beautiful Sophia was honored with yet another acting award just last year at the Film by the Sea Festival. Sophia visited the Netherlands to accept the Grand Acting Award from the Dutch Minister of Culture.