Uncategorized
Cheech and Chong's Up in Smoke Hits 40 With Deluxe Strain
Wanna get the 40th Anniversary Edition of Up In Smoke? Does Howdy Doody got wooden balls?
"Dope, drugs, weed, grass, toot, smack, quackers, uppers, downers, all arounders, you name it we want it," LA drug cop Sgt. Stedenko demanded of a local dealer in the 1978 classic stoner movie Up In Smoke. Now that recreational drugs are available in legal in California, Cheech and Chong are making the film street legal. To celebrate its 40th anniversary, Paramount Home Media Distribution will drop the ultimate stoner comedy on Blu-ray Combo Pack and DVD April 10, 2018.
A special Deluxe Collector's Edition will arrive the following week on 4/20 from Rhino. The CD features a newly recorded "2018 version" of the title song "Up In Smoke."
"Where did the time go? 40 years ago we made low budget movies that grossed over 100 million and are still being watched all over the world! And it also helped legalize an important medicine," Thomas Chong said in a statement. "I am so proud that a movie bearing a title of a simple song I wrote would be so influential for so many years."
After the comic duo sold over 10 million albums sold, were nominated for four Grammy Awards a and won the Best Comedy Recording Grammy for Los Cochinos, Cheech Marin and Tommy Chong made their feature film debut in Up In Smoke, in 1978. The film established the pair as the reigning comedy duo of a new generation. 
"The greatest thrill is making your first movie and this one has been seen and been influential all over the world for over forty years," Richard "Cheech" Marin said in a statement. "Up in Smoke started stoner movies and is still going strong so smoke it up one more time."
In the film, Cheech and Chong play "wannabe musicians and stoners who unwittingly smuggle a van made of marijuana from Mexico to L.A.," according to the official synopsis. "Their drug-laced humor keeps their spirits high as they unknowingly elude the police and meander their way to an outrageous finale at the Roxy Theatre in Hollywood where Cheech performs in a pink tutu and Chong plays drums in a red body suit with a Quaalude logo."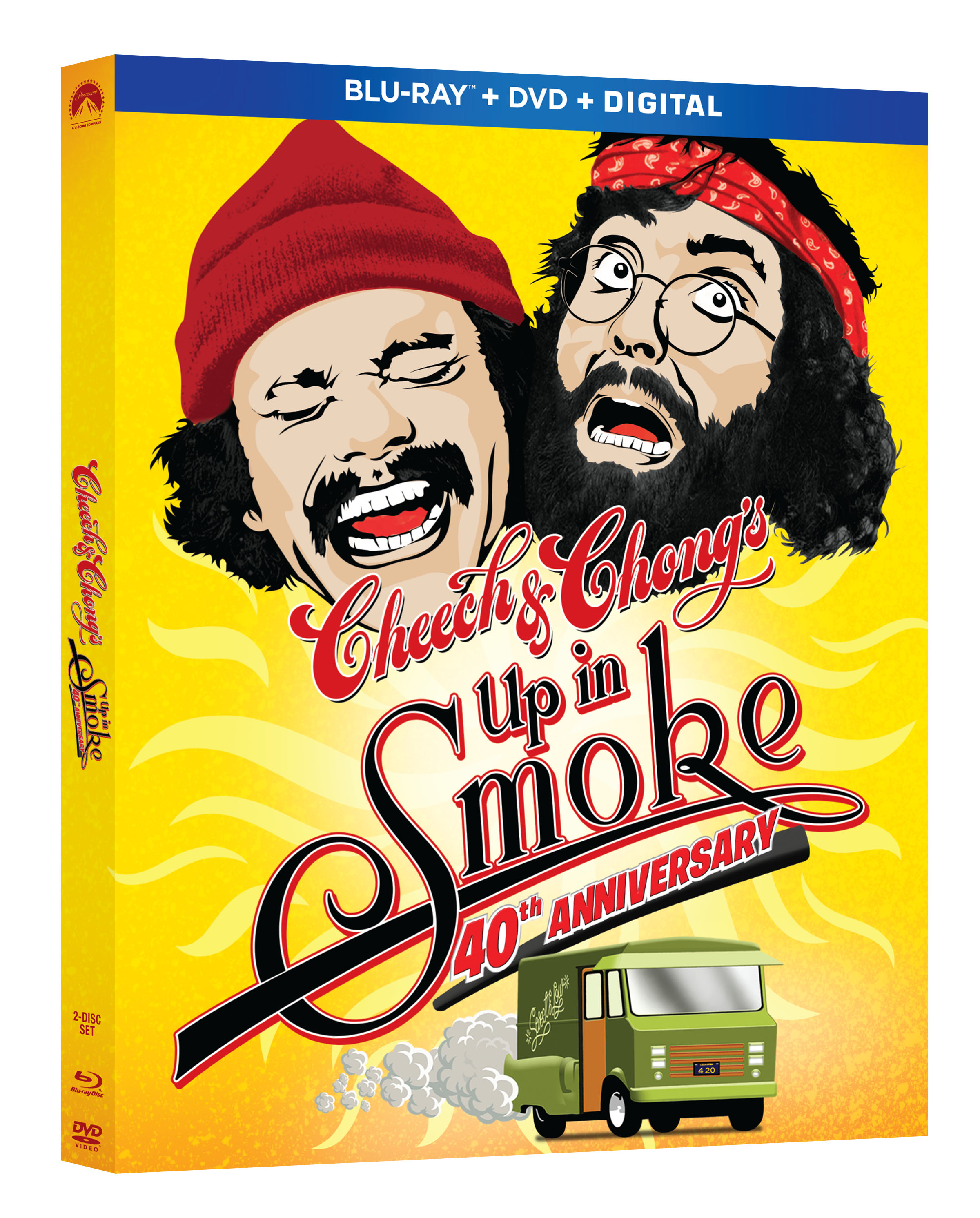 The Blu-ray Combo Pack features a brand new short-form documentary entitled "How Pedro Met the Man: Up In Smoke at 40," which chronicles the duo's history. The minidoc also explains the origins and impact of the film itself. The documentary incorporates new interviews with Cheech Marin, Tommy Chong and producer/director Lou Adler along with archival footage. 
The Up In Smoke Deluxe Collector's Edition comes with oversized "Up In Smoke" rolling papers, a film poster, and booklet with new essays by both Cheech Marin and Tommy Chong. The CD also features a previously unreleased version of the "Up in Smoke" from 1978 with an additional Spanish verse by Cheech. It also includes an "Earache My Eye" animated music video featuring Alice Bowie, and Cheech & Chong's "The Man Song."
Paramount Home Media Distribution will drop Up In Smoke on Blu-ray Combo Pack and DVD April 10, 2018. Rhino Entertainment, which reissues music from Frank Sinatra, Jeff Beck, Cyndi Lauper, Led Zeppelin, Eagles, David Bowie, Fleetwood Mac, Aretha Franklin, The Doors, Chicago, Ray Charles, Black Sabbath, John Coltrane, Yes, Phil Collins, The Ramones, and The Monkees, will issue the CD on 4/20.