M*A*S*H
Gary Burghoff Experienced A Hilarious Wardrobe Malfunction Filming 'M*A*S*H'
Wardrobe malfunctions can hit anyone, usually sending some garment falling to the ground. Even MAS*H experienced this phenomenon. Because this occurred when filming the movie, it did not involve the likes of Alan Alda or even Jamie Farr with his famously evolving wardrobe. Instead, the blooper involved Gary Burghoff. Additionally, instead of a piece of clothing slipping down or off, these pants simply refused to.
In the show, Captain O'Reilly, known affectionately as Radar, was usually involved in fun scenes, though the character was prone to awkwardness. Jump backwards to the film, and his character was a bit more cunning. Some of his impending series awkwardness came through during a film outtake, though not as the scripts wanted. The accident still feels consistent with his character, but it definitely interfered with filming a scene.
Gary Burghoff stumbles on a wardrobe malfunction with some stubborn pants trying to shoot 'M*A*S*H'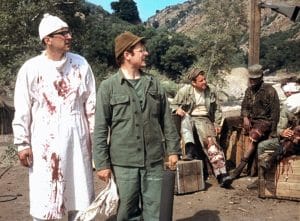 The film version of M*A*S*H, inspired by Richard Hooker's 1968 novel of three army doctors, was released in 1970 and would become one of 20th Century Fox's biggest movies of that decade. For how easily it came across as a recipe for success in the final product, it had a few slip-ups only visible behind-the-scenes.
During one scene of the film, Colonel Potter asks Radar to help him taking his pants off. Radar does as instructed – or tries to. He partly succeeds but with great effort and the pants prove very stubborn and resilient. It turns out this was definitely a task to recruit help for, but even with assistance, the pants stay put. Eventually, Burghoff gets the pants partly free but with one leg still stubbornly stuck. Finally, Burghoff stops trying and gives the crew a beseeching look for help. That scene did not unfold as intended and they had to reset.
Despite leaving, Gary Burghoff was a point of consistency for 'M*A*S*H'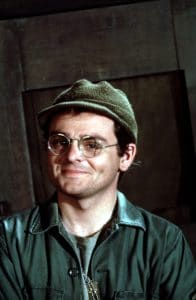 Fortunately, the crew was able to make some changes so Burghoff could remove the pants easier. Those were not the only alterations made. As with any adaptation or change in medium, alterations were made to the character of Radar from book to film to TV. The 1970 movie and the series that ran from '72 to '83 featured many of the same characters but with a different cast and some characterization changes. For instance, Radar was more sneaky in the film and practically ran a side business for scams and peeping tickets.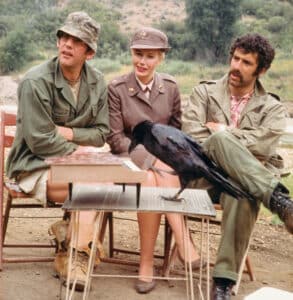 Actor Gary Burghoff noticed that other characters were changing from film to show and worked with writer Larry Gelbart to allow the same for Radar, turning him into less worldly, more innocent, and prone to awkwardness. He offered a youthful, hopeful side to the gritty subject matter that allowed for a blend of humor and seriousness as needed. Burghoff was the only actor playing a main character to transfer over from the movie to the series, so the character was both familiar and new to him. He would eventually lessen his appearances to focus on his family, but Burghoff is forever one bridge between the two entries in the franchise.