Marilyn Monroe is one of those few people whose name triggers attraction, love, respect, and intrigue. Rightly called the biggest icon of the 20th century on many different occasions, she shone on the screen so well that few to none could make out the troublesome life she had led behind the scenes. Many of her films were comedies and musicals, adorned with songs and dance numbers, as well as naughty screwball humour, all of which worked well because Marilyn was handling them.
The list includes some of the most steamiest scenes Marilyn Monroe has done. While there are several movies where you can find Marilyn Monroe nude or sexy, this list mostly deals with movies where she was her sensual best. So, if you are looking for hottest naked Marilyn Monroe pics or her topless photos, you might have to look somewhere else.
10. There's No Business Like Show Business (1954)

One of my favourite Marilyn Monroe songs is Lazy, and the way she performs it is so well choreographed. Wearing a skinny low-cut outfit to further exemplify the character's persona, her singing in particular aids well in giving this scene a necessary bump in its allure. With two background dancers to her aid, Monroe moves around the stage with pure grace and charm, and though its a very energetic scene, there's also something quite relaxing about it.
9. The Prince and the Showgirl (1957)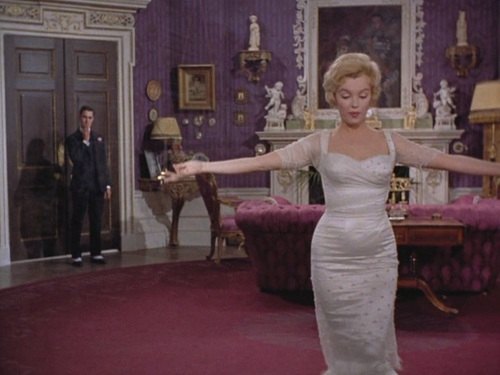 Laurence Olivier plays alongside Monroe in a film he directed himself, following the story of a wealthy prince who falls in love with a performer he sees by chance. After she has been invited to his place, the scene picked for this spot on the list takes off, starting with Monroe dancing about by herself in a lonesome room, wearing a dress dipped in beautiful white, only to be interrupted by Olivier's prince, for whom she sings, as the two slowly start getting closer to each other. Marilyn in this film is nothing short of otherworldly.
8. Niagara (1953)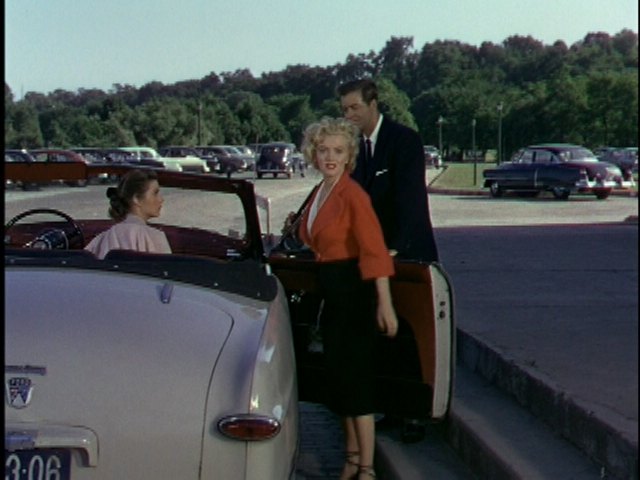 Playing the role of a femme fatale in a film-noir brings with it a seductive, mysterious aura that dictates every move made by the character. This is the case with Marilyn Monroe's as well, and there are a couple great sensual bits sprinkled throughout the film, a popular one being with her nude in bed, covered by a thin blanket, tossing and turning, as well as appearing troubled. I think that scene is great, but the famous "walk" from the film is my pick for this list, simply because no one could have pulled it off as perfectly as she did.
7. How to Marry a Millionaire (1953)
Marilyn Monroe didn't just get famous for her good looks. She does look very desirable in most of the films that handle her performances, but she was a fine actress as well, with excellent comedic timing. The sexiest scene in 'How to Marry a Millionaire' saves a second to showcase this aspect of her talent. Following the story of three women tired of cheap men and looking forward to getting millionaires using their assets, there's quite the stage built up here for provocative filmmaking (for its time), and the modeling scene where Monroe wears this tight orange outfit for the pleasure of a rich man takes the cake for me.
6. Gentlemen Prefer Blondes (1953)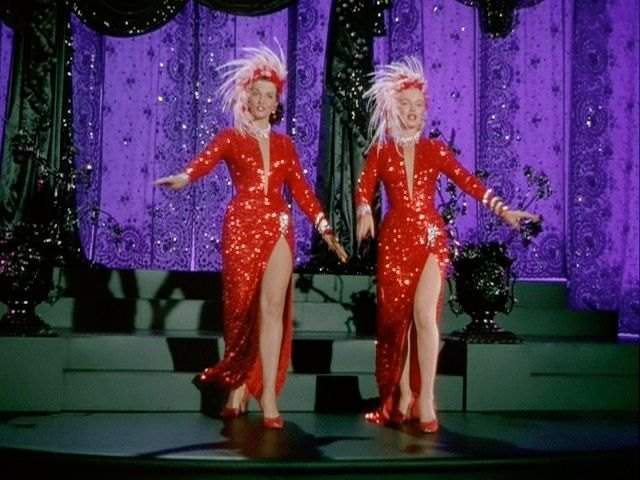 To pick out a sexy scene from a film as innocent as this should be hard, but there are quite a couple of moments here that could be interpreted differently, and so I simply had to put it in. There's the really intimate scene where Monroe sings "Bye Bye Baby" to a man, and there's the silly bit where she gets herself stuck in the round window of a ship, further having to ask help from a boy who sees her in order to cover up some of her previous actions as she stays sticking halfway out. These scenes are pretty sexy for their time, but they don't come close to her sensational rendition of Two Little Girls from Little Rock along with Jane Russel, a song they sing and dance to on stage, all the while wearing this attractive red outfit that reveals quite a bit.
5. Bus Stop (1956)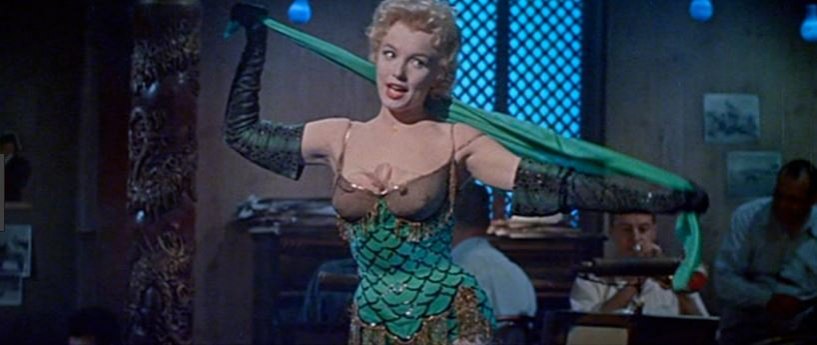 'Bus Stop' in an interesting film from Marilyn Monroe's filmography because it sees her performing in a non-musical drama that only has a handful of comedic moments, as she plays the role of a singer taken away by a man who wishes to marry her, though she hasn't given consent. There's a scene early on where a friend of her's and she both spot photographers from a famous magazine come their way, and as Marilyn bends over to grab her lipstick, they snap a picture and leave. The one I've chosen for this list has her wearing a flashy green outfit (resembling a parrot) that shows more than it covers. She starts bickering with a man, and proceeds to leave, at which points, he grabs her by the outfit's tail, ripping it off.
4. Some Like It Hot (1959)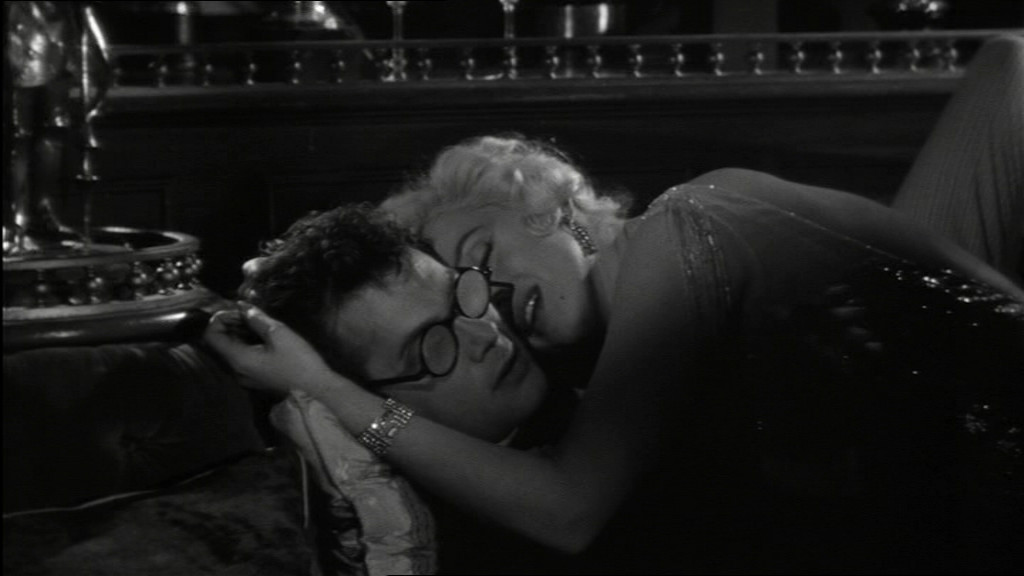 Some Like It Hot has Monroe wearing the most revealing outfit she's ever worn in a film, and this surprising scene sees her giving a man lessons on how to kiss. Being the screwball comedy it is, the film has some fun with the activity, having the man subtly and not-so-subtly ask for more, and getting Monroe's character to repeatedly oblige. To have a scene of this kind in a movie released under the careful eye of the Hays Code was quite amazing by itself, and the fact that the picture ended up being a success helped with bringing the Code closer to its eventual demise.
3. The Seven Year Itch (1955)

In what is arguably the most iconic scene Marilyn Monroe ever did in her career, she and a married man (who happens to be hopelessly in love with her) walk out of a cinema theatre after watching The Creature from the Black Lagoon. Upon exiting, Monroe takes notice of the breeze blowing through a grate as a subway line passes by underground. In her legendary outfit, she stands above the grate which then blows her skirt up high, much to the man's amusement. They hold a conversation throughout this scene that ends in a kiss which actually comes out of nowhere.
2. Something's Got to Give (1962)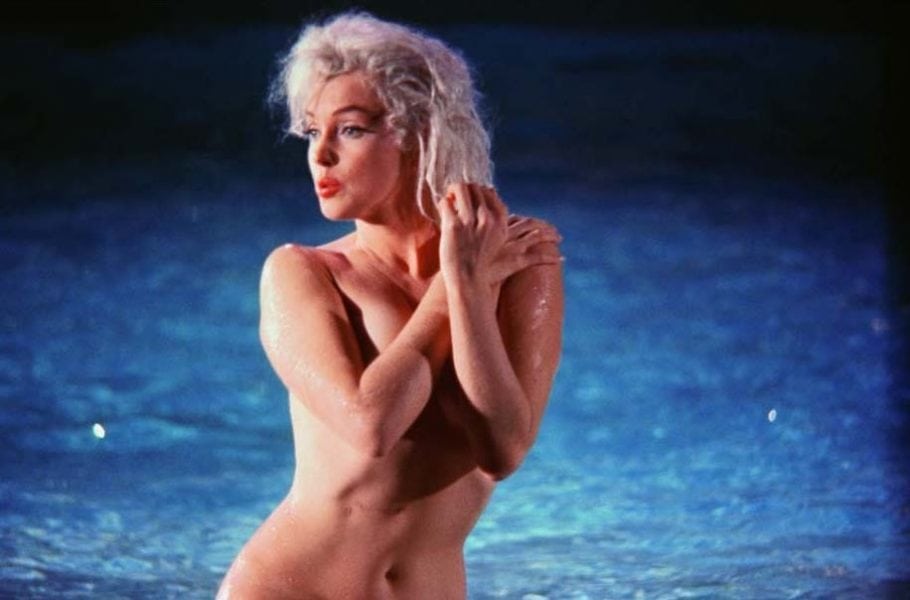 It is really something to think over now, that if the unfinished 'Something's Got to Give' had been released as planned (and not halted abruptly my Monroe's firing from the project), it would have made its lead actress the first ever mainstream star to go nude on film. The infamous pool scene, which is what I'm referring to here, sees Marilyn call out Dean Martin's character to join her in the pool. He tells her to get out, but then realises that she isn't wearing a single piece of clothing. Marilyn wanted to increase the publicity of the picture using her naked body, and the film features a bit where the viewer sneaks a peek at her bare behind.
1. Let's Make Love (1960)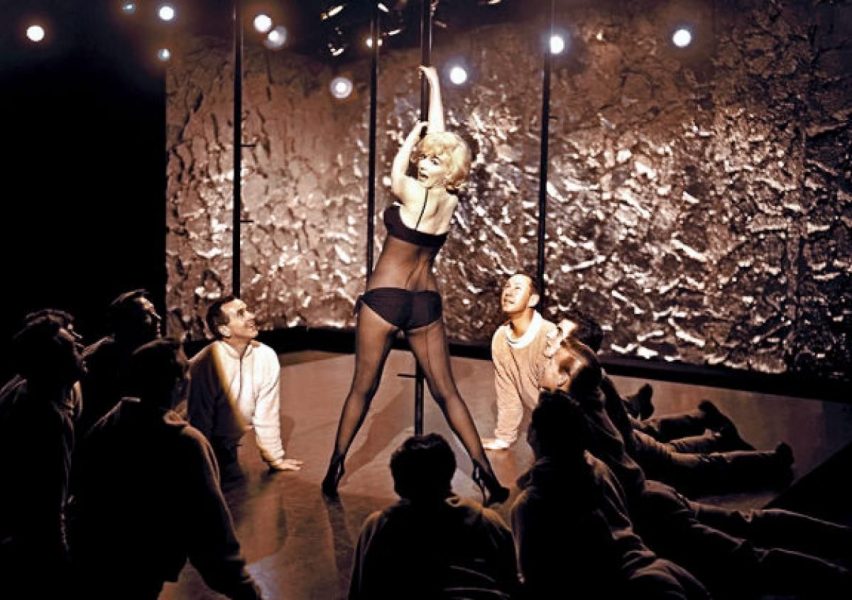 "My name is Lolita, and I'm not supposed to play with boys". 'Let's Make Love' changes the opening lyrics of the original song My Heart Belongs to Daddy and gives Monroe one of her hottest musical performances ever. Wearing only a long, transparent pair of stockings and a light blue sweater, she swirls around poles and a bunch of dancing men while giving her own rendition of the classic. It's not just the outfit that makes this scene sexy, there's also Marilyn herself, allowing the camera to capture some of her most seductive expressions, and comes packed with the energy of her incredible sway. She ends it by taking the sweater off.