The Three Stooges were one of the most notorious and popular comedy acts of the 20th century. Known primarily for their slapstick style of humor, much has been forgotten about their contribution to society during the USA's darkest times. The following 10 facts not only focus on this historical aspect but also the trials and tribulations these men endured in their professional and personal lives.
10The Great Depression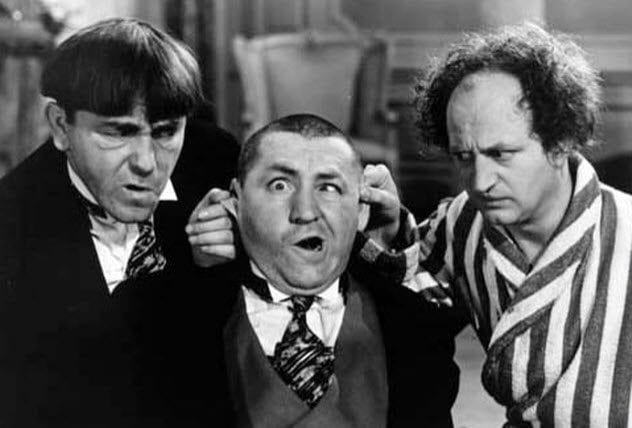 The Three Stooges rose to fame during the Great Depression, some of the darkest years in US history. As the country and the world were falling deeper into despair, the Stooges forced a smile in the hopeless with their dim-witted antics, their relating to the common man, and their refusal to give up in the face of economic adversity.
A recurring theme in the acts of the Stooges was that of anti-aristocracy and anti-wealth, which was popular in Depression-era films of the time. Instead of audiences watching glamorous lifestyles on-screen (which were the polar opposites of their own lives), the Stooges mocked the wealthy and their "hoity-toity" social settings.
Society's elite was often victimized by the trio via a pie to the face as well as being made to look like complete fools. This contributed to a significant uplifting to the morale of downhearted Americans.
9Stolen Profits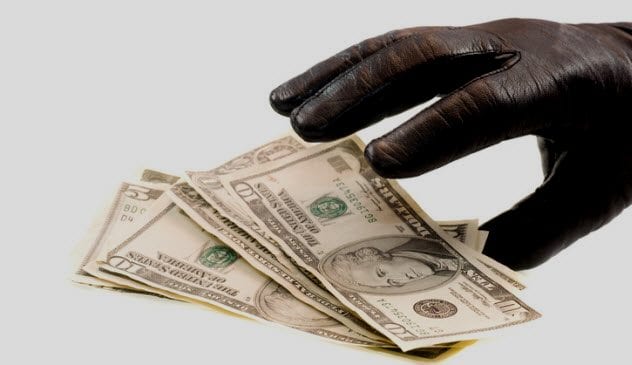 Joe ("Curly Joe") DeRita, the last surviving Stooge, joined the trio in 1958 and remained for more than a decade. While an ailing DeRita lay on his deathbed in 1993, his share of the merchandising profits he had continuously received for over 25 years suddenly dropped.
DeRita's wife, Jean, and the granddaughter of Larry Fine filed suit against Moe's daughter and grandson, claiming that Moe's heirs had cheated them out of $5 million. The families of the trio began a bitter and public feud, with DeRita and Fine seeking a court injunction to freeze all funds until Moe's heirs accounted for the missing profits.
As if the lawsuit wasn't already reminiscent of a Hollywood soap opera, Bela Lugosi Jr.—son of the renowned Hollywood vampire Bela Lugosi—was hired to represent DeRita and the Fine family. Ultimately, Moe's grandson and daughter were found guilty of a breach of contract and ordered to pay $2.6 million.
8Unceremonious Exit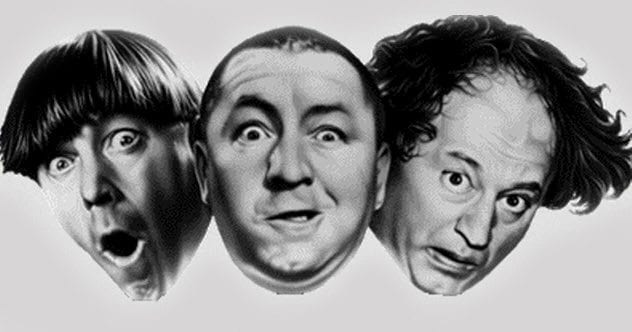 In December 1957, The Three Stooges were blindsided when they were unceremoniously fired from Columbia Pictures. After 24 years of making low-budget shorts for low income in comparison to the millions of dollars their comedies reaped for the studio, there was not so much as a "farewell" or "thank you."
However, the most crushing blow came a few weeks later when Moe arrived at the studio to say a final goodbye to several studio executives. He was never given the chance, being denied entry at the gates by a security guard because he didn't have that year's current studio pass.
At the time of the Stooges' exit, Columbia Pictures had enough completed films on the shelf to release for another 18 months.
7Manipulation And Greed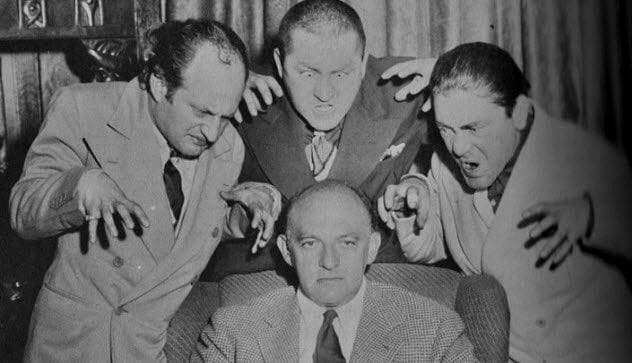 Harry Cohn, president and chief of production at Columbia Pictures, once remarked that running the studio was "better than being a pimp." Although enormously talented in producing quality films and transforming Columbia into one of the biggest movie factories in Hollywood, he garnered a reputation as a combative and unlikable figure who relished terrorizing his employees. Even after Curly suffered multiple strokes, Cohn forced the debilitated comic to continue working with no regard for his well-being.
Cohn was not only demanding in terms of his expectations from his actors and staff, but he was also a master manipulator. He enjoyed taking advantage of the Stooges financially, keeping them underpaid throughout their entire careers. Even when the trio's film shorts enjoyed a sudden revival on television, Cohn left them "out in the cold," earning millions in profits while the Stooges made nothing.
6Unnecessary Violence
Although The Three Stooges will forever be remembered for their slapstick humor, few know of the true violence that actually took place on set. In fact, the director making the two-reeler at the time determined the violence quota per film.
In particular, director Jules White paid little regard to the safety of the Stooges, leaning heavily on unnecessary violence that injected "many grotesque and overly cruel gags." At White's insistence, mallets, scissors, and saws were frequently incorporated to heighten the measure of violence in a scene.
These selfish and brutal demands were often met with physical injuries such as sprained ankles, fractured ribs, broken bones, and cracked teeth. According to Moe Howard—who broke his nose during a take—such injuries were commonplace on set.
5Hitler vs. The Stooges
In the 1930s, Adolf Hitler's front men had great influence on Hollywood executives and their studios, such as Warner Brothers, 20th Century Fox, and MGM. In turn, this led to the censorship of US-made movies due to the insistence of Nazi screeners to halt any criticism toward Hitler's regime. Unfortunately for Nazi Germany, The Three Stooges were among the very first in cinematic history to expose Hitler for who he was.
According to film historian Michael E. Birdwell, the Stooges and Columbia Pictures were not deterred by the nation's policy of neutrality under which no studio could produce anti-Nazi films. They were able to do so because film shorts were not as closely regulated as feature films.
Thus, their first film, "You Nazty Spy," went unnoticed. That film, in particular, satirizes Hitler while simultaneously bringing light to book burnings, Nazi leadership, and concentration camps. It has been said that the comedy trio ended up on Hitler's kill list—which we can safely assume was very long—along with Charlie Chaplin and Jack Benny.
4Food, Booze, And Women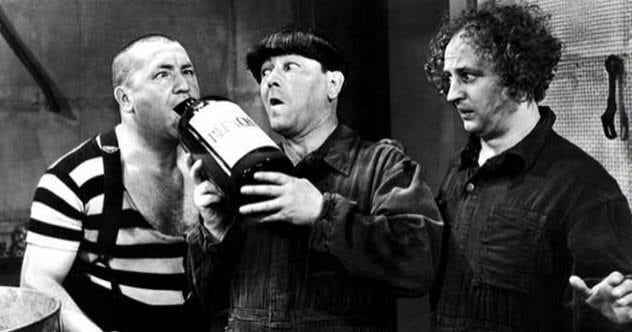 Generally regarded as the most popular Stooge, Curly carried his heart on his sleeve and was generous to a fault. He drank heavily, blowing nearly all his income on wine, cars, dogs, and houses.
However, his greatest weakness was women. Given his immense insecurity, he unknowingly allowed himself to be taken advantage of in return for companionship. Following a marriage annulment at an early age, Curly embarked on a succession of unions with binge drinking and eating in between.
In 1945, he married Marion Buxbaum, a divorced blonde with a 10-year-old son. The marriage was turbulent, and Curly spent a fortune on jewelry and fur coats in an attempt to keep her happy—but to no avail. They divorced nine months later in a very public and bitter legal battle.
Soon after, Curly's health rapidly declined as he fell into his old habits. His obesity worsened as did his hypertension, leading to retinal hemorrhages and ultimately a stroke.
3Larry Fine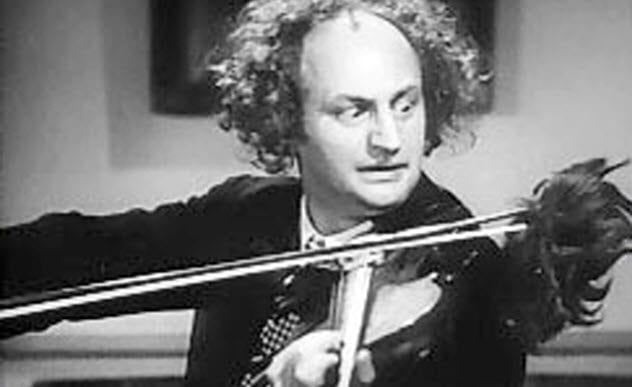 Many would find it surprising to learn that Larry Fine was a classical violinist and pianist. He also had a serious gambling addiction as well as reckless spending habits that nearly forced him into bankruptcy following his termination from Columbia Pictures in 1957.
Aside from his personal faults, Larry's life was marred by sadness. He was in and out of hospitals as a child due to acidic burns to his arm that caused muscle damage. In November 1961, his 24-year-old son, Johnny, was killed in a car accident.
However, his deepest depression came six years later when his wife, Mabel, whom he worshiped, died unexpectedly of a heart attack while the Stooges were on tour. He suffered a massive stroke three years later, ending his career and leaving him confined to a wheelchair in a nursing home where he died in 1975.
2The Murder Of The Stooges' Founder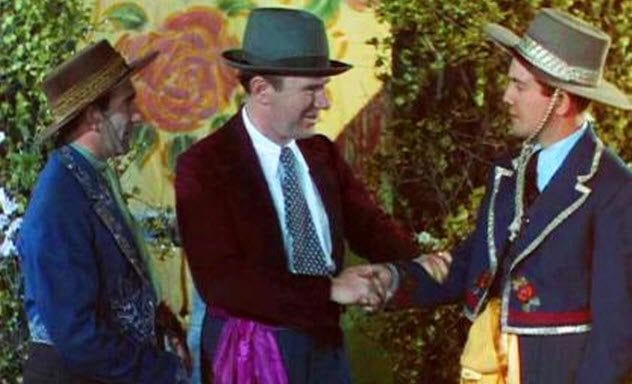 Ted Healy, founder of The Three Stooges and arguably the most influential comedian during the 1920s and '30s, has been regarded by historians as a brilliant improv comic with a volatile Jekyll-and-Hyde personality.
On the night of December 20, 1937, Healy drunkenly staggered into Hollywood nightclub Trocadero, where he encountered fellow movie star Wallace Beery and New York mobster Lucky Luciano's top henchman, Pat DiCicco. Following a heated exchange, the three men made their way to the parking lot where Healy was savagely beaten.
Half-conscious, Healy telephoned Shemp to tell him how Beery, DiCicco, and an unidentified third man attacked him. Soon after, Healy fell into a coma. He died the following day. The police investigation was quickly snuffed, and it has been said that movie mogul Louis B. Mayer covered up the murder to protect his biggest star, Beery.
1Curly's Last Years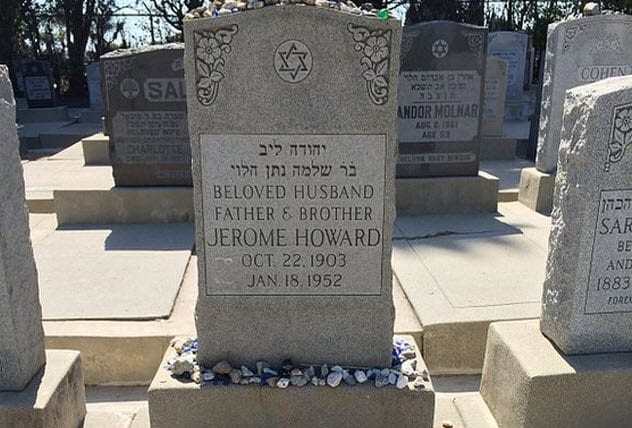 Curly's life was by far the most tragic of all the Stooges. Betrayed by those he had loved and trusted in addition to constant binges to mask his pain, his last years were plagued by a succession of strokes that left him paralyzed and confined to a wheelchair.At age 47, Curly was placed in a nursing home due to his declining health and the inability of his family to take care of his needs. Due to mental deterioration, Curly became problematic for the nursing staff and his family was advised to commit him to a mental hospital.Moe adamantly refused the physicians' recommendations, ultimately sending his brother to the Baldy View Sanitarium in San Gabriel, California. This was Curly's final living facility, where he died bedridden and alone in January 1952 at age 48