Uncategorized
A Timeline of Audrey Hepburn's Hollywood Love Stories
A look back at the actress's complex romances and affairs.
As one of the biggest actresses to reach stardom in the 1950s and '60s, the gamine Audrey Hepburn was often seen as a contrast to the bombshell Marilyn Monroe, with her slim physique and fawn-like face making it easy for Hollywood to label her the anti-Marilyn. But though the Belgian actress seemed like a hopeless romantic, Hepburn still had her fair share of tumultuous loves and Hollywood affairs (though unlike the Sleeping with Sirens song suggests, she was never in a relationship with James Dean). Here, a deeper look at Hepburn's complex love life.
1952: James Hanson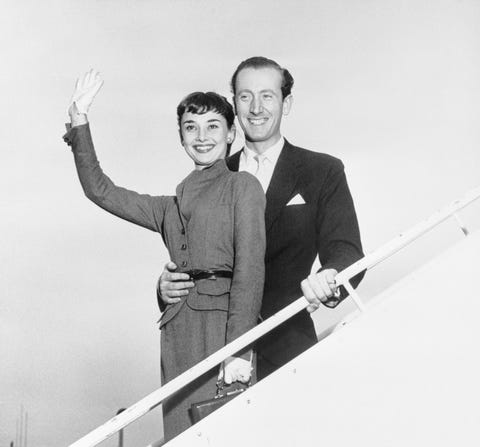 Audrey Hepburn and James Hanson arrive in New York from Rome.GETTY IMAGES
While filming her first major motion picture, Roman Holiday, alongside To Kill a Mockingbird's Gregory Peck, Hepburn split her time between shooting and planning her nuptials to British businessman James Hanson. The wealthy, soon-to-be Lord was excited to marry the budding Hollywood star, but Hepburn, who had her doubts, decided to call off the wedding, despite having several fittings with designer Zoe Fontana for a custom ivory satin wedding gown featuring a tiny waist and boat-neck front.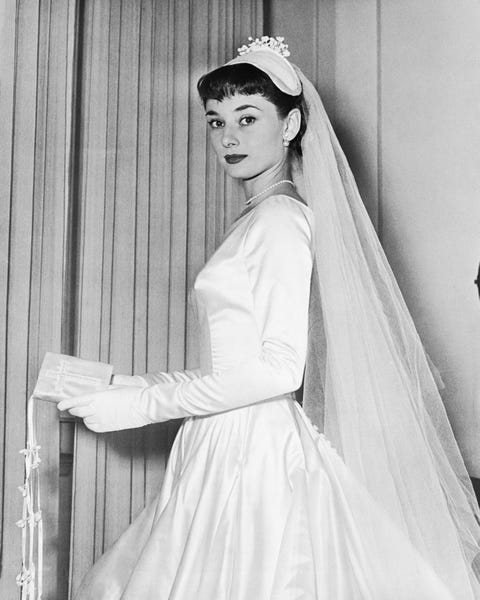 Hepburn in the gown Zoe Fontana designed for her wedding to Hanson.GETTY IMAGES
1954: Mel Ferrer
A year later, Hepburn became an overnight star after the success of Roman Holiday. In 1953, at the film's British opening, Hepburn was introduced to Mel Ferrer, an actor and stage and film director, at a party. At the time, Ferrer was a twice-divorced father of four who was 12 years older than Hepburn. But despite the age difference, Hepburn came to like Ferrer.
In 1954, Hepburn returned to the stage to star with her new love in the Broadway play Ondine. The actress, then 24, was praised for her performance and received a Tony nomination for her role as a sprite in the production. Around the same time, Hepburn was also nominated for her first Academy Award for her work in Roman Holiday. The actress won both awards and also the heart of Ferrer; on September 25, 1954, the couple exchanged vows in an intimate ceremony in Switzerland.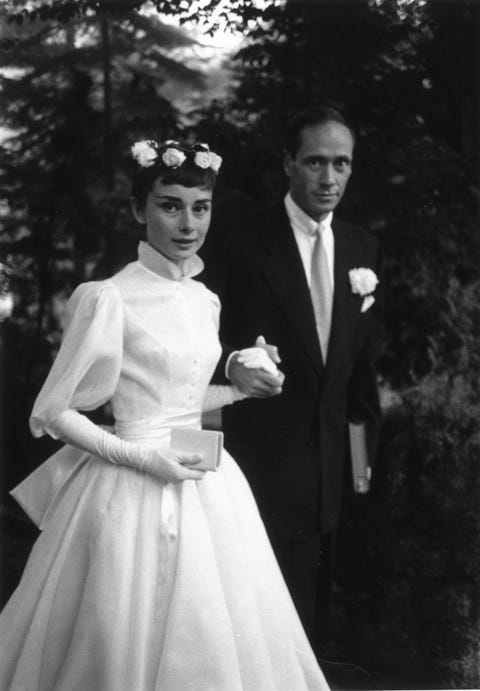 Hepburn and Ferrer prepare to walk down the aisle on their wedding day.GETTY IMAGES
In a letter to her friend, Sir Felix Aylmer, Hepburn wrote of her plans for the big day, telling Aylmer, "How dearly we would love you to be with us on our wedding day. We will have the car take you up to our mountain peak, Friday, for a gathering in our chalet of our nearest and dearest! . . . Saturday will be the wedding . . . We want to keep it a dark secret in order to have it without the 'press.'"
After two years of marriage, Hepburn co-starred with her husband and Henry Fonda in the film adaptation of Leo Tolstoy's War and Peace.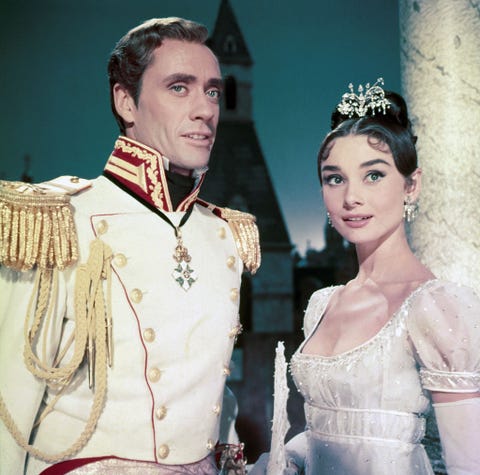 Hepburn and Ferrer on the set of War and Peace.GETTY IMAGES
On June 17, 1960 in Lucerne, Switzerland, Hepburn gave birth to her first child, Sean Hepburn Ferrer. Prior to Sean's birth, Hepburn had a difficult time getting pregnant, suffering from a miscarriage and a stillbirth after falling off a horse while shooting the film Unforgiven.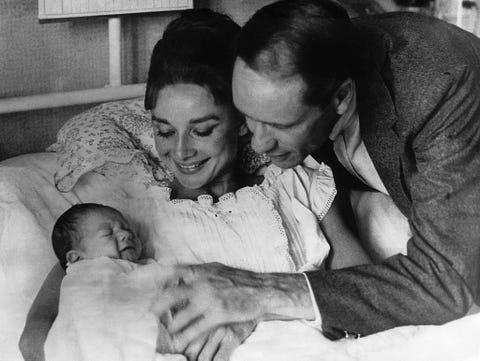 Hepburn and Ferrer with their newborn son Sean.GETTY IMAGES
While married to Ferrer, Hepburn had a few dalliances, but it was no secret that Ferrer did as well. Their infidelities damaged their relationship, and Ferrer and Hepburn decided to end their 14-year marriage, formally announcing their divorce in November of 1968.
1954: William Holden
In addition to a new marriage and two awards in 1954, Hepburn also stole the show in Billy Wilder's Sabrina, starring Humphrey Bogart and William Holden. The actress earned herself another Academy Award nomination for her role in the film—and also landed in a deep love affair with her co-star.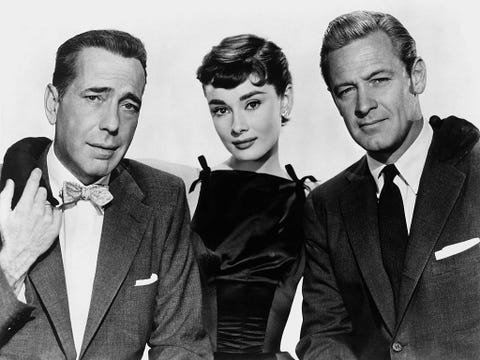 Hepburn with her Sabrina co-stars, Bogart and Holden.GETTY IMAGES
During the filming of the beloved classic, Hepburn and Holden had a secret Hollywood affair and fell madly in love with one another. Even though Holden was 11 years her senior with a wife and three kids, Hepburn found him to be "the most handsome man [she'd] ever met," according to Edward Z. Epstein, author of the 2015 biography Audrey and Bill.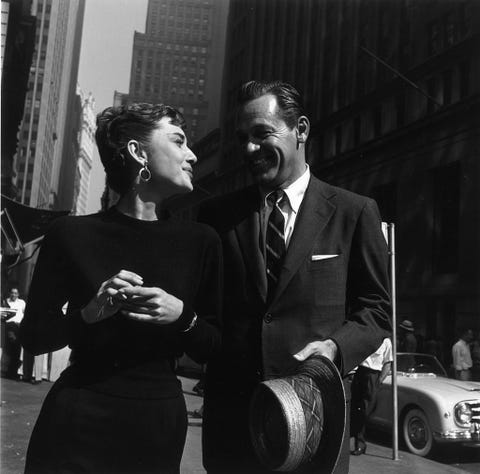 Hepburn and Holden share a moment while shooting on Wall Street.GETTY IMAGES
Though Hepburn loved Holden during the time of their affair, she desperately wanted marriage and children, and after learning that Holden had undergone a vasectomy, Hepburn officially put an end to their relationship.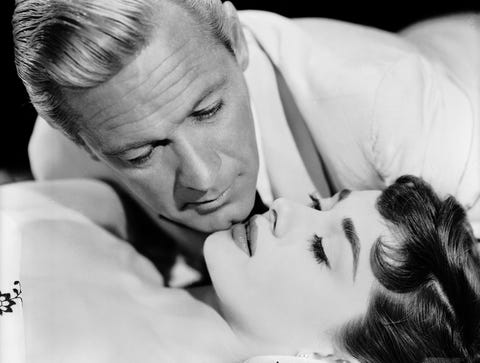 Hepburn and Holden take on a romantic pose in a promotional shoot for Sabrina.GETTY IMAGES
In the summer of 1962, Hepburn reunited with Holden for the film, Paris When it Sizzles. According to the Daily Mail, when Holden arrived in Paris to shoot the movie, he famously said, "I remember arriving at Orly Airport for Paris When It Sizzles. I could hear my footsteps echoing against the walls of the transit corridor, just like a condemned man walking the last mile. I realized that I had to face Audrey and I had to deal with my drinking. And I didn't think I could handle either situation."
Holden tried to win Hepburn over one last time during filming, but Hepburn was content in her marriage with Ferrer at the time. Holden died in 1981 at the age of 63, the same age as Hepburn, who died in 1993.
1957: Robert Anderson
This content is imported from YouTube. You may be able to find the same content in another format, or you may be able to find more information, at their web site.
Shortly after starring in War and Peace with her husband, Hepburn took a role in Fred Zinnemamn's The Nun's Story. While filming, Hepburn grew close to the film's screenwriter, Robert Anderson, and the two reportedly had an affair. According to Audrey and Bill author Epstein, Hepburn heard rumors of Ferrer's infidelities, which led to her decision to have an affair with Anderson.
1969: Andrea Dotti
Shortly after divorcing Ferrer, Hepburn married once again. On January 18, 1969, she wed Italian psychiatrist-neurologist Andrea Dotti, whom she had met on a cruise. After their wedding, the couple settled in Rome and enrolled Hepburn's son Sean in a bilingual school. Four months into her marriage, Hepburn became pregnant again.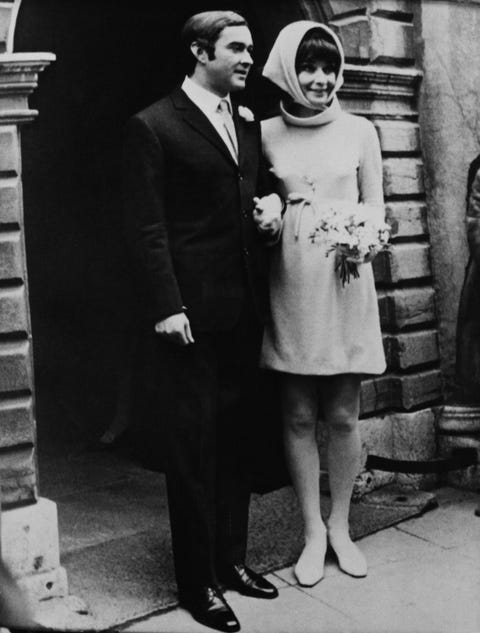 Hephburn and Dotti on their wedding day.GETTY IMAGES
On February 8, 1970 at the age of 40, Hepburn gave birth to her second child, Luca Dotti was born. With the birth of her new son, the actress decided to take a break from Hollywood and devote her time to being a mother at La Paisible, her chalet in Tolochenaz, Switzerland.
Hepburn's break from Hollywood was a tumultuous time for the new mother. While dealing with rumors of Dotti's inappropriate social life, including affairs with young women, Hepburn also experienced another miscarriage in 1974. By 1979, Dotti's affairs had grown increasingly more public, with his outings detailed in the press. Finally, in 1982, Dotti and Hepburn officially ended their more than 12-year marriage.
1979: Ben Gazzara
After leaving Hollywood for almost a decade, Hepburn returned to star in the film Bloodline with Ben Gazzara. Like William Holden and Robert Anderson before him, the married Gazzara was rumored to also have an affair with Hepburn while shooting. According to Epstein, Hepburn and Gazzara's on-set fling was the result of both feeling trapped and unhappy in their marriages. Gazzara reportedly said, "Audrey was unhappy in her marriage and hurting. I was unhappy in my marriage and hurting, and we gave solace to each other and we fell in love." But when filming ended, both returned to their unhappy marriages.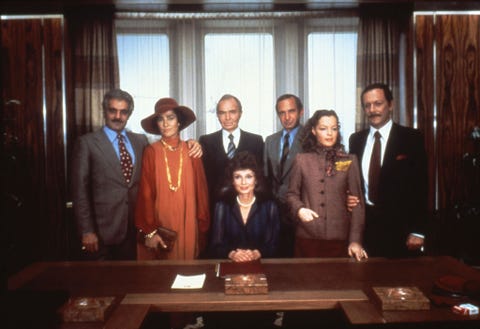 Hepburn and her Bloodline cast in 1979.GETTY IMAGES
In 1981, Hepburn teamed up with Gazzara again to shoot one of her final films, They All Laughed, but this time she was in a relationship with her new love, Robert Wolders.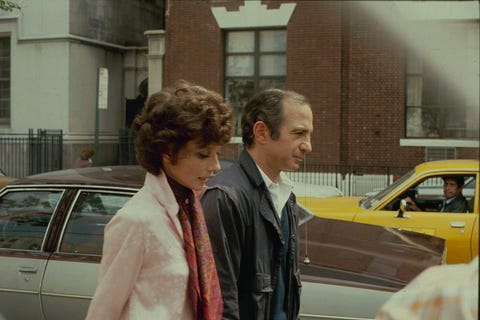 1980: Robert Wolders
Hepburn found love with Dutch businessman and actor Robert Wolders in 1980 after meeting at a party. Prior to his relationship with Hepburn, Wolders was married to British actress Merle Oberon. In the late 1980s, Hepburn became more involved with UNICEF, and in 1988, she was appointed as a UNICEF Goodwill Ambassador, allowing her to tour the world and make appearances on UNICEF's behalf with Wolders by her side. Hepburd died in 1993, and In 2002, UNICEF unveiled a bronze statue of a woman holding a child's hand called "The Spirit of Audrey," dedicated to Audrey's work with the organization. In honor of his late love, Wolders opened the ceremony, stating, "Audrey personified the spirit of UNICEF and we hope those that see this statue will be inspired by her efforts on behalf of our children."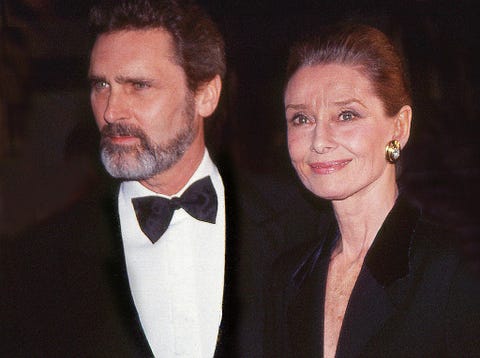 Though Wolders and Hepburn never married, the two were truly passionate about each other, and were together until Hepburn's death. Reflecting on Hepburn's death in a 1994 interview with People, Wolders told the magazine, "They say the pain lessens over time. That's a crock."