Uncategorized
Cheech & Chong reflect on 'Up in Smoke' success: 'The studio had no idea what we were doing'
It's been nearly 40 years since Richard "Cheech" Marin and his friend Tommy Chong decided to make a movie about an unemployed pot-smoking slacker and an amateur drummer – and they still don't know how they got away with it.
Their 1978 film, "Up in Smoke," is still celebrated today as a cult classic and one that has paved the way for the stoner comedy genre in Hollywood.
In honor of its anniversary, Paramount has released a special edition of the movie, which features never-before-seen commentary, a short form documentary and deleted scenes.
Chong, now 79, told Fox News getting approval from Paramount to make the film was surprisingly simple.
"It was easy because we basically paid for it ourselves, you know?" said Chong. "And our esteemed producer/director, Lou Adler, is an expert at marketing, so it was Lou's genius that got the movie to where it is… Most of them, they didn't even know what pot was in those days."
Marin, 71, added, "The studio had no idea what we were doing. Not a clue. Even when we gave it to them, they still had no idea. They were making 'Hello Dolly.'… We told them it was herbal. It wasn't pot, it was herbal treatment."
"Up in Smoke" would become the highest-grossing comedy of the decade, topping $100 million at the box office. The close friends said the film was all based on their real-life adventures.
"Like, when I throw my clothes in the toilet and pee in the hamper? That was from real life," said Marin. "Real, observed life, you know?"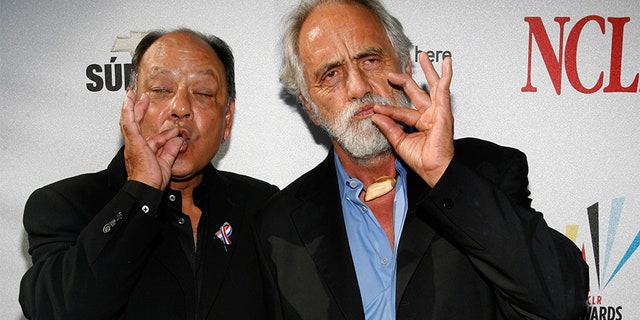 "Yeah, and me – all of it," said Chong. "The weight-lifting, early on in the movie, that was my life… It was all good. Girls in the van, in the back of the van. We couldn't show that part, but that was real, too."
At times, the pair's antics caused frustration on set.
"We had a little private stash that we would smoke," explained Chong. "It was the cameramen that weren't too pleased about us smoking because we'd miss a lot of cues. They would say things like, 'We're rolling,' and we'd be still, 'We're rolling, too.' It took a while but was a fair amount. Probably the same amount that's on the set anywhere, in any movie."
"We have people get high for us [now] because we're rich," joked Marin.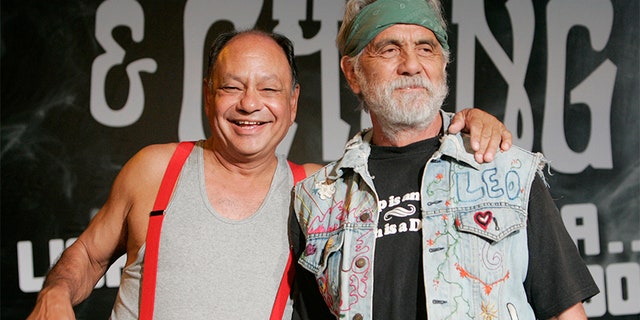 And the duo's love for marijuana has only grown since the film's debut. Back in 2013, Chong revealed he was battling rectal cancer after fighting prostate cancer in 2012. He credited marijuana for helping him overcome both illnesses.
"The way marijuana works, it works on the brain," he said. "And the brain controls the immune system and it calms the rest of your body. And your brain calms everything down so that the immune system can go to work, and that's what happens.
"The immune system is really your body's ability to recognize and kill germs that come into your body. And when your immune system's overloaded with bad diet and bad living, then it doesn't work, and then you get diseases. So, in a nutshell, it calms the mind, which calms the body, which allows your body to heal itself. And now I'm cancer-free."
Marin says he relies on cannabis to tackle nausea.
"I had a stomach problem and started getting nausea all the time, and doctors prescribed different medications for me," he said. "But I smoke a joint — gone, immediately."
After a nine-month prison sentence in 2004 for shipping bongs to Pennsylvania, Chong became a passionate advocate for cannabis freedom.
Marin and Chong insisted the legalization of marijuana can help tackle the country's current opioid crisis.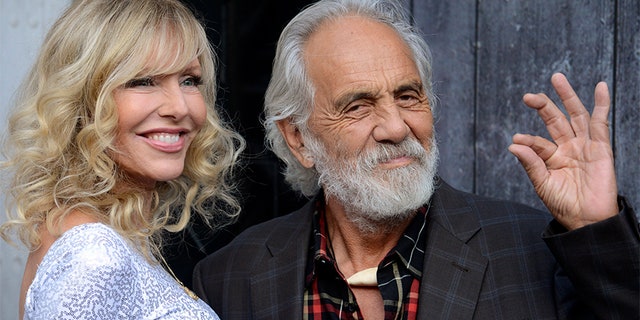 "I think that's a really good thing against it because smoking dope instead of taking heroin? Come on," said Marin.
"… The great thing about weed is, it's not addicting," claimed Chong. "So you can smoke a ton of weed, and then quit immediately, without any physical effects, as opposed to heroin. Heroin, your body gets used to being numb.
"So, if you don't get your heroin, your body starts aching and hurting. So, marijuana, what it does, it relieves the pain and that's how you kick it."
Chong added, "I got off cigarette smoke, tobacco, with marijuana because every time I felt like a cigarette, I'd light a joint. And I could only smoke a little bit, so I'd put it out. It took a year, but I got off tobacco and I haven't been on tobacco since."
Since "Up in Smoke" premiered in theaters, the duo have made several other stoner comedies. However, their successful partnership really went up in smoke during the late '80s. They didn't talk to each other for years.
"Money," Chong said of their breakup. "We got rich."
However, the pair eventually got back together. They continued making films, with 2013's "Cheech & Chong's Animated Movie" being their most recent.
As for an "Up in Smoke" sequel? Both stars say that's not happening anytime soon.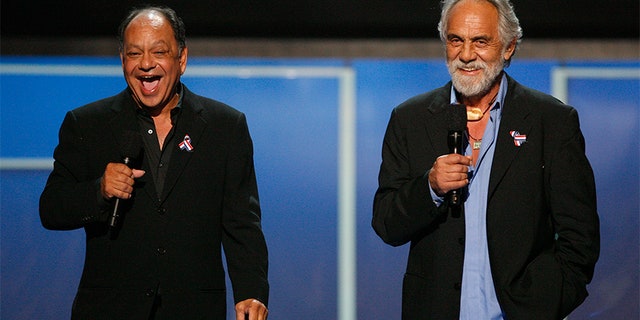 "[A sequel] of weed?" joked Marin. "Sure. Every day. [But] all of our movies after that were sequels to 'Up in Smoke.' It was just watching these two guys go through life."