Uncategorized
Dean Martin & Jerry Lewis: A Friendship Tempered By Joys And Trials
Just about any relationship has its challenges. Best friends, married couples, and siblings all need to exercise care to cultivate a strong relationship. Jerry Lewis and Dean Martin forged a very famous friendship, but even they experienced some difficult points.
It's no surprise that both possessed a good sense of humor. This, no doubt, helped them stay positive no matter the circumstances. We have even more information about their relationships thanks to Michael H. Hayde's new book, Side By Side: Dean Martin & Jerry Lewis On TV and Radio Paperback. The book entices readers with the description, "a treasure trove for any fan of Dean and Jerry, packed with valuable information, behind-the-scenes stories, and a dizzying array of rare photos."
Dean Martin and Jerry Lewis crossed paths early and hit it off just as early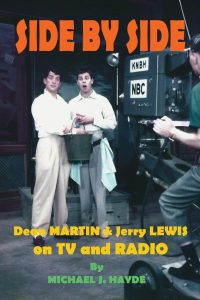 Such an iconic duo of buddies got their start early on. Initially, Lewis performed at the New York City nightclub. Martin, his senior by nine years, played the Havana-Madrid club on the same night as Lewis. The year was 1946, a year that marked the start of something amazing. Lewis and Martin performed together on July 25, 1946 to tremendous success. Their chemistry and humor established them as forces to be reckoned with. Both became stars after that.
Part of their chemistry came from the contrasting roles they played. Martin's smooth straight man character contrasted perfectly against Lewis's outrageous funnyman. Soon, they expanded their reach to include film, radio, and television appearances. Additionally, they continued to combine their engaging dynamics for Colgate Comedy Hour. The show, which both hosted, aired on NBC from 1950 to 1955.
Sometimes the good things bring forth the bad
In a sad irony, all these successes partially contributed to their impending feud. In 1954, while promoting their film Living It Up, resentment brewed. Exacerbating this was a magazine that cropped Martin out of a photo. By the time they worked on Hollywood or Bust, their final movie together, they gave each other the silent treatment. This breakup came on the 10th anniversary of their very first act together.
Breaking up had its effects on them. Lewis needed to completely reevaluate his life. "I was unable to put one foot in front of the other with any confidence. I was completely unnerved to be alone," he admitted. Some relief came when he was asked to step in and perform in place of Judy Garland, who was absent because of strep throat. Martin too had a rocky start, especially since rock and roll came to replace pop as the big musical fad. 1958 saw his big turnaround when he was asked to replace Tony Randall in The Young Lions. Finally, he earned renewed recognition as a triple threat of talent.
Other big names intervened to get Jerry Lewis and Dean Martin talking again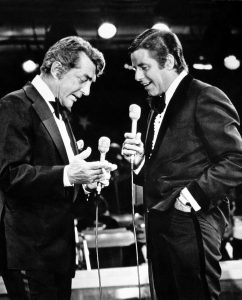 Such a loss felt like a crime to audiences and to the former friends. For twenty years, this cold war stretched on with things left unsettled. Finally, their mutual friend, a rather well-known musical talent known as Frank Sinatra, brought them back together. 1976 saw Lewis's muscular dystrophy telethon and that was when Sinatra executed a "surprise on-air reunion." Ice shattered and friendship once more had the potential to bloom. Watch that famous reunion below!
Bitterly, they completely accepted one another again after a bout of tragedy. Martin's son, Dean Paul Martin Jr., died in a plane crash in 1987. At the funeral, both former Colgate hosts completely reconciled. Perhaps as Martin endured every parent's worst nightmare, both realized just how fleeting and uncertain life is. With so much left unknown, why spend that indeterminate amount of time with resentment instead of friendship? Indeed, the two embraced the idea of renewed friendship from that point forward and remained close until Martin's death in 1995. On August 20, 2017, Lewis too passed away. Though their friendship was briefly halted, that breakup reminds us all of the importance of finding a way to make things work.