Uncategorized
Dean Martin's daughter responds to 'Baby It's Cold Outside' controversy, says her father 'would be going insane'
Dean Martin's daughter is sticking by her pledge to continue performing "Baby It's Cold Outside" despite the frosty reception the decades-old song has been receiving over its lyrics.
The 70-year-old appeared on "Fox & Friends" Monday and responded to the sudden outrage over the holiday melody, which her father so famously performed before his passing in 1995 at age 78.
"I was absolutely flabbergasted," said Deana about the recent controversy. "It's just insane. When I heard it, I said, 'This can't possibly be.' You know, it's a sweet, flirty, fun holiday song that's been around for 40 years for my dad. He did it in '59. But when I saw it, I tweeted, 'I think this is crazy. What do you think?' And then all of a sudden, it went viral."
Deana explained that like her, many fans of the longtime track were perplexed by the news over the holiday season.
"They were saying, 'This is madness. We've gone insane now,'" she explained. "… It's just a sweet, fun song. There's nothing bad about it."
"Baby It's Cold Outside" has sparked a debate over the years on whether or not its lyrics are problematic.
In the tune, a female sings: "I really can't stay," to which a man responds: "But baby, it's cold outside."
In another part of the song, the woman is heard singing lines like "Say what's in this drink?", "The answer is no" and "I've gotta get home."
Deana shared that the two characters are playing along with each other as the male attempts to woo his lady to stay a little longer due to the chilly weather.
"It's flirty, it's sexy, it's sweet – there's nothing bad about that song," said Deana. "It just breaks my heart."
Deana added her father would quickly respond to the backlash with just as much confusion.
"I know my dad would be going insane right now," she said. "He would say, 'What's the matter with you? Get over it. It's just a fun song.' 'Cause he was so sweet anyway. … He was a great guy. Fun guy. Nice. And he wouldn't want to do anything offensive. That wasn't Dean Martin. So this has just been outrageous."
Despite the backlash, Deana said she does want to better understand why some listeners are offended by "Baby It's Cold Outside" especially now.
"I think it's a moment for us in time to maybe change what's going on," said Deana. "I don't know how to do it yet, but I'm out there trying to talk to people. It could be a learning moment for all of us."
But as for modifying the lyrics for her audience? Deana added she's perfectly content with the classic.
"I don't want to change the lyrics," she said. "When she says, 'Hey, what's in this drink?' I don't think she's talking about some pill being put in that drink. It's like, 'Is this punch?' You know, what's in this drink? Is it vodka? It was nice. It's just breaking my heart that people would turn that around.
"… This PC is driving me nuts. You gotta sit back and relax. Have a good time. It's OK. People gotta have a sense of humor about themselves. I understand the #MeToo movement and everything. I'm all for that. But this? We gotta relax and have fun again."
Deana's televised remarks come just days after the performer told Fox News she's not going to stop singing "Baby It's Cold Outside" in front of audiences.
"'Baby it's Cold Outside' is a cute, flirtatious and romantic song written by Frank Loesser in 1944," Deana told Fox News.
"It won the Oscar for 'Best Original Song' in the 1949 film 'Neptune's Daughter.' It's been recorded by dozens of the world's top recording artists for over 60 years, including my dad Dean Martin… This song is included in his very successful 1959 'Winter Romance' album and I'm very proud that it has become an evergreen favorite that is played every holiday season."
"I personally love performing 'Baby It's Cold Outside' and will continue to do so," added Deana. "Merry Christmas!"
Susan Loesser, the daughter of Frank Loesser, also told NBC News Thursday her father had no ill intentions when he wrote it.
"Bill Cosby ruined it for everybody," said the 74-year-old, as reported by USA Today. "Way before #MeToo, I would hear from time to time people [calling] it a date rape song. I would get annoyed because it's a song my father wrote for him and my mother to sing at parties. But ever since Cosby was accused of drugging women, I hear the date rape thing all the time."
Susan added her father would have been "furious" over the decision made by some radio stations that have chosen to stop playing the track.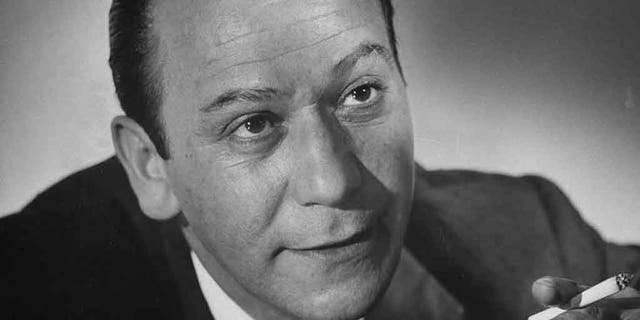 "I think it would be good if people looked at the song in the context of the time," explained Susan. "People used to say 'what's in this drink?' as a joke. You know, 'this drink is going straight to my head so what's in this drink?' Back then it didn't mean you drugged me."
The publication shared "Saturday Night Live" previously linked the song to Cosby in a December 2015 episode that aired just days before the fallen comedian was charged with criminal sexual assault.
The sketch depicts Cosby (Kenan Thompson) wearing one of his signature sweaters singing "Baby It's Cold Outside" while sitting next to a woman (Tina Fey) on a couch. She then asks "Say, what's in this drink?"
"Baby, It's Cold Outside" made headlines this year when a radio station in Ohio pulled it from its lineup after a listener expressed concern over the song's lyrics.
According to Fox 8, WDOK Christmas 102.1 removed the tune after one listener called the radio station and suggested it's not appropriate to play the 1940's classic in 2018.
"It wasn't really our decision," WDOK host Desiray told the outlet. "It's the decision of our listeners.
"People might say, 'Oh, enough with that #MeToo,' but if you really put that aside and listen to the lyrics, it's not something I would want my daughter to be in that kind of situation," she continued, explaining that the "tune might be catchy, but let's maybe not promote that sort of an idea."
Other stations in the U.S. have reportedly been tasked with determining the song's fate in their regions.
USA Today reported Wednesday radio stations in Northern California and Colorado have turned to polling their listeners in order to decide what to do.
Following the removal, San Francisco-based station 96.5 KOIT revealed on their website that they too had decided to do away with the song. But the decision sparked an outcry among their listeners to bring it back, they said.
"On Monday, December 3rd, 96.5 KOIT Program Director, Brian Figula, made the decision to remove 'Baby It's Cold Outside' (from various artists) after receiving complaints from listeners, and the trending national story from Cleveland," the station said. "After removing the song, we have received hundreds of comments on social media and via email demanding that 'Baby It's Cold Outside' be placed back to the Christmas Playlist."
The public's response prompted them to create a poll to help determine the song's future, the results of which would be announced Monday, the website said.
KOSI 101 in Denver found itself in a similar situation, revealing in a news release Tuesday that it also surveyed their listeners about the song. The station's online poll generated more than 15,000 responses and "showed overwhelmingly that KOSI 101.1 listeners were in favor of the holiday classic returning to the air," KOSI 101 said.
"Respondents voted 95 percent in favor of us keeping the song as part of KOSI 101.1's tradition of playing all of your holiday favorites," KOSI 101.1 program director, Jim Lawson, said. "While we are sensitive to those who may be upset by some of the lyrics, the majority of our listeners have expressed their interpretation of the song to be non-offensive."