Uncategorized
Don Knotts Said 'It Took Me a While' to Get Used to Working on 'Three's Company'
Once legendary actor Don Knotts left his role as Barney Fife on The Andy Griffith Show, the former second banana went on to star in his own feature films such as 1964's The Incredible Mr. Limpet, The Ghost and Mrs. Chicken in 1966, and The Apple Dumpling Gang in 1975.
Aside from one-time appearances on various television series, Knotts didn't return to steady work on a television program until he joined the cast of Three's Company as landlord Ralph Furley in 1979.
He revealed to the Archive of American Television in 1999 that he had a difficult time adjusting to series work again.
Knotts didn't need to audition for 'Three's Company'
Once Three's Company spun off The Ropers starring show landlords Norman Fell and Audra Lindley, a new landlord was needed for the show. The producers knew they wanted Don Knotts, no audition necessary.
"They just decided they wanted me," he said. "Norman Fell was playing the landlord. They put him and the actor who played his wife in a series of their own. And they needed a new landlord so they borrowed me."
Knotts, as it turned out, was a fan of the show. Once he became part of the cast, he found himself enjoying and taking part in the physical comedy star John Ritter brought to each episode.
"John Ritter was very funny, I thought they were all funny," he recalled. "It was a very broad comedy show, lots of broad jokes, lots of physical humor. John Ritter is a physical comedian, he could do great falls. I found myself doing falls on the show."
The show's three-camera set-up took Knotts time to adapt to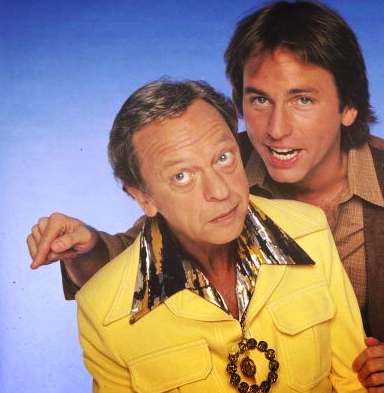 Speaking of Three's Company's three-camera arrangement, Knotts explained that he did not have a great deal of experience working in that way. Along with a live audience, Knotts said there were many details to keep track of as an actor in addition to delivering lines.
"I had not done much situation comedy that way," he said. "It took me a while to get used to it because you had to hit your marks all the time for the cameras and the lights. And be aware of the audience and be aware of the actors. You had a lot of things on your mind when you do one of those shows."
Mr. Furley was a fashion plate of sorts and the audience loved it
Almost as funny as Knotts' facial expressions and line deliveries was his wardrobe, which was a startling departure from his Griffith show officer's uniform. On his new series Knotts found himself wearing garish jewelry and polyester pantsuit ensembles that kept viewers in stitches.
"They had a running gag where [Ralph Furley] wore these loud, ridiculous clothes," Knotts continued. "We had a guy in the costume department, it was his job every week to pick out the most outlandish costume he could think of. The loudest colors, the craziest designs. Bright blue, bright red. Just ridiculous stuff."
The best part about the wardrobe, Knotts said, was the audience's reaction to his clothes before he'd even uttered a word.
"[The audience] always loved it. It was great to get a laugh just walking out in your wardrobe," he said with a laugh.