Uncategorized
Elizabeth Taylor Gave Debbie Reynolds an Unexpectedly Tearful Apology Decades After Her Affair With Eddie Fisher
The Debbie Reynolds, Elizabeth Taylor, Eddie Fisher love triangle was basically the 1950s version of Brad Pitt leaving Jennifer Aniston for Angelina Jolie. The affair was widely publicized and caused an unsurprising rift between Reynolds and Taylor, who had been friends since high school.
The actresses reconciled their rift in 1966 after Taylor had divorced Fisher and married her Cleopatra co-star Richard Burton. Reynolds was also remarried to businessman Harry Karl at the time. Despite healing their friendship and moving on from the drama in the 1960s, Taylor would go on to tearfully apologize to Reynolds again, decades after the scandal that rocked American pop culture.
Debbie Reynolds and Elizabeth Taylor were best friends before Eddie Fisher came around
The two stars met when they were both employed by Metro-Goldwyn-Mayer (MGM). They attended classes together through the film studio, a time during which Reynolds said she basically fangirled over the fact that went to school with Taylor, who was already famous.
"We got along very well because I was in awe of going to school with Elizabeth Taylor," she told People in 2015. "And if anyone said they weren't, then they were lying. Or blind."
Reynolds later served as Taylor's Matron of Honor in her wedding to Mike Todd in 1957, and Fisher was the Best Man. Their daughter, Stars Wars' Carrie Fisher, had been born the year before, and her brother, Todd Fisher, was named after Taylor's husband when he was born in 1958. His namesake died in a plane crash one month later, which was the inciting incident of Taylor and Fisher's highly publicized affair.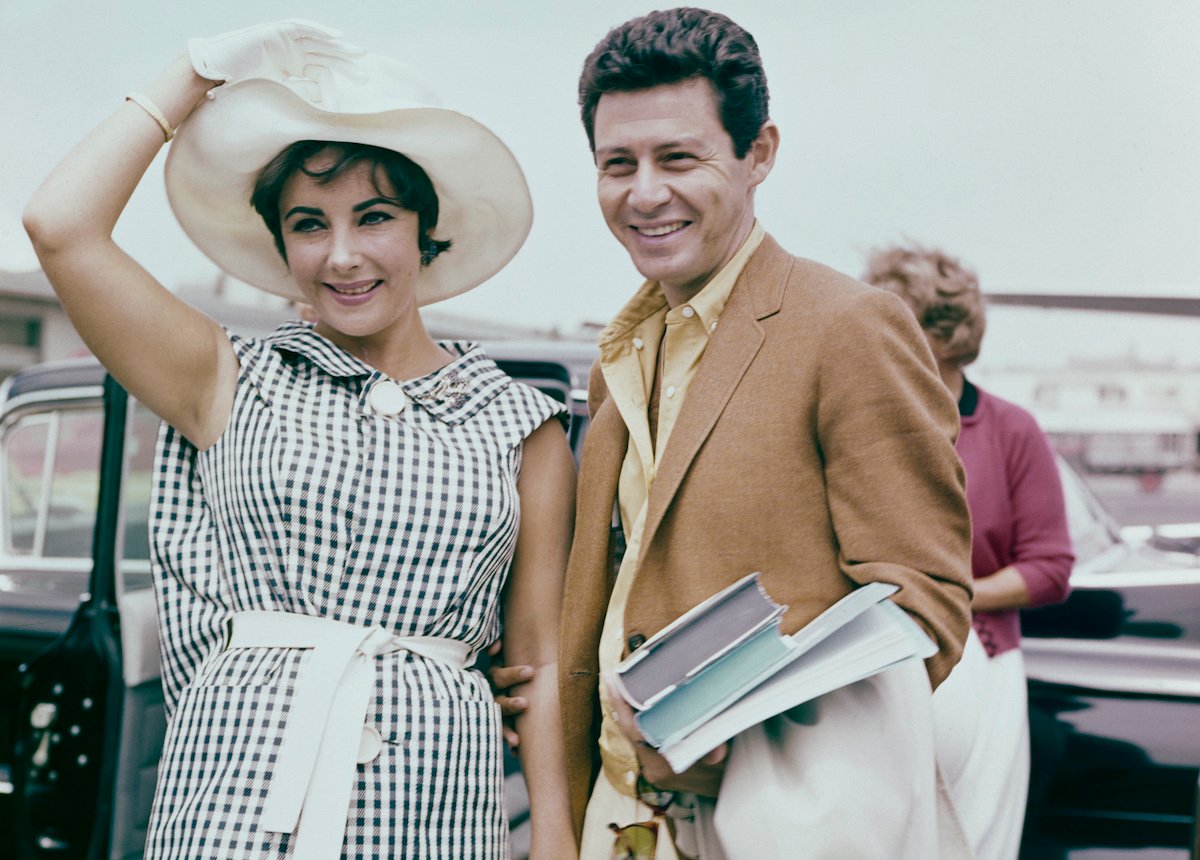 Elizabeth Taylor and Debbie Reynolds reconciled in 1966
Following the deaths of Carrie and Debbie in December 2016, Todd published his memoir, My Girls: A Lifetime with Carrie and Debbie in 2018. In the book, and in press interviews leading up to its release, he shared details about his late mother's relationship with the Cat on a Hot Tin Roof actress, who died in 2011. He also explained how the affair affected his father's (who died in 2010) career.
"There was outrage," Todd told Yahoo Entertainment. "My dad had like contracts canceled for morality clauses. … It literally ruined his career. I mean, it just wiped him out. Liz kind of came out a little better, sort of unscathed."
While Fisher's career was sinking a ship, Reynolds and Taylor reconciled on a literal ship in 1966.
"We got on the same boat to go to Europe—the Queen Elizabeth," Reynolds recalled, according to Vogue. "I sent a note to her and she sent a note to me in passing, and then we had dinner together. She was married to Richard Burton by then. I had been remarried at that point. And we just said, 'Let's call it a day.' And we got smashed. And we had a great evening, and stayed friends since then."
Todd Fisher wrote about Elizabeth Taylor crying while apologizing to Debbie Reynolds in his 2018 memoir
That was true. The Hollywood icons remained friends for the remainder of their lives, and in 2000, they showed how to let bygones be bygones when they co-starred in a TV movie written by Carrie.
The film—These Old Broads starring Reynolds, Taylor, Shirley McClain, and Joan Collins—is what camp dreams are made of, and there's an entire plot point where Reynolds and Taylor's character reconcile about Taylor stealing a man named Freddy from Reynolds. Sounds familiar! Mind you, this was written for Reynolds and Taylor by Reynolds and Fisher's daughter.
According to Todd's memoir, while on set for the film, Taylor dug into the past and apologized for breaking up Reynolds' first marriage.
"I'm sorry for what I did to you with Eddie," Taylor is quoted as saying in the book. It was the last thing Reynolds expected to hear.
"It caught Mom off guard that Elizabeth was still so emotional about it," Todd wrote.
She was perhaps surprised because they had been on good terms for so long. And Reynolds' feelings about making up with her longtime friend was simultaneously an uplifting sentiment and an absolute read of the father of her children.
"You have to look at what life is all about, and is it worth it? And, is he worth it?" Reynolds once said, according to Vogue. "The friendship was perhaps worth more."