M*A*S*H
Final episode of M*A*S*H attracts record number of viewers – archive, 1983
1 March 1983: The long-running US television comedy set during the Korean war airs for the last time
One of the largest audiences in American television history last night tuned to the CBS network for the final episode of MASH. The network itself refused to estimate the number of viewers, but advertising agencies and other sources in the industry said it probably comprised 40 per cent of the homes in the country or 90 million people.
This fictional story of an army surgical unit in Korea has lasted three times longer than the war which inspired it, running to 251 episodes. It is reckoned to have earned $500m, since it first went on the air in September 1972.
The series sprang from a barely remembered novel by Richard Hooker. Robert Altman translated it into a successful film in 1970 and the television adaptation followed. The last segment became a cult event across the United States, with hundreds of MASH parties.
The city council in Fairfield, Ohio, voted to postpone its scheduled session so that the mayor and other members would not miss the show and a special party for 300 guests in Providence, Rhode Island.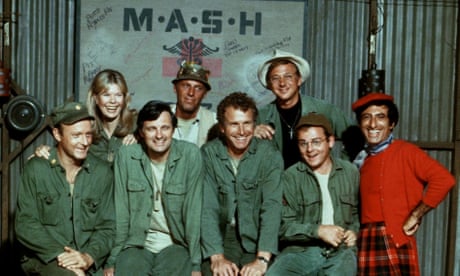 Editorial: Why MASH was smash
25 February 1983
More column inchage, this week, is being lavished on the demise of a television series than on the death of Sir Adrian Boult. Which is, on the one hand, potty: but then, on the other hand, the series is MASH, buried by a vote of its own cast after 11 TV seasons whilst still riding high in the American ratings.
In the beginning MASH seemed little more promising than any other ritual television spin-off from a successful movie. There were touches of the jumpy black farce that Robert Altman brought to the bigger screen; but surely it couldn't last once the aching regimens of sitcom began to exact their toll? The triumph of MASH was that those conventions were rigorously repulsed. People wept and died and broke down and changed (Ken didn't make up with Deidre.) American television, for once, had taken a broad, cynical tradition of comedy – a blend of Bilko and Stalag 17 – and built a timeless base camp of unpredictability upon it. There was a formula, all right; but one that never let on – or perhaps acknowledged – that formula was king.
At which point, suddenly, the run ends. It is a curious passing attended by a curious wake. In one sense – with tons in the BBC Two can, and Channel 4 around for repeats – there is no death at all. In another sense, the style – most notably in Hill Street Blues – has a life of its own. But the last of the last (for America this weekend) is at least a moment for pondering why something so durable and unexpected has also proved so solitary amid the tides of pap. If lightning can strike once amid the endless half-hours of US television, why in the name of mercy can't it strike twice?