M*A*S*H
One 'M*A*S*H' Actor Was Fired Over Faulty Historical Research
To this day, M*A*S*H endures the test of time for its ability to handle heavy subject matter, provide engaging levity, and paint audiences a picture of a different side of war. However, when it came to the character of Oliver Harmon Jones, played by Timothy Brown, the showrunners stumbled a bit with the historical accuracy.
Jones, as presented in the early days of the M*A*S*H program, was the only African-American surgeon in the unit. But Brown's days on the show would be very limited for multiple key reasons: some financial and some for reasons that would be completely disproven after the fact. Why did he go within weeks, while the likes of Alan Alda, Loretta Swit, and many others endured for years?
Mismanagement saw Timothy Brown as Jones disappear from 'M*A*S*H'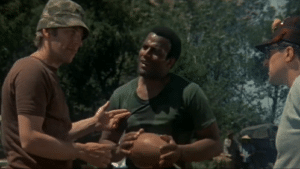 M*A*S*H's success was not a foregone conclusion, despite its solid foundations in the book by Richard Hooker and the film. In fact, it struggled greatly during it'd first season to the point it was nearly canceled. A better time slot after All in the Family helped season two immensely, but by then the damage had been done.
The show immediately established its lens primarily around Hawkeye, while shining a spotlight on a sizable ensemble cast along the way. Too sizable. Co-creator Larry Gelbart claimed there just wasn't room in the budget to keep Brown on. On top of that, to showrunners, it was a wash because they also didn't know what to do with the character of Jones, and so could afford to cut the line.
But there was one bit of reasoning that proved to be completely unfounded after they dismissed Brown: historical accuracy.
Showrunners claimed Jones didn't have a place in 'M*A*S*H' – but he did
Jones would appear for only six episodes before disappearing because according to Gelbart, he felt it was historically inaccurate; allegedly, the team conducted research and found there had been no Black surgeons in the unit during the Korean War.
Based on this, Gelbart got rid of character and actor alike, additionally claiming that he did not want to appear reaching for tokenism. Although, it is important to note Jones was given the nickname "Spearchucker," which is used as an ethnic slur against people of African ancestry.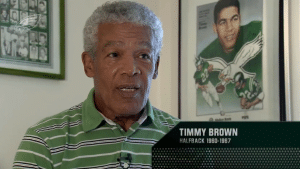 However, Jones had been present in both the book and film. What's more, years after the show ended, it would be confirmed there had been Black surgeons in that particular unit during the Korean War. It seems that despite solid foundations in literature, film, and history, Jones's presence on M*A*S*H was not a foregone conclusion either.
However, Brown was a man of several talents: before his death in 2020, he was an accomplished singer, actor, and professional football player, playing in the NFL as a running back and kick returner. He can be seen on The Mary Tyler Moore Show and in the film Nashville, where his vocals are also present in the soundtrack. Brown was 82 when he died from complications related to dementia.