The British series "Downton Abbey" was an immediate critical and commercial smash when it premiered on ITV in September 2010, then became a bona fide phenomenon after it began to air in the United States on PBS in January 2011. Set on the titular (but fictional) Yorkshire estate, the show follows the family and household staff of Matthew and Cora Crawley (Hugh Bonneville and Elizabeth McGovern), who hold the titles of Lord and Lady Grantham, in the years surrounding World War I. Its unrestrained melodrama was embraced as an antidote to the morally ambiguous prestige dramas of the day like "Mad Men" and "Breaking Bad," while its opulent sets and costumes inspired a short-lived fashion trend in the UK and at least one political scandal in the US.
Across six seasons, a 2019 feature film, and a sequel arriving in 2022, the show examined what progress looks like from the top of the social ladder, as the Crawleys react (or not) to everything from the outbreak of the Great War to the very concept of a weekend. While some characters yearn for a more equitable society, others, both manor-born and common, find comfort in their prescribed roles and duties. But try as they might, the future cannot be barred from the grounds like an unruly guest.
Like the tumultuous lives of the Crawleys, a show of such consistent quality will have some years better than others. Here are the six seasons of "Downton Abbey," ranked from worst to best.
Season 4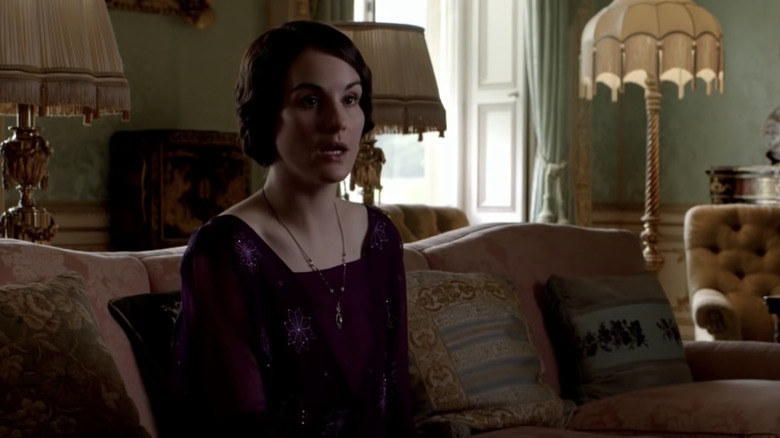 Season 4 carries on in the wake of the explosive events at the end of Season 3, which culminated in the death of youngest Crawley sister Lady Sybil (Jessica Brown Findlay) during childbirth, and the death of heir apparent Matthew Crawley (Dan Stevens) in a car wreck after visiting his wife Lady Mary (Michelle Dockery) and their newborn son. As new suitors for Lady Mary start popping up left and right, drawn by the scent of a young widow with an estate, she pushes through her grief by taking over Matthew's responsibilities in running the estate, much to the chagrin of her father.
Sybil's widowed husband Tom Branson (Allen Leech), meanwhile, entertains the advances of a schoolteacher (Daisy Lewis) who is even more anti-aristocracy than he is. Meanwhile, poor Lady Edith (Laura Carmichael), in the throes of her new journalism career, is left pregnant and alone when her publisher/paramour disappears in Germany, possibly falling victim to Hitler's brownshirts.
One of the show's strengths, courtesy of creator Julian Fellowes, is illustrating the ways a character's fate is sealed not just by their own actions, but by the oppressive attitudes and laws of the era. Edith's lover is only in Germany, for example, in order to obtain a divorce from his wife, which is illegal in England at this time (1922-23). Overall, though, the season is in too much of a holding pattern, with the older generation — even Maggie Smith's fan favorite Dowager Countess — given little to do but stand by and observe.
Season 5
If Season 4 put the Dowager on the backburner, she comes roaring back in Season 5, first by getting deep into Mary's business regarding her affair with Tony Gillingham (Tom Cullen), then getting tangled up in some intrigue of her own with a long-lost flame (Rade Serbedzija) who suddenly re-enters her life. Smith, as always, is a delight, but watching her bask in the glow of being desired, even if she ultimately must turn him away, is a poignant new color for the Dowager, and among some of Smith's best work on the series.
When confronted by the Dowager about Tony, Mary lies and says she plans to marry him. She plans no such thing, and quickly breaks things off. Mary's romantic adventures simmer for most of the back half of the season, until the Christmas special finale, where a hunting trip with cousin Rose's (Lily James) new in-laws introduces her to the dashing Henry Talbot (Matthew Goode).
Modernity continues to creep into the halls of Downton Abbey, represented this season by a brand new radio (or "wireless"), but the era's attitude towards unwed mothers remains terribly stringent, as seen by Edith placing her secret daughter in the care of the kindly Drewe family, only to snatch her back when the pain of being apart grows too great. Robert's loyal fixer John Bates (Brendan Coyle) disappears for much of the season, once again suspected of murder, only to make a grand and romantic return to his beloved Anna (Joanne Froggatt) in the Christmas special.
Season 3
So much happens in this season, from Edith's betrothal to a much older man, to Bates' prison odyssey after the events of Season 2, to the welcome addition of Shirley MacLaine as Cora's brassy American mother. But it is primarily remembered for being the one that killed off Matthew Crawley. Matthew's death at the end of Season 3 — and in the Christmas special, no less! — was a shock to longtime fans, in no small part because it was so sudden, bleeding out in an automobile accident on the way home from the hospital, where Mary had just given birth to their son.
That bluntness was the result of Stevens not revealing his intention to leave the series until the season was midway through production. By contrast, Jessica Brown Findlay had announced she was leaving after Season 3 well in advance, giving Fellowes the opportunity to weave Sybil's death during childbirth into the arc of the plot. Stevens, for his part, left for fear of being typecast and out of a desire to do more varied things, he said in 2021.
While the decision to kill Matthew in a stroke of bad luck may seem rash, it fits into the show's streak of fatalism, going back to the first episode's dispatching of Mary's fiance aboard the Titanic. Terrible accidents happen all too often in history and in life, but rarely in fiction, where in the author's hands everything is meant to fit neatly into a designed narrative. Matthew's death was as sudden and haunting for the show's characters as it was for its fans.
Season 6
There's a feeling of finality built into Season 6, and not just because it was the series' final season. The specter of death hangs over much of the proceedings, from Robert's surprisingly gory burst ulcer, to Mary's terror that Henry's motor racing hobby will doom him to Matthew's fate, to the fact that it is 1925 and the Crawleys' way of life is slowly dying, not just at the hands of an encroaching middle class but due to the mismanagement of Downton's fellow great houses. The old ways of doing business just won't cut it anymore. Even Bates and Anna's pregnancy storyline starts out in a place preoccupied by death, as Anna despairs over yet another miscarriage.
Questions of obsolescence and decay abound as well, as a generation both above- and below-stairs sees their health and influence fading away. As Cora takes her former position at the hospital, an upset Dowager takes a lengthy ocean voyage; Matthew's mother Isobel (Penelope Wilton) renews her engagement with Lord Merton (Douglas Reith) as he is diagnosed with severe anemia; loyal butler Mr. Carson (Jim Carter) develops palsy and must retire.
Nearly everyone finds their happily-ever-after, of course: Mary and Henry are wed and are soon expecting; Edith, succeeding in business and having finally overcome the shame of her daughter's parentage, marries in the series finale; Carson takes an emeritus position as beloved valet Barrow (Robert James-Collier) becomes head butler; Lord Merton's anemia is not as severe as originally thought; and naturally, Anna's water breaks in the middle of Edith's reception. Is it blatant wish fulfillment that everyone should be so satisfied at the end? Of course, but after six years and over 50 episodes, who among us would want it any other way?
Season 1
It's 1912 and the Titanic has just sunk with Patrick Crawley, heir to the Downton Abbey estate, on board. Patrick was heir only due to his gender; his second cousin and fiancee Lady Mary would by birth be the heir, but under British law she cannot as a woman inherit the estate. Now she has no fiance and thus no inheritance. Enter Matthew Crawley, an even more distant relation and new male Downton heir. One day he and Mary will fall deeply in love; of course, they hate each other at first sight.
In this first season, Fellowes establishes two of his pet themes. The first is the cruel and arbitrary nature of the British legal system, which at the time was spectacularly hostile to anyone who was not a white, land owning man. Mary has agreed to a loveless marriage with a semi-close relation in order to keep hold of her own property; downstairs (or below-stairs, as they say), ambitious footman Thomas Barrow must keep his desires deep in the closet, as the penalty for homosexual acts in this era is barbaric.
The second theme is the question of who does or does not belong, both above-stairs and below. Matthew is not the only stranger in paradise; there is also Robert's new valet John Bates, who must ward off the schemes of Barrow and house maid Mrs. O'Brien (Siobhan Finneran). The show has a good amount of fun at the aristocrats' expense, but Fellowes understands that the flipside to the aristocrats' coin is the world of their servants, which can be every bit as cutthroat and desperate for status. For all of them, Downton Abbey is the entire world, its walls impenetrable to everything but plague and war.
Season 2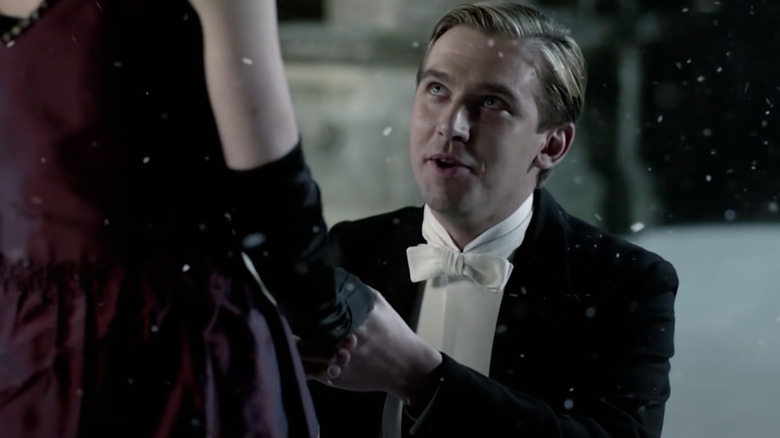 Plague and war both arrive to Downton Abbey (and to "Downton Abbey") in Season 2, which skips over the first two years of World War I and lands in 1916. Matthew, jilted by Mary at the end of the previous season, is now an Army officer, and the estate has been converted into a soldiers' hospital (as was Highclere, the real-life estate where the series was filmed).
After being injured in a bomb blast, Matthew returns to the estate with his new fiancee Lavinia (Zoe Boyle) in tow. Not to be outdone, Mary becomes engaged to newspaper magnate Sir Richard Carlisle (Iain Glen of "Game of Thrones"). Will these two inconvenient would-be spouses be shown the door by the end of the season? Yes, of course, but not before the 1918 Spanish Flu pandemic sweeps through the estate, putting Cora and head butler Carson in grave danger.
Through its run, the show would come under scrutiny for its politics, which were never as explicitly pro- or anti-aristocracy as some would want. The show luxuriates in the wealth of its world just as much as it acknowledges what a cage that wealth can be, or how the Crawley's lifestyle is borne upon the backs of a servant class. But Season 2 makes wounded veterans of master and servant alike, and the flu doesn't care that one body is considered more important than another. It would be the show's most democratizing vision, if only any of the characters could see past themselves.