Uncategorized
'Sex appeal is fifty percent what you've got and fifty percent what people think you've got' – A Sophia Loren Gallery
Sophia Loren by Alfred Eisenstaed, 1961
Born Sofia Scicolone in Rome in 1934, she was brought up on the outskirts of Naples, the child of unmarried parents in a staunchly conservative Catholic country at the height of Italy's fascist period. She was so thin as a child her friends called her "The Toothpick."
Sophia Loren by Alfred Eisenstaedt in 1961
Sophia Loren October 1963 Photo Bert Stern
Sophia Loren e Robert Vagner "I sequestrati di Altona", 1962 Photo Pierluigi Praturlon
Be careful about what you eat because otherwise you get fat! Do you like to be fat? Eat very, very, very little things. Almost starve, but I don't starve, because I eat very much.
Sophia Loren with her mother and her sister, dec 1957 Photo Loomis Dean
Sophia Loren and Richard Burton
Legend of the Lost
Sophia Loren and Carlo Ponti – Photo Pierluigi Praturlon
Because I am from Naples I like the mixture of drama and comedy all together.
Sophia Loren, one of Italy's most renowned actresses, arrives at New York's Idlewild Airport circa 1960
Many people think they want things, but they don't really have the strength, the discipline. They are weak. I believe that you get what you want if you want it badly enough.
Marcello Mastroianni and Sophia Loren The Priest's Wife (1971), directed by Dino Risi; Costume designer Gianni Polidori
I've never tried to block out the memories of the past, even though some are painful. I don't understand people who hide from their past. Everything you live through helps to make you the person you are now.
Sophia Loren from Arabesque
A woman's dress should be like a barbed-wire fence: serving its purpose without obstructing the view.
Sophia Loren with Sir Charlie Chaplin at the Savoy Hotel in London to announce their collaboration on the upcoming movie 'A Countess from Hong Kong', on November 1st, 1965
It's a mistake to think that once you're done with school you need never learn anything new.
Sophia from Boy on a Dolphin
Sex is like washing your face – just something you do because you have to. Sex without love is absolutely ridiculous. Sex follows love, it never precedes it.
Sophia Loren from Desire Under the Elms, 1958
I'm a giraffe. I even walk like a giraffe with a long neck and legs. It's a pretty dumb animal, mind you.
1961: Italian film actress Sophia Loren in the film 'El Cid'.
After all these years, I am still involved in the process of self-discovery. It's better to explore life and make mistakes than to play it safe. Mistakes are part of the dues one pays for a full life.
El Cid
There is a fountain of youth: it is your mind, your talents, the creativity you bring to your life and the lives of people you love. When you learn to tap this source, you will truly have defeated age.
Sophia Loren during Cannes Film Festival 1964
Sex appeal is fifty percent what you've got and fifty percent what people think you've got.
Arabesque
After all these years, I am still involved in the process of self-discovery. It's better to explore life and make mistakes than to play it safe. Mistakes are part of the dues one pays for a full life.
Sophia Loren meets Princess Margaret at the Cannes Film Festival in 1966
Sophia Loren arrives at a grand ball at the casino in Monto Carlo, Monaco, wearing an elaborate headdress on March 16, 1969
Sophia Loren arrives at the Barberini Palace in Rome to attend a party for the premiere of The Lion in Winter in Rome in 1969
Sophia Loren gets into a car at London Airport on January 15, 1966
Sophia (A Countess From Hong Kong)
1960: Italian actress Sophia Loren, born Sofia Scicolone, in a publicity still for the 1960 film 'Heller In Pink Tights'.
1957: Sophia Loren the Italian actress lets her hair down between scenes for the film 'Legend of the Lost', in which she co-starred with John Wayne.
Stage and Screen. Personalities. pic: 1965. Sophia Loren, born 1934, Italian Film actress.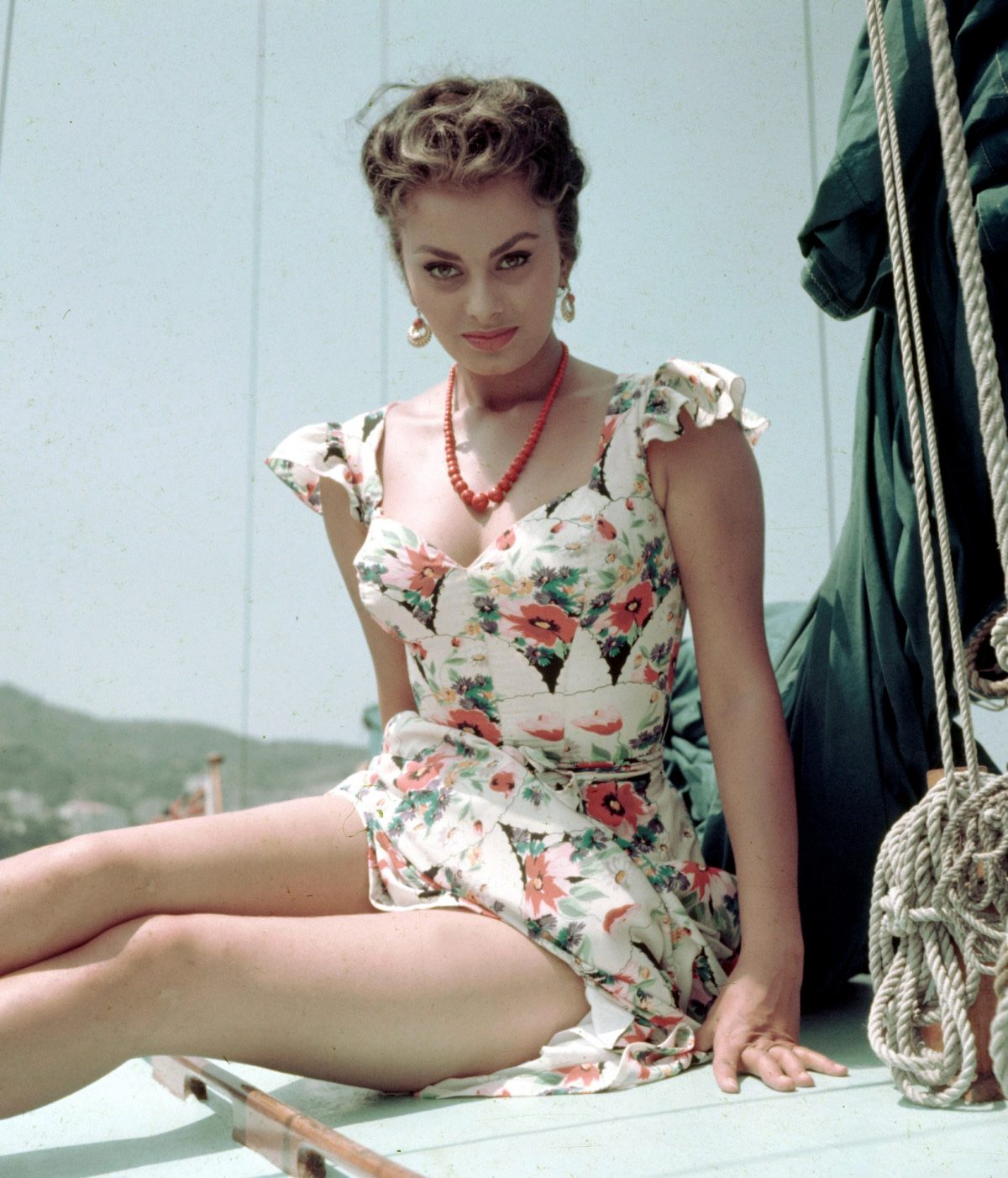 Sophia Loren boarding a plane to Paris with her husband Carlo Ponti to begin filming 'Three Dimension' on March 8, 1962
Sophia Loren holds a red cape during a lesson from famous bullfighter Luis Miguel Dominguin at his private training ring at the Villa Paz near Madrid, Italy on February 10 1956
Sophia Loren at the Royal Film Premiere of Les Girls in London in November of 1957
A film still of Sophia Loren and Cary Grant in 1957
Sophia Loren walking down the Embankment in London in October of 1957
Sophia Loren at the Venice Film Festival on September 5, 1958
Sophia loren posing outside the window at her hotel in Cannes while promoting the Italian film 'Nella Citta L'Inferno' on May 14, 1959
Sophia Loren and her husband Carlo Ponti attend a baseball tournament at the opening of the Youth Games in Marino, Italy on March 17, 1970
Sophia Loren after being made an honorary member of the Paris Branch of the American Legion on March 9, 1962
1960: Italian actor Sophia Loren wears a ball gown, long white gloves, and a tiara while sitting in an armchair on the set of director Michael Curtiz's film, 'A Breath of Scandal'.
Fall of the Roman Empire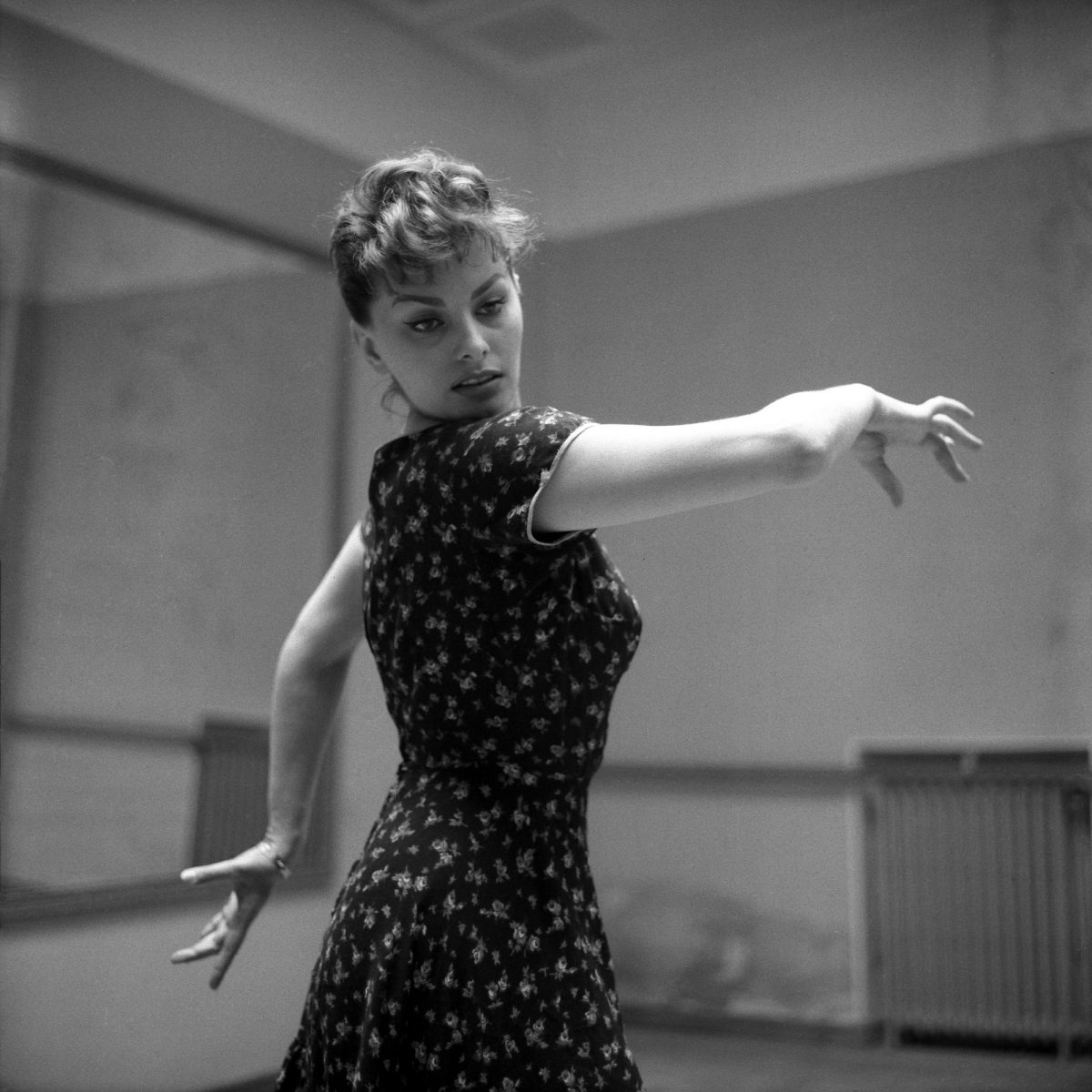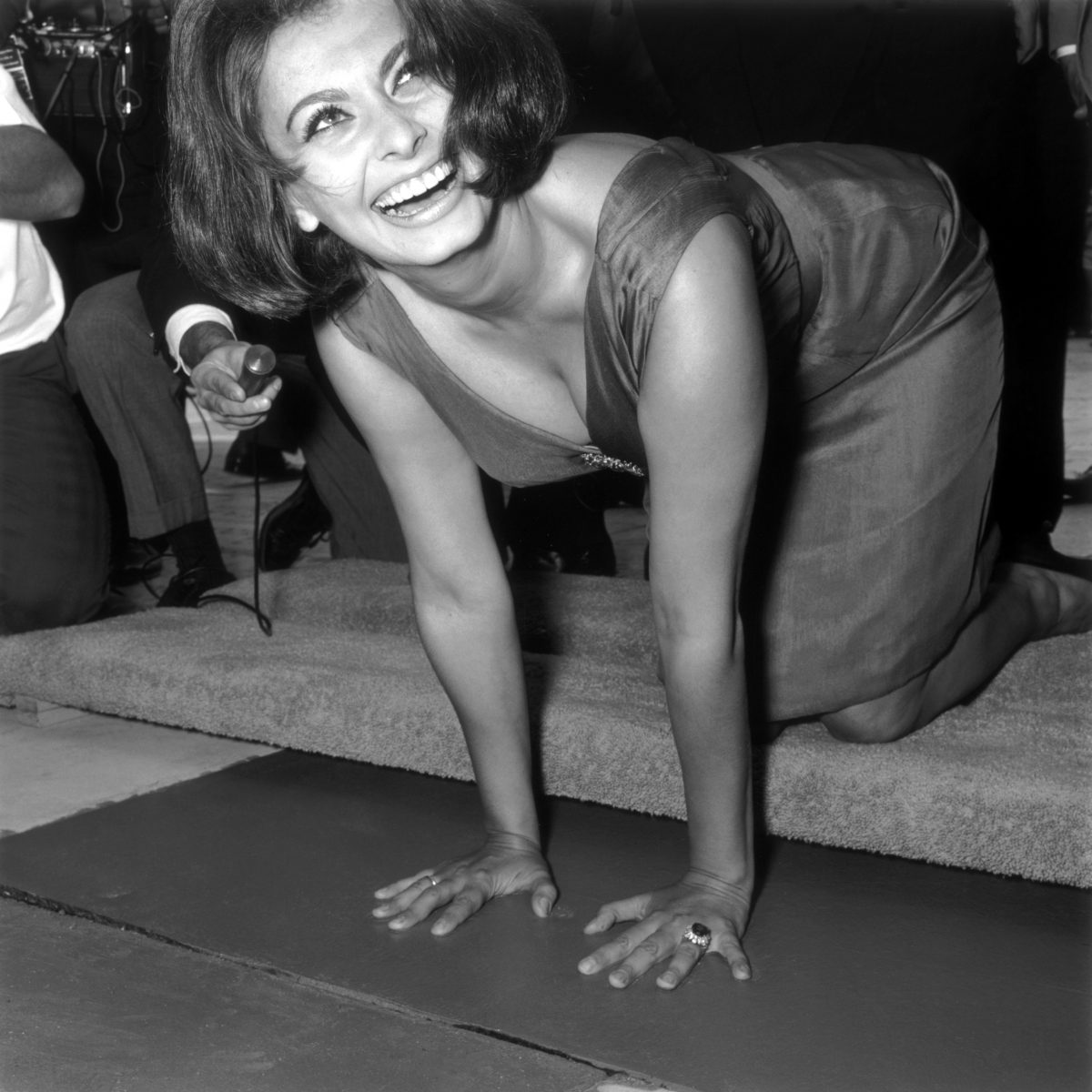 1958: Italian actress, Sophia Loren (1934 – ) at the bar.
Sophia Loren and LIFE's photographer Alfred Eisenstaedt during a boating jaunt off the coast of Naples, 1961 Photographer Alfred Eisenstaed
1955: Italian film actress Sophia Loren on location at Ostia Antica for the filming of 'La Fortuna di Essere Donna'.
Yesterday, Today and Tomorrow
Sophia Loren holding hands with English director Anthony asquith on the set of the film 'The Millionairess', in London on June 12, 1960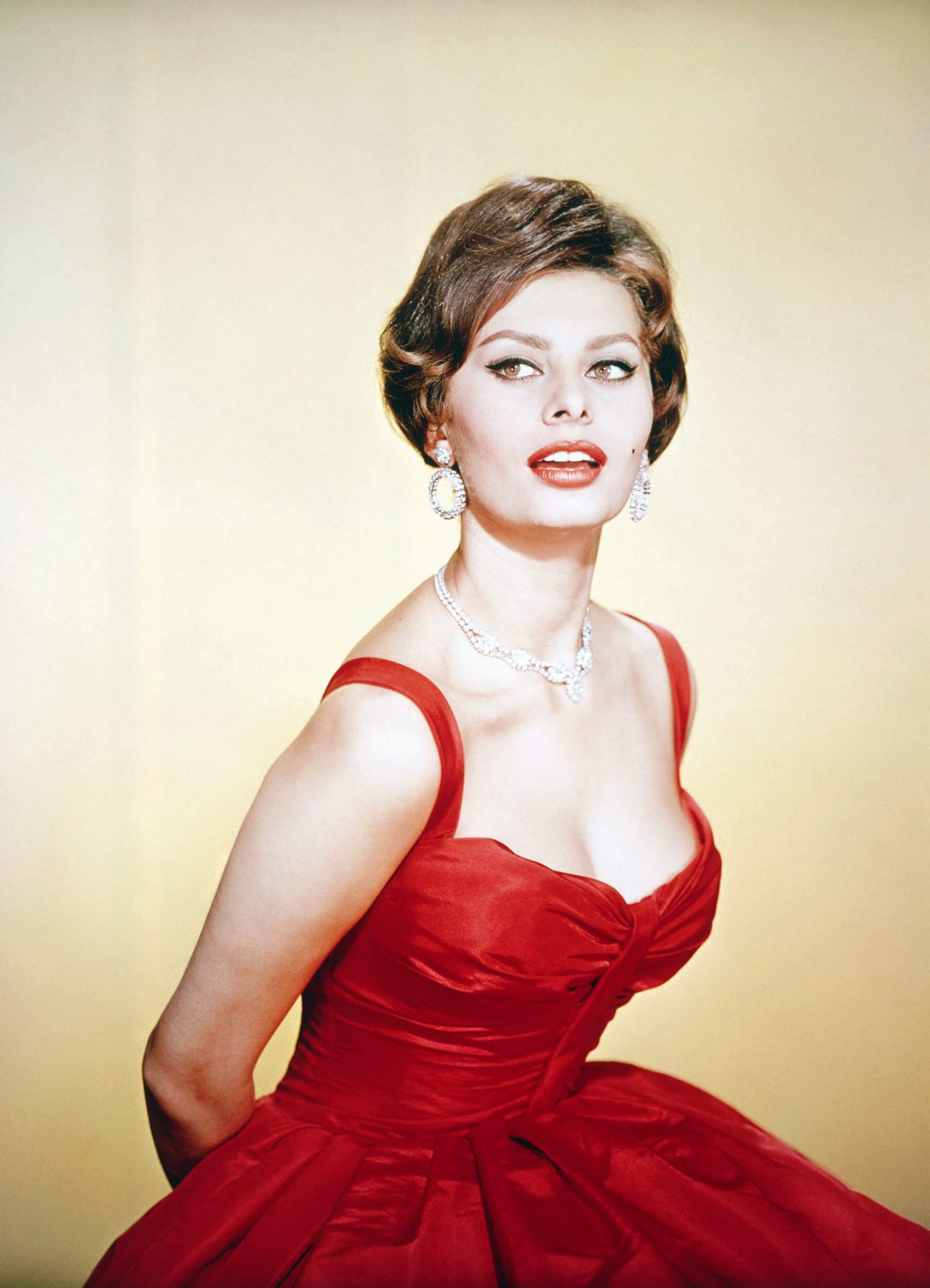 Sophia Loren on set of the film Legend of the Lost in Libya in 1957
Sophia Loren and Marlon Brando at a cinema in Rome, where Brando received the Francesco Pasinetti Prize for his performance in the film 'On The Waterfront' on November 11, 1954
Sophia Loren relaxes on a couch in her Rome apartment before an evening out on January 30, 1957
Sophia Loren with a bodyguard of mounted Bedouins in the desert in Libya, during the filming of 'Legend of the Lost', in 1957
Sophia Loren lets her hair down between scenes for the film 'Legend of the Lost', in which she co-starred with John Wayne in 1957
Sophia Loren spends time at the beach in 1956
Sophia Loren tries on a Christian Dior 'New Line' dress made by Battilocchi of Rome, in a store in Rome, Italy on February 6, 1956
Sophia Loren at the 8th Cannes International Film Festival in May of 1955
Sophia Loren at London Airport (date unknown)
Sophia Loren leaves the Savoy Hotel in London after viewing scenes from her latest film 'The Key' on April 14, 1958
Sophia Loren in 1958
Sofia Loren cowers in her car as a crowd of ardent fans press around her during the annual Rome to San Remo Cinema Car Rally on April 9, 1956