Three is obviously the magic number when discussing one of the most popular and influential comedy groups in American history, three hams better known as the Three Stooges. The prolific threesome had an unrivaled career at Columbia, starring in 190 shorts over a period of 25 consecutive years (1934-1959), but, like many great entertainers , [2] the Stooges started out as single acts in small-time vaudeville. It all started in Bensonhurst, New York, where Jennie and Solomon Horwitz raised a litter of five. Little did the Jewish Lithuanians know that three of their boys were to become American icons. Samuel "Shemp" Horwitz (1895-1955), Harry Moses "Moe" Horwitz (1897-1974) and Jerome Lester "Curly" Horwitz (1903-1952) were all part of the Three Stooges at some time, but Moe was the only one of the Horwitz brothers who was always a Stooge. Their rise to fame is the classic Jewish-boy-makes-good story, including the creation of a stage persona that included many Jewish entertainers changing their name [3] as they found their way to the stage. When Samuel and Harry Moses Horwitz hit the stage their names soon took on a more American ring as Moe and Shemp Howard. They first appeared as single acts on the vaudeville stage [4] but teamed up in 1916, doing a professional blackface routine. A variety of comedy acts ensued, until the boys met with another comedian, and friend, by the name of Ted Healy (Clarence Ernest Lee Nash), in 1922.
Before we go down that yellow brick road, however, there is the matter of another all-time Stooge, Louis "Larry" Feinberg (1902-1975). Feinberg, later Larry Fine, was a native of Philadelphia and entered the vaudeville circuit as a song-and-dance man. Larry was urged to play the violin at a young age due to an unfortunate accident involving a powerful acid. His father owned a watch-and-jewel repair shop and handled acids to check gold for its authenticity. As if out of a Stooges short, young Larry mistook a bottle of acid for a cool drink one day and tried to consume said bottle. Luckily for Larry, his father intervened and slapped the bottle out of his hand, spilling some of the acid onto the young boy's forearm. After undergoing a skin-grafting procedure, the doctors advised Larry to take up an instrument to strengthen the muscles in his arm. Fine thus became a versatile musician, sang along with movie slides and, in 1921, he landed a job in Gus Edwards' "Newsboy Sextette" where he sang, danced, and told jokes in Yiddish. This was where he met his wife to be, Mabel Haney, and her sister Loretta, with whom he formed "the Haney Sisters and Fine". It was while working as a member of this comedy trio that Larry Fine happened upon Moe, Shemp and Healy. They were all playing the same venue in Chicago in 1925. Healy asked Fine to join the group, forming "Ted Healy and his Three Southern Gentlemen", which soon became "Ted Healy and his Three Stooges."
According to the Cambridge Dictionary, a "stooge" is "an actor […] in the theatre or on television whose job is to allow the main actor to make him or her look foolish." [5] While "stooging" was in no way invented by the group, it did bring them success. In their early years they performed on stage – even once on Broadway in Busby Berkeley's A Night In Venice – until they made their feature film debut for the Fox Film Corporation entitled Soup to Nuts (Benjamin Stoloff, 1930). After this movie, however, the Stooges left Healy and Shemp Howard decided to embark on a solo career . [6] The threesome now a twosome, a Stooge needed to be found. Enter Jerome Lester "Curly" Horwitz. Everyone's favorite Stooge, Curly entered show business as a ballroom dancer and as a conductor for the "Orville Knapp Band." He used to watch his brothers perform from backstage and run little errands when possible. When the time came to replace Shemp – who left because he was tired of Healy's drunken rages – all Curly had to do was shave off his wavy brown hair and moustache, and he was in. Healy and the Stooges, temporarily redubbed "Howard, Fine and Howard", signed a one-year contract with MGM for five two-reelers , [7] but the Stooges split for the second and final time when their contract expired. Their line-up proved to be one that stood the test of time, for Moe, Larry and Curly went on to produce 97 shorts over a time span of thirteen years (1934-1947). These shorts were part of a contract they signed with "minor major" Columbia Pictures to produce eight two-reel shorts. Nearly every major studio had a short film department and tried to press an identifiable mark upon them. Columbia's Short Subjects Department was headed by Jules White. White produced and directed over 300 shorts for Columbia and assembled a team of professionals that is responsible for the longevity and popularity of the Three Stooges, as well as that of Scottish comedian Andy Clyde. The Stooges initially had a contract for eight shorts, but apparently there was never an actual written contract. They had an agreement with studio mogul Harry "King" Cohn, who assured the Stooges that "as long as I am head of this studio, you boys will always have a job here at Columbia." [8] Cohn kept his word and the Stooges were, in their different line-ups, good for 190 shorts, shaking hands with Cohn for 25 years until he passed away in 1958.
With Healy gone, the Stooges were not actually "stooges" anymore but that did not stop them from making fools of themselves. Moe was clearly the on-screen boss, though off-screen he was too, barking orders and busting heads were stocks-in-trade of the chief with the sugar-bowl haircut. He was, without a doubt, the cruelest and most violent of the three Stooges. Larry won everyone's hearts with his naive simplicity, sense of compassion and happy-go-lucky demeanor. He served as middleman, reacting to Moe's dictatorial behavior as well as to Curly's crazy capers. When Larry made a joke, he was sure to make it count. [9] Curly, easily the most popular of the three, was a classic buffoon. He was an acrobatic, graceful figure with childlike idiosyncrasies whose verbal side was just as developed as his physical side. Together, Moe, Larry and Curly – and the creative team at Columbia Pictures- created a smorgasbord of slapstick, wordplay and hyperreal shticks with matching sound effects that influenced filmmakers and comedians alike. [10] Unfortunately, the comic trio's longstanding career became endangered when Curly suffered a debilitating stroke during the filming of Half-Wits Holiday (Jules White, 1947). Curly's health forced him into an early retirement and the unlucky Stooge passed away in 1952 at the age of 49. Forced to find a replacement or retire, the remaining Stooges opted for the former and called upon the talents of former Stooge, and Moe's brother, Shemp Howard. Columbia resisted at first because Shemp did not possess the same vitality that Curly did and his appearance, resembling Moe's, could create confusion among the moviegoers. But on Moe's insistence, the studio eventually agreed to take on Shemp as the third Stooge. The newly formed threesome produced 77 films from 1947 to 1956. Shemp was a more assertive comedian whose type of comedy was not at all like Curly's. This is perhaps why there was a sharp increase in the amount of violence during the Shemp years, though this was not the only increase.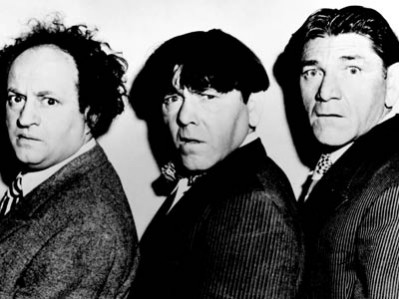 Shemp's arrival ushered in a new era of austerity at Columbia Pictures, causing producers to recycle sets, scripts, and even footage to keep costs down. This level of austerity reached its climax in 1956, when Shemp passed away after the filming of For Crimin' Out Loud (Jules White, 1956). For his death did not stop the Stooges from making four more shorts with him. These films were remakes of earlier shorts that used archive footage, and a Shemp double (Joe Palma) whose face was obscured. Ironically, it was the third Stooge again that was on the receiving end of the blow. Another Columbia Pictures contract player, Joe Besser, filled Shemp Howard's vacant lot. The Stooges made their final sixteen two-reelers (1957-1959) with Besser as third Stooge, but these last shorts are widely recognized to be the low point in their career. This was not entirely due to Besser, however. Moe and Larry had grown older, and the constant rehashing of plots did not help much either. Their career at Columbia ended when, in 1958, the studio closed its Short Subjects Department. Aside from films, the Stooges had also been doing public appearances nationwide.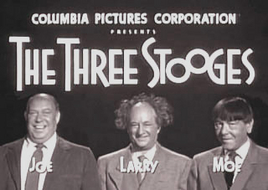 When the Short Subjects Department was disbanded, they had to hit the road again. Joe Besser did not wish to travel and retired from the Stooges. The Stooges, once again, needed a third Stooge and ended up choosing former Columbia contract player Joe DeRita as Besser's replacement, DeRita was dubbed "Curly Joe" because he bore a strong resemblance to Curly Howard. Despite the fact that Joe DeRita is considered a substandard Stooge, the trio enjoyed a new wave of popularity in his presence, as their shorts were now airing on national television. The Stooges' newly found fame allowed them to do seven full-length features from 1959-1970 and a cartoon series , until they were finally forced into retirement when Larry Fine suffered a massive stroke in 1970. Five years later, Fine passed away due to another stroke, and Moe Howard died of lung cancer, ending the Stooges' act for good. Fortunately, they left behind a plethora of comedy shorts that are immediately identifiable because of the cartoonlike sound effects, the malapropisms and the slapstick eye-gouges. The Stooges could take on any profession, at any particular time, and still elicit some chuckles. Nyuk, nyuk, nyuk.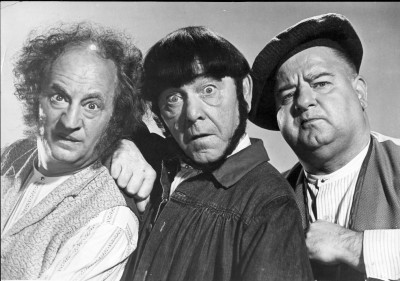 You are moidering the King's English
Verbal humor was one of the Stooges' stocks-in-trade, as well as one of those other Jewish hams, the Marx Brothers. While the latter are perhaps remembered more for their verbal qualities – Chico and Groucho being incarnations of wordplay – there were puns and malapropisms galore in most Three Stooges shorts as well. In fact, almost all of their titles were plays on expressions, such as Cactus Makes Perfect (Del Lord, 1942); existing titles, Violent is the Word for Curly (Charley Chase, 1938) for Valiant is the Word for Carrie; or other wordplay such as G.I. Wanna Go Home (Jules White, 1946). Like their slapstick, the Stooges' brand of verbal humor was a lot more crude and perhaps also a bit edgier than that of the Marx Brothers, something which was supported by their thick Brooklyn accents. Where the wordplay between Groucho and Chico was more overtly in jest, Moe took Curly up on his promise to "moider" him more than once after a corny pun or two. The Stooges' reputation is often belittled because of their edge, referring to them as lowbrow, but the truth is that they were important for a generation of comedians that followed. Most notably those performing in the so-called Borscht Belt, such as Sid Caesar, Rodney Dangerfield, Woody Allen, Mel Brooks and Lenny Bruce. Borscht Belt comedians did stand-up comedy in which they often flaunted their Jewishness in a way that the Three Stooges seldom did. They told pun-filled stories in a self-deprecating style that echoes Groucho Marx' absurd storytelling, but which also borrows a lot from the Stooges. For instance, if we compare Mel Brooks' Blazing Saddles (1974),
Lili Von Shtupp: Hello, cowboy. Wha's your name?
Tex: Tex, Ma'am.
Lili: Texmam? Well, tell me Texmam, are you in show business?
Tex: Well, no, ma'am.
Lili: Then why don't you get your fwiggin' feet off o' the stage.
to the Stooges' The Yoke's on Me (Jules White, 1944),
Moe: That's no pelican, that's a gander.
Curly: Mahatma Gander?
We can see that there is a shared value in the characters' misappropriation of language, either due to a certain accent, or simply because of plain foolishness. It was usually the third Stooge who murdered the King's English, since he was always the simpleton par excellence. The same goes for the Marx Brothers, where it was the immigrant character, Chico, that bungled the language to create his own meaning:
Groucho: Columbus was sailing along on his vessel…
Chico: On his what?
Groucho: Not on his what, on his vessel. Don't you know what vessel is?
Chico: Sure, I can vessel… [starts whistling]
The Stooges did not have a specific character among them that was an immigrant, but of course at the same time they were all immigrants. Not only did their Jewish heritage make them immigrants by default, their Brooklyn accents made for many a mistaken word as well. Some examples:
[Curly talks to the jury in a memorable Disorder in the Court (1936)]
Defense attorney: Kindly speak English and drop the vernacular.
Curly (holding his derby): Vernaculah? That's a doiby!
Defense attorney: Drop the vernacular!
[Curly drops his hat]
(…)
Moe: Can we have some money on account?
Curly: Yeah, on account of we're broke.
(…)
Chief Editor: I'll give you each a hundred dollar bonus!
Curly: What good is a hundred dollar bogus?
Larry: Bonus, not bogus! Don't you know what bonus is?
Curly: Soitenly, Spanish! Bonus naches. Si, si senor!
The Stooges' status as social misfits is obviously emphasized by their (mis)use of language. As such, they share an anti-aristocratic and anarchic sentiment with the brothers Marx that affected a lot of Depression-era comedians. We see the boys struggle to keep jobs that they usually end up losing by the end of the episode. They even try to avoid getting drafted into the army by posing as airplane constructors, using a moniker that speaks volumes: the Wrong brothers.Slapshtik
The Three Stooges were, of course, known best for their "shtik", or shtick . In the case of the Stooges, as Ringel suggests, slapstick "stooging" was their shtick. Ringel connects the Stooges to the Jewish "purimshpils, the ritual clowning of the letz and the nar, and the tradition of the schlemiel and schlimazel"(2007; 129). "Letz" was another name for the fool in Roman times, often played by Jewish actors, who evolved into the "nar" or jester in the Middle Ages. These gross clowns were mostly nonverbal and were frowned upon by the respectable community. As time flies like an arrow (fruit flies like a banana), this slapstick tradition turned into an event that surfaced only once a year, on the Feast of Purim. On this day, all that is normally forbidden is allowed and encouraged. Aside from the performing clowns, the purimshpil also entailed the enactment of mock battles from Christian passion plays. These purimshpils were performed in Bensonhurst, where Moe, Shemp and Curly grew up, and are still being performed today in Crown Heights and other Jewish enclaves (Ringel, 2007; 130). The Three Stooges can be placed in this tradition of professional clowning, but Ringel sees the trio as a personification of the Yiddish folklore threesome of the schlemiel, schlimazel and the persecutor. A schlemiel is a clumsy person, characterized by his physical and mental ineptness, a schlimazel is someone who is chronically unlucky, and the persecutor is the necessary evil that must torment the fools. The persecutor can, according to Ringel, either be a Gentile or a cruel Jewish person. In both cases, it is obvious that Moe has 'persecutor' written all over him.
Although the schlemiel and the schlimazel seem interchangeable, there is, in fact, a marked difference. The former needs to be "eternally hopeful, untiringly enterprising, and yet [a] pathetic flop[s]," while the latter is less idiotic but winds up in the same position through sheer bad luck. One could similarly compare the onscreen persona of Woody Allen to that of Larry David for a peek at the difference in incarnation. As far as the Stooges are concerned, childish and dimwitted Curly is the perfect schlemiel, for he is both pitiable and laughable. The innocent Harpo Marx is the Marxian version of the schlemiel. Second Stooge Larry is definitely smarter than Curly but ends up receiving the same slaps and eye-pokes, because he is always in the wrong place at the wrong time. Combine this with Larry's fine Jewish schnozzle and his wild, bushy hairdo, and you have yourself a highly suitable schlimazel. An item inherent in these folklore characters was their constant shifting of occupations, since they failed at everything they took up. The Three Stooges have been everything from plumbers to dictators, but they never managed to succeed at what they did.We're working for the Census – You mean Will Hays?
The Three Stooges' Jewish background seldom came to the fore in their two-reelers. This had a lot to do with the studio they were working for, Columbia Pictures, but also with isolationist politics. Political developments in Europe first came to Hollywood's attention because of the potential that the material represented in terms of screen stories. The first films to attract criticism for getting involved were newsreels. On the one hand, these were criticized for not treating the developments seriously enough, and, on the other hand, they were considered leftist propaganda by the isolationist America-first critics. Most of the opposition came from within Hollywood itself. With the advent of the talking pictures, the MPPDA , or Hays Office, drew up a production code better known as the "Hays Code" (after Will H. Hays), which contained a few directives to improve the moral standards in films. Hollywood adopted the Code in order to avoid government censorship, but soon became its own victim when anti-Semitic Joseph I. Breen was appointed to enforce the Code in 1934. One of the most logical reasons why Hollywood adopted this form of self-censorship was, of course, financial. Producers did, after all, have to cater to the interests of a European market. But when Germany and Italy banned American films altogether in 1940, this pressure was relieved.
Hollywood confined its task as political sentinel to serious or dramatic pictures, with the exception of Charlie Chaplin's The Great Dictator (1940). Anatole Litvak's Confessions of a Nazi Spy (Warner Brothers, 1939) became the first anti-Nazi film before World War II, and this was due to the fact that Warner Brothers, according to Joseph Mankiewicz, "(…) had guts. They hated the Nazis more than they cared for German grosses." Other studios, however, were less hateful and it is surprising to see that a certain Stooges short escaped the eyes and ears of the censors, as well as those of the dubious studio mogul which it was made for, Harry Cohn. Columbia did not seem to be targeted by the isolationists as much as the other studios, which was mainly because of their Jewish-American chief, Harry "King" Cohn. He was reputed to be somewhat of an anti-Semite, because in trying to be as American as can be, he would lash out against everyone that was not trying to integrate. Louis B. Mayer once called up Cohn to solicit a contribution for Jewish relief and after Cohn reluctantly donated, he is said to have complained to an aide, "Relief for the Jews! Somebody should start a fund for relief FROM the Jews. All the trouble in the world has been caused by Jews and Irishmen."
The Three Stooges were very much your all-American everymen. The changing of their names can be perceived as an effort on the part of the Stooges to become even more American, but at the same time it was a show business tradition indulged in even by those who already had American names (such as Ted Healy, who was originally named Clarence Nash). The Stooges' shorts seldom contained Yiddishims, and when they did, they often went by unnoticed. This probably contributed to the longevity of their career, since their comic appeal was almost universal. Nevertheless, the Three Stooges were Jewish. The fact that no one noticed is an honor according to Ringel, who states that the Three Stooges "had achieved that highest goal of their generation of entertainers: assimilation into the nonethnic American mainstream." There were, however, a few notable exceptions in the Stooges' oeuvre. In analogy with Litvak's Confessions of a Nazi Spy, the Three Stooges produced two anti-Nazi shorts that were released prior to the United States' commitment to World War II. You Nazty Spy!, a Three Stooges short directed by Jules White, was released on the 19th of January 1940. I'll Never Heil Again, also directed by White, was released on the 4th of July, 1941.Oh, goody! I just love blintzes, especially with sauerkrieg!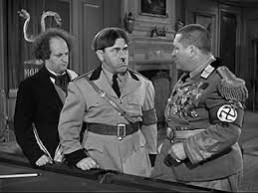 You Nazty Spy! contained the first on-screen spoof of Adolf Hitler, predating Chaplin's The Great Dictator (October 15, 1940) by four days short of nine months. Elitism caused the short to escape the censors, for they did not care about slapstick comedy. Well slapstick shmapstick, because Moe Howard was still indubitably the first screen personality to satirize Adolf Hitler and the short was a vehicle of protest against Nazi ideology. The opening title card reads: "Any resemblance between the characters in this picture and any persons, living or dead, is a miracle." In You Nazty Spy!, three powerful men of the kingdom of Moronika, Mr. Ixnay, Mr. Onay and Mr. Amscray, are discussing the country's economic problems, only to find that "there is no money in peace." Since their king is for peace, they decide to install a dictator to start a war. They must find someone who is stupid enough to do what they tell him and Moe Hailstone is just that man. Together with his cronies, Gallstone and Pebble, he is papering Mr. Onay's dining room. What ensues would make any man "plotz."
The Stooges flaunt their Jewishness and use Yiddishims in this film as if to make up for the lack of these in other shorts. When Ixnay, Onay and Amscray introduce themselves to the Stooges, the paper hangers give them a heartfelt "Shalom aleichem!" They appoint Moe Dictator (Hitler), Curly Field Marshal (Göring) and Larry Minister of Propaganda (Goebbels). Moe has to think about his appointment and, in doing so, accidentally sticks a piece of black tape onto his upper lip, combs his hair backwards with his hand and is thereby transformed into a startling Hitler lookalike. Congratulating themselves, the Stooges utter the seemingly nonsensical "Beblach," which is Yiddish for "beans." The Stooges now on the job, what do they do? First, they have to start a "beer putsch," or coup. How? "You putcher beer down and wait for the pretzels, nyuk nyuk." The Stooges take control of the country and Moe Hailstone delivers a memorable speech to his Morons in which Hitler's oratory skills, harrowing facial features and expansionist politics are nicely parodied. Soon after the speech, a swastika emblem becomes visible. It is composed of two snakes and bears the words "Moronika for Morons." We see Moe and his henchmen in their office, where Moe orders Curly to burn all the books because "there are too many bookmakers, the bookies are overrunning the country." Almost every line in this Stooges' short is memorable, if not for its incessant reference to real life, then surely for its overabundance in puns, Yiddishims and "spielerei." A prime example:
Secretary: Mattie Herring is here to see you.
Moe: Marinate her and send her in.
[A peasant is brought in, carrying a chicken]
Bellboy: Treason, your Excellency. I caught this man walking down the street with a chicken!
Curly: Blonde or brunette?
Moe: Quiet! Where did you get the chicken?
Peasant: From an egg.
Larry: Where'd you get the egg?
Peasant: From a chicken.
Curly: A vicious cycle. We must kill it. Remind me to kill a cycle.
Moe: Quiet! Put him in a concentrated camp!
The Stooges finally get to meet their "favorite dish," Mattie Herring, but find out that she is the King's daughter, sent to poison Moe. They send out their raincoat-clad storm troopers because "there is a storm brewing" and try to execute Mattie Herring, paying homage to Litvak's anti-Nazi film, Moe: "Get a confession of a nasty spy and shoot her!" Of course, they fail. In order to rectify their foolish mistake and prevent a full-scale war with the King's troops, Moe suggests starting a Blitzkrieg, eliciting Curly's "Oh, goody! I just love blintzes, especially with sauerkrieg!" The Stooges study a map consisting of such states as Double Crossia, Bolonia and Mikey Finlen. Larry has the honor of getting the latter, to which he replies, "If I take Mikey Finlen, I better be rushin' ", Curly: "Then quit stallin'." Russian, Stalin, get it? In order to procure some allies, the Stooges hold a round-table conference. One delegate sees Moe's real motives and, after the trio's proclamation "we want peace," he snaps back "Yes, a piece of this, and a piece of that country." Luckily, he is soon "appeased" by Curly's golf club. Despite their best efforts, in the end the threesome has to flee an angry mob and end up in a lion's den, where they are devoured by ferocious lions.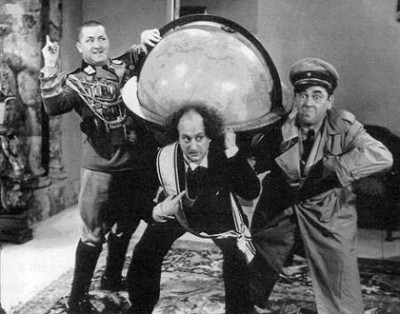 The Three Stooges released five additional shorts between 1943 and 1945 that satirized Hitler and the Japanese. Three of those shorts dealt with the Nazis and two with Japanese soldiers , although some contained a mix of both. The Japanese are racially stereotyped – buck teeth, bespectacled, silly grins – but are not portrayed as being a cruel or savage people, rather as nitwits. The reader will understand, then, that the Stooges were often mixed up in plots that had people believe they were the Japanese soldiers. With their portrayal of Hitler, the Stooges crossed a boundary that would influence Jewish comedians. Their masquerade dates back to the spirit of Purim, in which saints and sinners were interchangeable for a day. The Three Stooges dressed up as Nazis only to turn these Aryan buffoons into fully fledged schlemiels. Just think of Mel Brooks' "Hitler on Ice" at the end of History of the World: Part One (1981), or of the singing Hitlers in The Producers (1968). In most of their shorts, however, the Stooges' Jewish identity is toned down and confined to a stray Yiddishism here or there. This is quite understandable when working for a boss who supposedly refused certain actors because they looked "too Jewish".Who's laughing now?
What would have happened if the Three Stooges were to have mixed their brand of hyperreal slapstick with gory horror? Chances are they would have ended up with something very similar to Sam Raimi's Evil Dead II (1987) and Evil Dead III: Army of Darkness (1992). When the Stooges' career ended in the 1960s, their successors were comedians who flaunted their Jewishness openly. The Borscht Belt comedians, and later the "sick comedians" like Mort Sahl and Lenny Bruce, were responsible for widening the comedic range that the Stooges had opened up with shorts like You Nazty Spy!. Schlemiels like Woody Allen and Gene Wilder played out their ineptness, especially with regard to women, but the slapstick element was often not as prominent in their films (a few exceptions granted left and right). Mel Brooks, on the other hand, combined both to the full extent in his films. The three characters in Silent Movie (1976) can be compared to the Three Stooges, and the cowboy that knocks out a horse in Blazing Saddles (1974) could have come right out of a Stooge short as well. The director who took the Stooges' legacy a step further, however, was Sam Raimi. He created an over the top blend of gory horror and slapstick comedy in Evil Dead II and III (the first one is still primarily meant to scare people) that borrows a lot from the Three Stooges. Sam Raimi actually started out directing Three Stooge rip-offs, using the soundtrack of the Three Stooges, but adding his own visuals. The eye-gouges and sound effects in the aforementioned Evil Dead films act as homage to a comedy trio that made a lasting impression on Raimi. In Evil Dead III: Army of Darkness, Ash (one part hero, one part schlemiel) gives birth – it sounds nastier than it is – to Evil Ash and is tormented by his other self through pokes in the eye, slaps in the face and clonks on the head. Evil Dead II, then, contains one of the most memorable puns in film history, as we see Ash sawing off his evil hand and then imprisoning it under a bucket. He lays a couple of books on the bucket, the top one being Hemingway's A Farewell to Arms . In all three of the Evil Dead films, Ash is basically, as Curly would put it, "a victim of soicumstances." Aside from Raimi's homage, the world of popular culture is obviously full of references to the Stooges. Homer Simpson's behavior in Matt Groening's The Simpsons is, for instance, very similar to that of Curly's and the Stooges are often referenced by name. My own childhood memories include Mel Gibson's Lethal Weapon character Martin Riggs referencing the Three Stooges. Most memorably, Riggs invites a prostitute to his home to watch the Stooges with him. The Stooges even contributed to the English language, because they shot a few shorts in which a dead actor, Shemp, was replaced by a double and complemented this with archive footage. The technique of replacing a missing actor, with doubles and whatnot, is now commonly referred to as "shemping." All this just to point out that the Stooges made a lasting impression on American culture, which, if not proved by their long-lived career at Columbia, should surely become obvious when looking at popular culture.
The most glaringly obvious Stooges reference of this year was, of course, made via Peter and Bobby Farrelly's long-awaited reboot The Three Stooges (2012), starring Chris Diamontopoulos as Moe, Sean Hayes as Larry and Will Sasso as Curly. Part of the appeal of a modern day Stooges remake lay in the fact that the cast was long rumored to be Sean Penn as Larry, Jim Carrey as Curly and Benicio Del Toro as Moe; but this was clearly wishful thinking. As a Stooges fan and cinephile, it's hard not to be too overtly skeptical of a Stooges reboot, let alone one by the Farrelly brothers. Because, honestly, the question that immediately came to mind when hearing the news of a possible reboot was: why? Why would anyone want to see three actors trying to minutely simulate a comedy trio that was successful for over twenty years? While the fans will probably think it disrespectful, new viewers might have a hard time connecting to characters that existed in a wholly different era, for placing the Stooges in a contemporary context is not an easy task. At first, it seems as if the directors don't necessarily want to update the Stooges' environment by placing them in a more or less timeless orphanage setting. The incorporation of retro title cards to mark the three different episodes adds to the idea that the film will hardly differ from an actual Stooges short. Sure enough, when the film starts, the looks, jokes and shenanigans are more or less similar to the original, notwithstanding the fact that the Stooges start out as little children in the film. This will change, however, and it doesn't take too long before one of the flick's biggest detractors rears up in the form of pure schmaltz.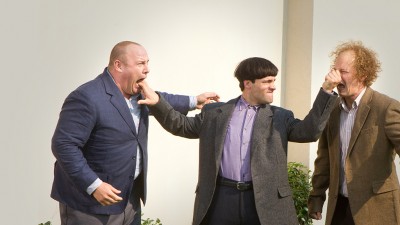 More recent imposters
This incongruous tonal contrast between comedy and pathos taints many a Farrelly brothers film. Since their primary mode of comedy is that of the gross-out, genuine pathos has a hard time finding a justifiable place in their cartoonesque universe. While Variety seemed pleased with the insertion of brotherly love, labeling it "a welcoming heartwarming dynamic to the gang's signature eye-poking," how can one really feel empathy for characters that light their own farts, squirt people with baby pee and poke the eyes of innocent bystander? More importantly, perhaps, should one have to feel empathy for these characters? The Stooges' longevity has already proved that there was more to this holy triumvirate than a simple gouge to the eye. Like the Marx brothers, the Stooges were a band of misfits bound together by social ineptitude and a skewed sense of moral values, they never needed scenes in which they melodramatically affirmed their love for one another. Nevertheless, the directors felt it necessary to split up the trio and use this as a plot device. One that not only helps update the setting to a contemporary one, but also rescues a poor orphanage in the process.
Regrettably, the dreaded update consists of reeling in the world of reality television in a most unfortunate manner. The trio's split sees Moe ending up on a sound stage and accidentally being cast in MTV's hopelessly depraved reality TV hit Jersey Shore. Enter the Situation, Snooki, JWoww, Sammi and Ronnie, self-proclaimed "juiceheads" and "guidettes" who are not by any means worthy of being named actors, but are nonetheless invited to perform some of their own shtick. In the end, the Stooges' salvation, if you will, even lies in the hands of the reality TV network, who provides them with their own show, conveniently saving the debt-ridden orphanage where the Stooges become role models. Yes, you read those last two words correctly. For all its faults, the film is not entirely a failure though. The actors do a surprisingly good job of incorporating the Stooges' mannerisms, looks and accents, down to the smallest details, and there are a couple of good laughs to be found throughout. The dialogues are well-written in the tradition of puns, malapropisms and wordplay, and do in fact manage to make the Stooges' confrontation with a changed world somewhat hilarious. When Larry tries to hike up a gangbanger's pants, for instance, the thug asks him if he's looking to get "capped." Larry responds: "No thanks, I don't wear hats. Why would I with a head of hair like this?" I will end my paper on that corny note, referring the reader first and foremost to all those wonderful Three Stooges shorts. Don't be a schmuck, go watch those films, and I don't mean efsher.
Endnotes
1 A comedy short from the trio that puts the "ham" in "hamburger", directed by White, 1950.
2 Eddie Cantor, Al Jolson, Jack Benny, George Jessel, the Marx Brothers, Smith & Dale, Fanny Brice, etc.
3 The donning of an American name has always been regarded as ambiguous, for it seems to imply a denial of one's heritage, but it is also part of a greater show business tradition. Furthermore, a look at various Jewish comedians shows us that their heritage is almost always present in their work, be it explicitly or implicitly.
4 Moe even appeared in a 1909 Vitagraph short entitled We Must Do Our Best (Van Dyke Brooke).
5 Woodford, Kate & Jackson, Guy (eds.), Cambridge Advanced Learner's Dictionary. Cambridge, 2003. p. 1256.
6 Appearing alongside Roscoe 'Fatty' Arbuckle in a number of shorts directed by Ray McCarey.
7 Nertsery Rhymes (1933), ?? Hello Pop!?? (1933), Plane Nuts (1933), Beer and Pretzels and The Big Idea).
8 Carone, James. Stroke of Luck. Hollywood, 1973. Quoted in: Seely, Peter & Pieper, Gail W. (eds.). Stoogeology: Essays on the Three Stooges. North Carolina, 2007. p.158.
9 E.g. Men in Black (McCarey, 1934), Larry (as an operating surgeon with a big knife): "Let's plug him and see if he's ripe! He-he-he!" This short also echoes Smith & Dale's Dr. Kronkheit routine.
10 E.g. Mel Brooks, Sam Raimi, Peter & Bobby Farrelly, Mel Gibson, Leslie Nielsen, John Kricfalusi, Ben Stiller, Adam Sandler, etc.
11 Rumpus in the Harem, Hot Stuff, Scheming Schemers and Commotion on the Ocean (all of them by White, 1956).
12 The last two Three Stooges shorts were released in 1959, but produced in 1958.
13 Through Columbia's TV subsidiary "Screen Gems".
14 Have Rocket, Will Travel (Rich, 1959); Snow White and the Three Stooges (Lang, 1961); The Three Stooges Meet Hercules (Bernds, 1962); The Three Stooges in Orbit (Bernds, 1962); The Three Stooges Go Around the World in a Daze (Maurer, 1963); The Outlaws Is Coming (Maurer, 1965); Kook's Tour (Maurer, 1970).
15 The New Three Stooges, 156 cartoons between 1965-1966.
16 Curly accuses Moe of speaking incorrectly, but will get strangled for mentioning it. Dizzy Pilots, White, 1943.
17 "The wrong use of one word instead of another word because they sound similar to each other, and which is amusing as a result." Cambridge Advanced Learner's Dictionary. Cambridge, 2003. p. 755. Highly similar to a pun.
18 Informal term, after the Eastern European soup, for the summer resorts in the Catskill Mountains that were frequented by Jewish-Americans.
19 Chico starts to develop a German accent in Norman Z. McLeod's Monkey Business, 1931.
20 Brother of Jules White, Jack, directs. He is billed as Preston Black.
21 If Curly's 'why soitenly' does not give him away, this does. So Long, Mr. Chumps. White, 1941.
22 Curly's use of Spanish would enamor Spaniards worldwide. Crash Goes the Hash. White, 1944.
23 The title is borrowed from Faye Ringel's essay 'Slap-shtik: The Three Stooges in the Context of Jewish Humor and Vaudeville' in Seely, Peter & Pieper, Gail W. (eds.). Stoogeology: Essays on the Three Stooges. North Carolina, 2007. pp. 128-137.
24 Evolved from the Yiddish/German "Stück", meaning 'piece or play', into a synonym for 'comic bit', also "shtick".
25 Wonderfully portrayed by Woody Allen in his ??Everything You Always Wanted to Know About Sex*But Were Afraid to Ask ?? (1972).
26 A Jewish holiday that commemorates the deliverance from Haman's plot to kill the Jews of the Persian Empire.
27 Ausubel, Nathan. A Treasury of Jewish Folklore. New York, 1948. P. 344 in Faye Ringel's 'Slap-shtik' p.131.
28 The Three Stooges are working for the Census Bureau, which Curly mistakenly, and metafilmically, thinks to be the Censors. No Census, No Feeling by Del Lord, 1940.
29 Motion Picture Producers and Distributors Association of America, later Motion Picture Association of America.
30 Friedrich, Otto. "City of Nets: A Portrait of Hollywood in the 1940s." New York, 1986. In Seely, Peter & Pieper, Gail W. (eds.). Stoogeology: Essays on the Three Stooges. North Carolina, 2007. P. 149.
31 Thomas, Bob. King Cohn: "The Life and Times of Harry Cohn." London, 1967. In Seely, Peter & Pieper, Gail W. (eds.). Stoogeology: Essays on the Three Stooges. North Carolina, 2007. P. 154.
32 English words of Yiddish origin.
33 Ringel, Faye. "Slap-shtik: The Three Stooges in the Context of Jewish Humor and Vaudeville," in Seely, Peter & Pieper, Gail W. (eds.). Stoogeology: Essays on the Three Stooges. North Carolina, 2007. P. 133.
34 Curly's dopey response to Moe's "We'll start a Blitzkrieg!" in You Nazty Spy! by Jules White, 1940. Blintzes are Jewish pancakes filled with cheese (baked or fried).
35 Popular belief held Hitler to have been a paperhanger. This motif reappears in Mel Brooks' The Producers (1968).
36 The Hebrew equivalent of "Hello", literally: "well-being be upon you".
37 A reference to reputed double-agent "Mata Hari," a Dutch dancer who was executed for espionage in WWI, not World War II as it is wrongly stated in Seely, Peter & Pieper, Gail W. (eds.). Stoogeology: Essays on the Three Stooges. North Carolina, 2007. P. 164.
38 Nazis are (more explicitly) portrayed in: They Stooge to Conga (Lord, 1943); Back from the Front (White, 1943); Higher Than a Kite (Lord, 1943); Japanese soldiers in: The Yoke's on Me (White, 1944); No Dough Boys (Ibid.)
39 Bruce Campbell as "Ash" in Evil Dead II (Raimi, 1987), talking to the hand that he is removing with a chainsaw.
40 A take on this pun can be found in Jonathan Coe's What A Carve Up! (London, 1994), where an arms dealer's arms are removed and his blood is used to write "A Farewell to arms" on the wall.
41 For a nice list, go to
42 Peter Debruge, "The Three Stooges" Variety (12th April, 2012).