Uncategorized
Sophia Loren Was Forced to Annul Marriage but Remarried the Same Man after Several Miscarriages
For many people, Sophia Loren's life seems to be a Cinderella fairytale. The Italian-born actress married her teenage sweetheart and stayed with him until he passed away at 94 years old.
Sophia Loren and Carlo Ponti stayed together for 56 years. While Carlo was the "first and only man" in Sophia's life, they doubled up on memorable life moments. They married twice but had one union annulled. The pair also welcomed two children to the happy world they created together.
Sophia Loren's love story is truly unique. She met her beloved husband when she was 16, and he was 22 years her senior — a married man with two children.
The Italian actress was born in Rome, raised during World War II, and her father left her, her mother, and her sister. Raised without a father figure, Sophia felt pretty sad and abandoned. She shared during an interview that she saw her father three or four times in her life.
When she turned 15, she was a finalist in a beauty pageant and caught the attention of the film producer Carlo Ponti. He was, perhaps, the father figure she had always wanted.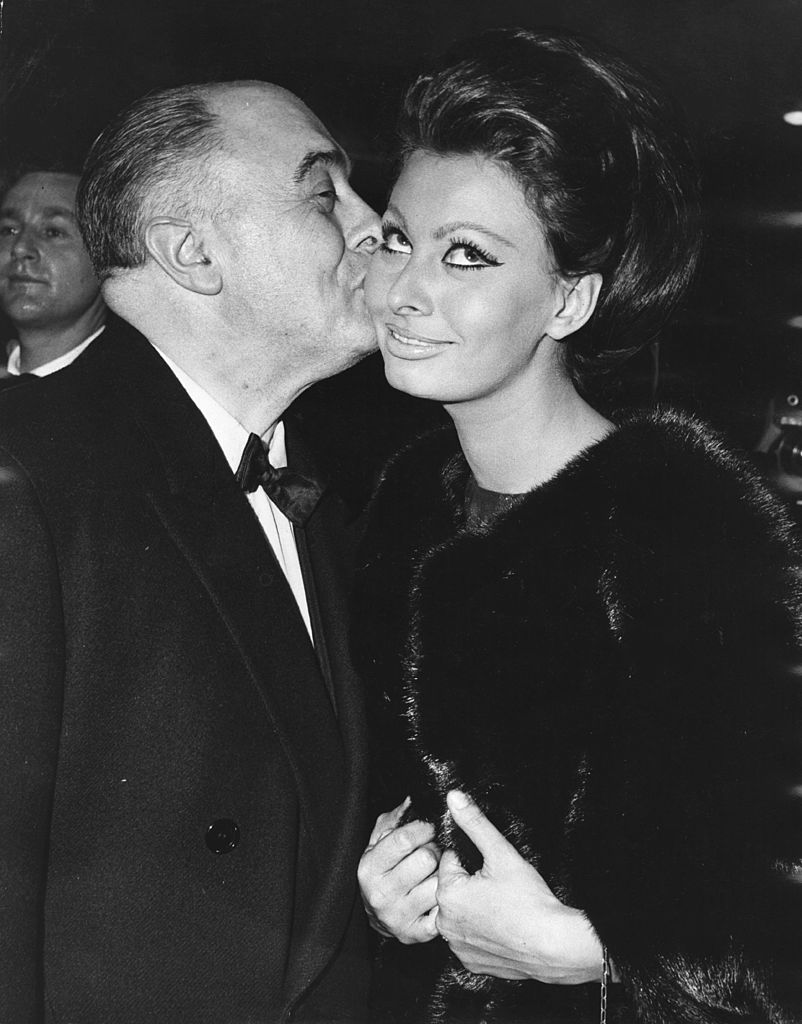 Their union suffered much criticism, and it became the center of much controversy. Even though Carlo was married and had a family of his own, the main issue around their relationship was the age gap, which brought problems with the strict Italian law.
Carlo Ponti obtained a Mexican divorce in 1957, followed by the couple's first attempt to tie the knot. The Italian film producer and the A-list actress married by proxy in Mexico, but they had issues later in Italy, where Ponti faced accusations of bigamy. So, the couple had no choice but to annul the union.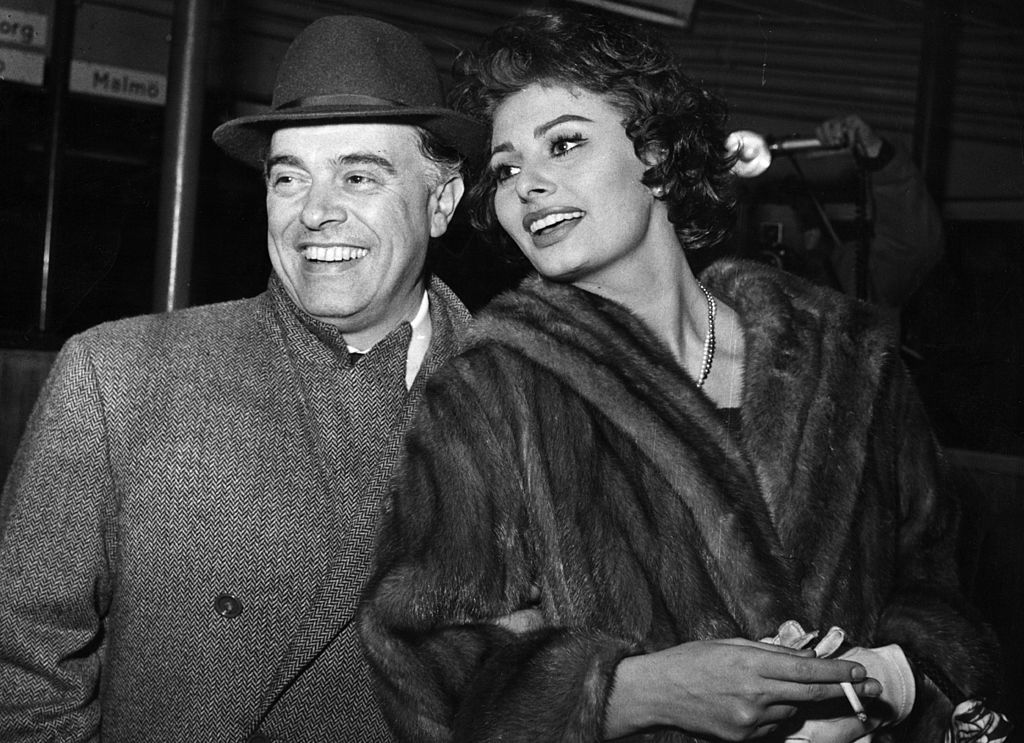 Carlo Ponti, the Italian film director and his wife Sophia Loren, the film actress arriving in Copenhagen en route from Rome to Los Angeles. | Source: Getty Images
The actress was accused of being a concubine, and she was threatened with ex-communication from the Roman Catholic Church. Sophia once shared:
"I wanted to be his wife and have his children. We had done the best the law would allow to make it official, but they were calling us public sinners."
The situation forced the Italian couple to hide their relationship, so they lived secretly in Italy or abroad for a while. At some point, they moved to France, became French citizens, and got married there. A decade later, the Italian government dropped the charges, and they could wed in Italy.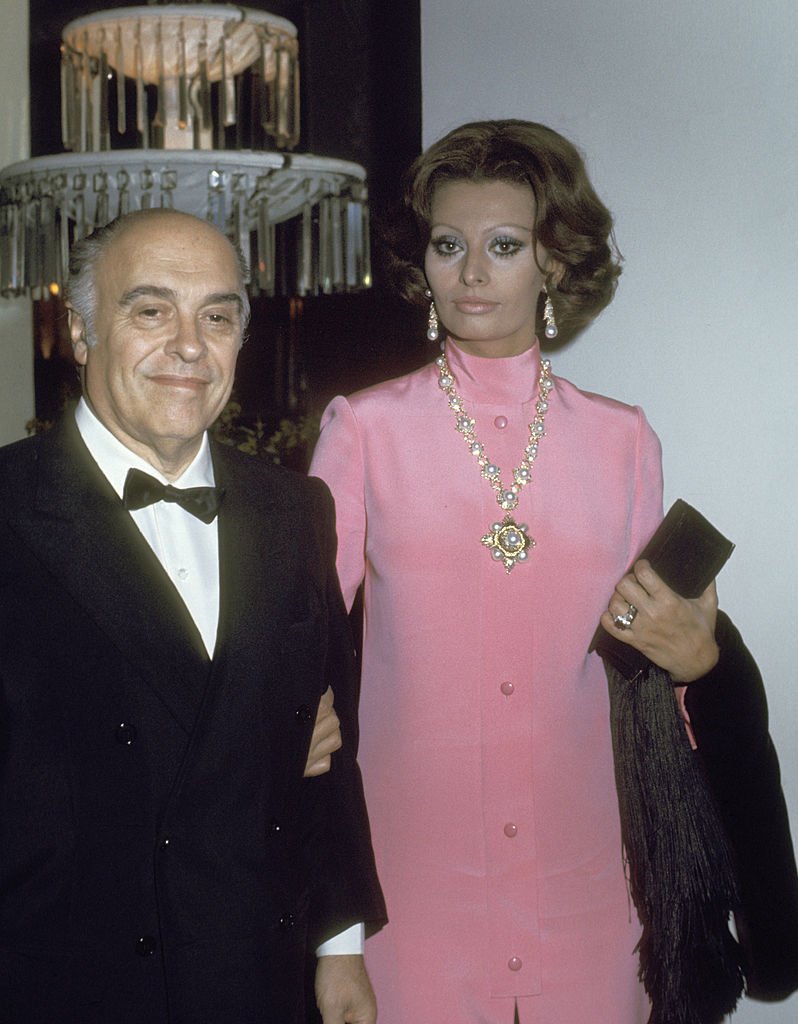 Sophia Loren and Carlo Ponti , New York City – September 24, 1970. | Source: Getty Images
The couple was constantly making the headlines and followed by paparazzi. In 1966, Sophia had several miscarriages until they were able to have their first son. The tabloids, at the time, focused on her complicated pregnancies, her affair with Cary Grant, or even the couple's charges related to taxes.
SOPHIA'S AFFAIR
What it used to be just gossip, it's already part of public knowledge. The Italian star had an extramarital affair with the British actor Cary Grant while filming "The Pride and the Passion" in 1957.
It's in public dominion because Sophia shared in her 2015 memoir "Yesterday, Today, Tomorrow: My Life" details about her love affair with Grant.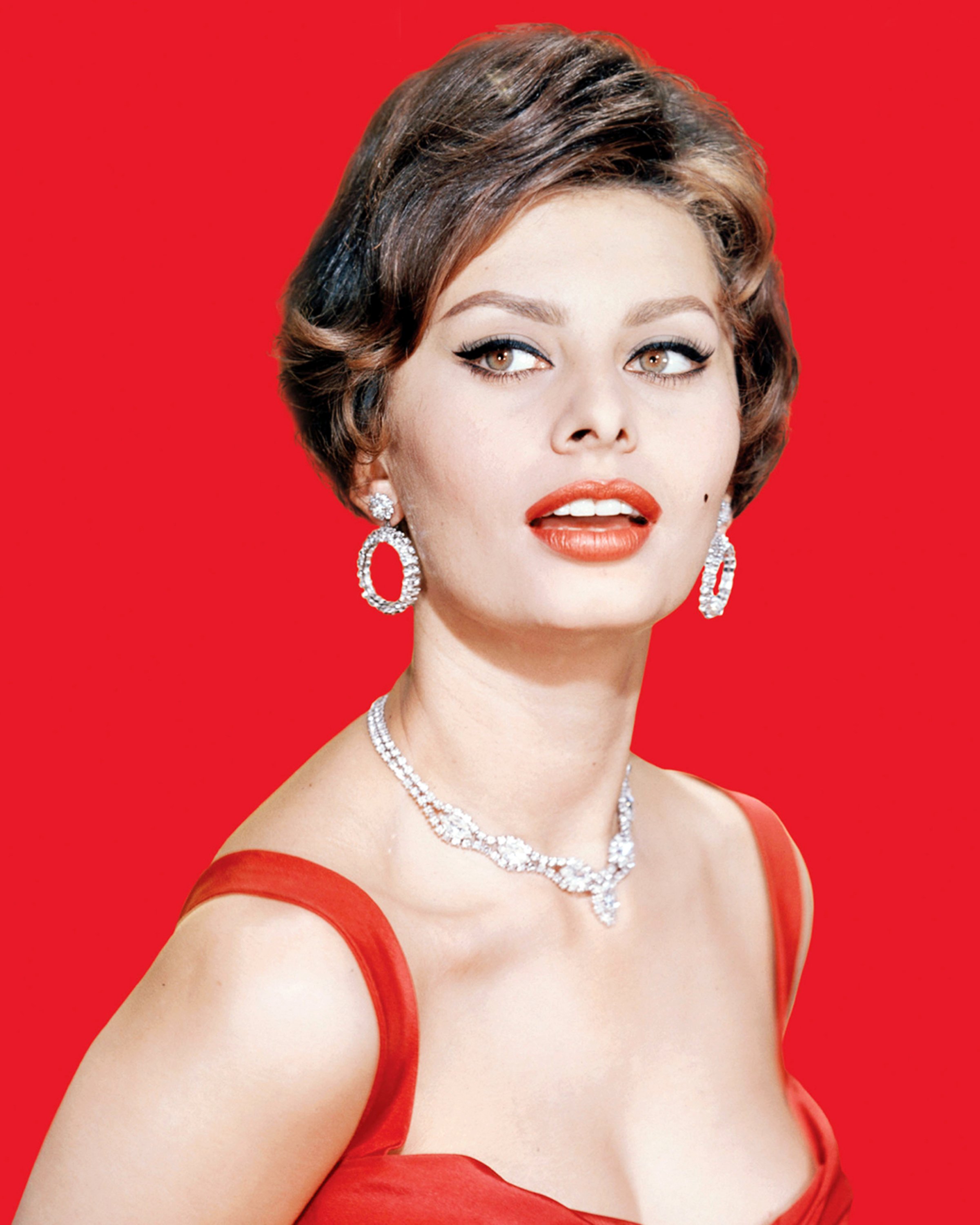 Italian actress Sophia Loren, circa 1960. | Source: Getty Images
An Italian-style love story, Grant was in his third marriage to actress Betsy Drake, and Sophia was battling with the law to get her union with Carlo recognized. However, that didn't prevent Sophia and Grant from having a fling.
The 23-year-old stunning actress enthralled the English actor, and he reportedly proposed marriage to her and sent her daily flowers bouquets.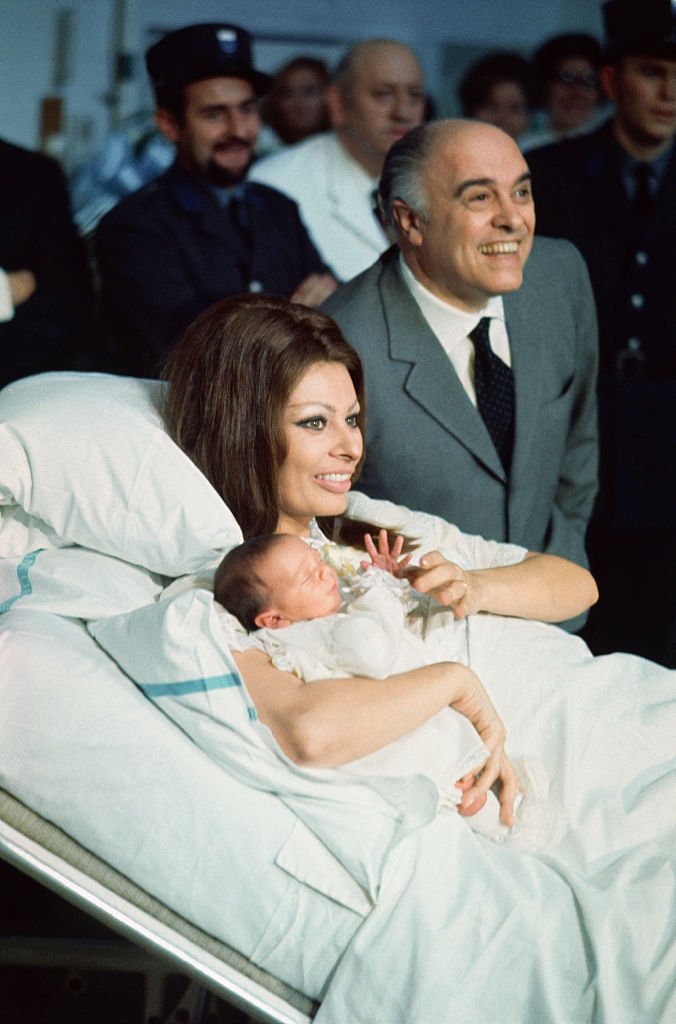 Sophia Loren has a pat on the cheek for her husband, film producer Carlo Ponti, and a smile for her son, Carlo Ponti Jr., as the baby makes his first public appearance in Cantonal Hospital. | Source: Getty Images
The iconic actress, however, didn't regret her fling. The love affair with Cary Grant didn't last. In an interview decades after what happened, Sophia opened up about it:
"At the time, I didn't have any regrets, I was in love with my husband; I was very affectionate with Cary [Grant], but I was 23 years old. I couldn't make up my mind to marry a giant from another country and leave Carlo."
TOGETHER IN LOVE AND AT WORK
Carlo Ponti was one of Italy's grandest producers, and the couple forged their path into a lengthy and successful career for each one of them. The film producer helped her boost her career, taught her manners, got rid of her Italian accent, told her to read books about art and learn English.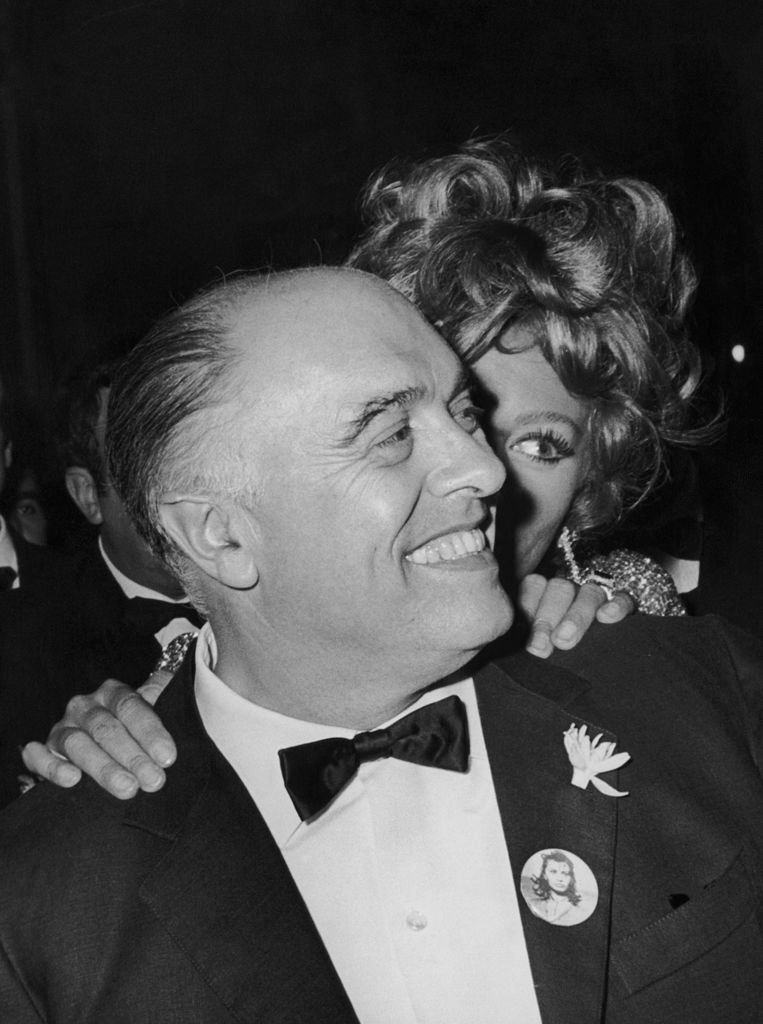 Italian film producer Carlo Ponti (1912 – 2007) with his wife, Italian actress Sophia Loren, at the premiere of their film 'C'era una volta…' at the San Carlo Theatre, Naples, 20th October 1967. | Source: Getty Images
After many miscarriages, Sophia Loren gave up her career and got pregnant again; this time, they welcomed their first son, Carlo Jr., and son Edoardo was born four years later.
The couple stayed together for 57 years until Carlo passed away at the age of 94. The Italian A-lister shared that she didn't feel like her husband was gone:
"When he died, it was not a strong ache for me because I still did not realize that he was gone forever. But now, sometimes I'm faced with things that I have to solve in life and my career, and it's now that I feel."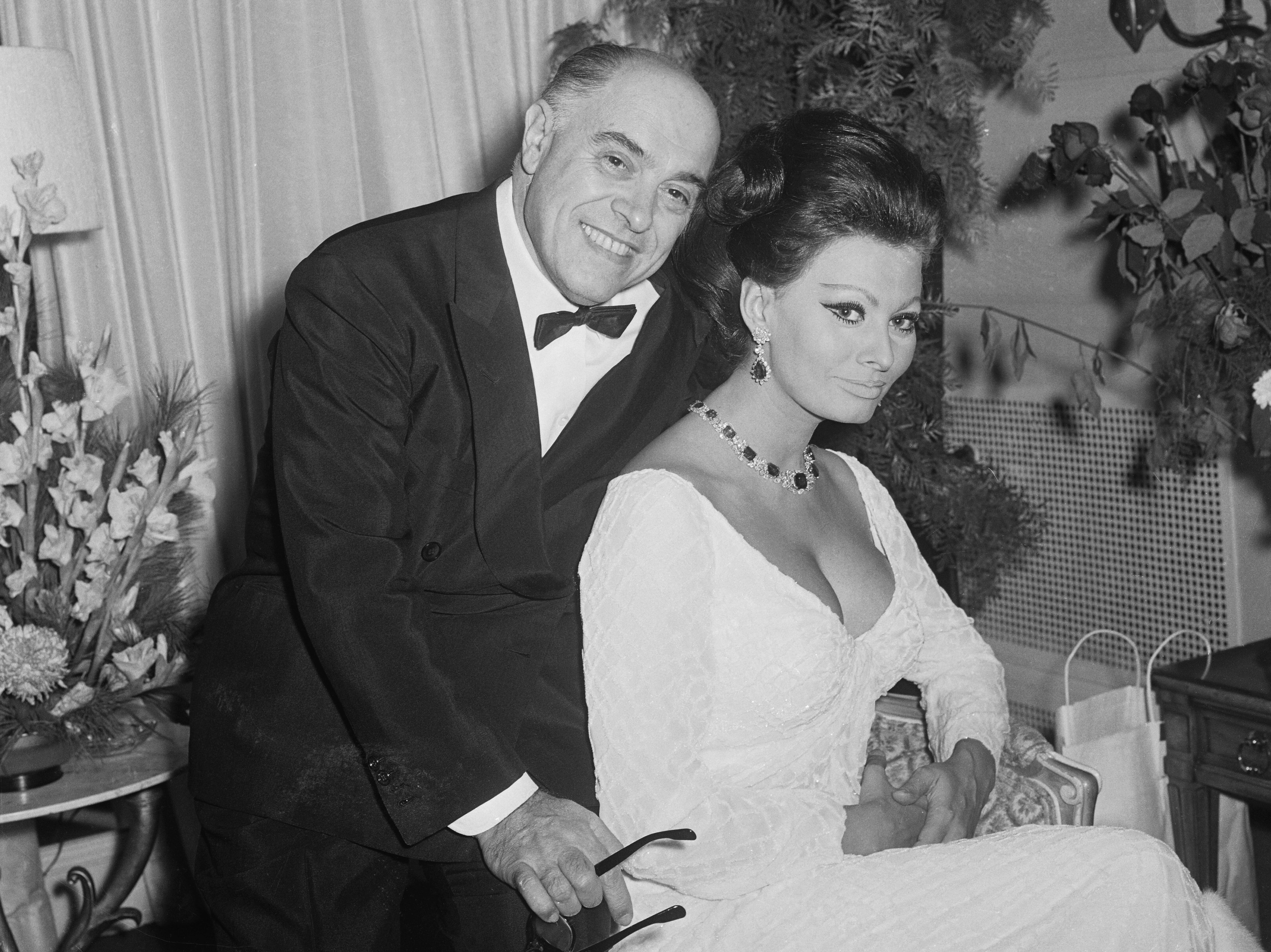 Sophia Loren and producer Carlo Ponti relax at their New York hotel. | Source: Getty Images
Sophia Loren never dated another man. After Carlo's death, she decided to focus on her two sons, Carlo Jr. and Edoardo, who both work in show business.
FOREVER A GOLDEN STAR
Despite her successful husband, the actress made a name for herself and became one of the most legendary Hollywood stars. The American Film Institute named her as the 21st greatest female star of Classic Hollywood Cinema.
To this date, Sophia Lauren is the only living person ranked in the list and the last surviving major star from the Golden Age of the Hollywood era.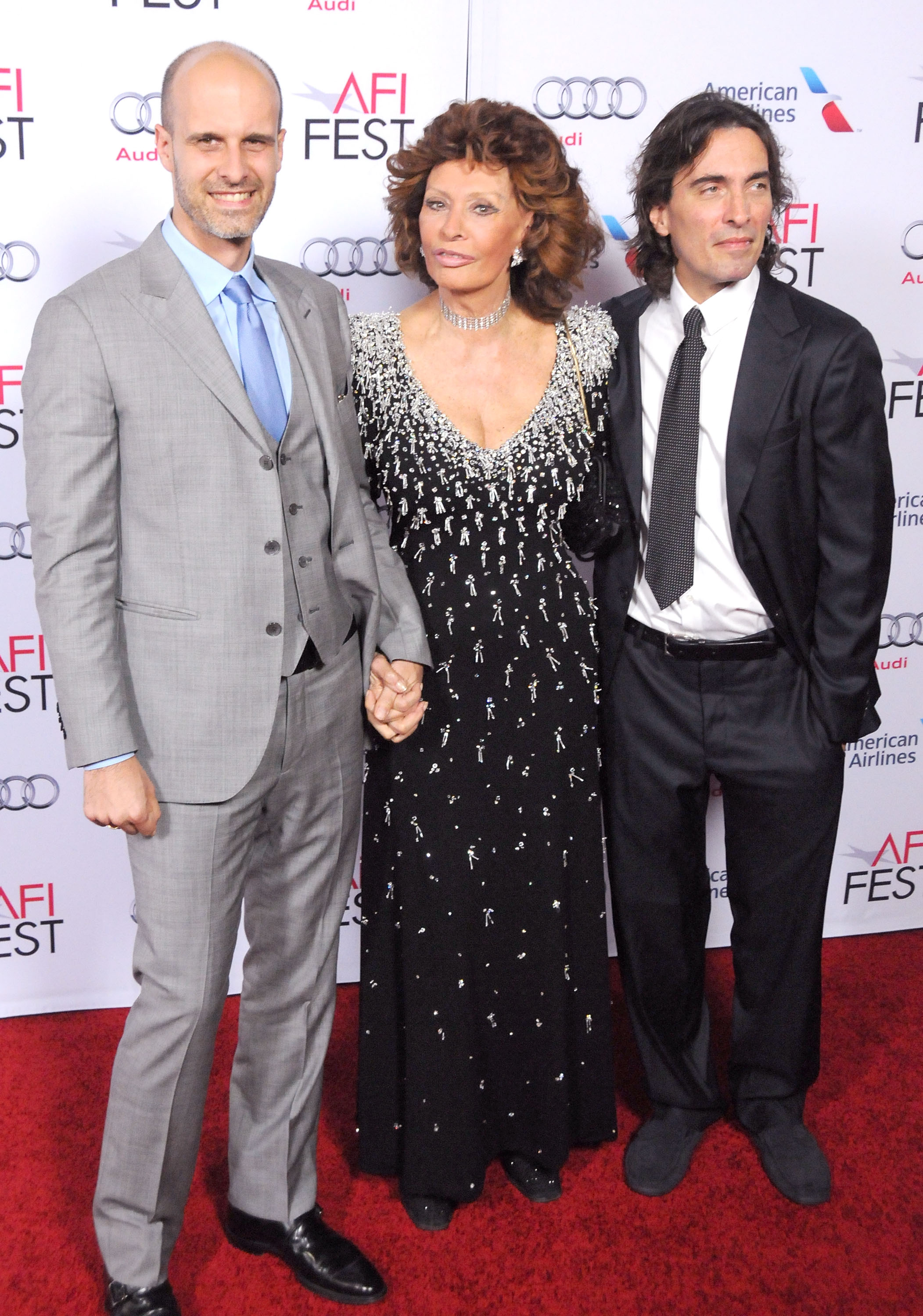 Director/actor Edoardo Ponti, actress Sophia Loren and conductor Carlo Ponti Jr. arrive at AFI FEST 2014 Presented By Audi – A Special Tribute To Sophia Loren at Dolby Theatre on November 12, 2014 in Hollywood, California. | Source: Getty Images
Among many production Sophia starred in, the most remarkable ones are "Yesterday, Today and Tomorrow" (1968), "Marriage Italian Style" (1964), "El Cid" (1961), "The Fall Of The Roman Empire" (1964), "Two Women" (1961), and so on.
The latter is perhaps one of the most outstanding performances of her career and gave her international accolades. She received an Oscar for Best Actress, as well as BAFTA and Cannes awards.