Uncategorized
The Rocky Horror Picture Show: Whatever Happened To The Cast?
In the grand pantheon of Hollywood history, there truly has never been another film quite like "The Rocky Horror Picture Show." A financial flop with mediocre reviews upon its initial theatrical release in 1975, in the years since then the Jim Sharman-directed camp freak-out flick has grown beyond anyone's wildest dreams into the original "midnight movie," a groundbreaking experience in audience participation, and an unprecedented phenomenon.
Back in the mid-'70s, after a middling film concluded its theatrical run, you wouldn't hear much from it again. But much like Rocky himself, this was a film with newfound life — one that began with late night showings in arthouse theaters, becoming increasingly raucous and elaborate over time, eventually blooming into a unique moviegoing experience, equal parts film and live performance.
In 2020, after receiving continuous showings around the world for more than 40 years, "Rocky Horror" earned the title of the longest continually running theatrical movie of all time. This isn't just a cult film. It's the cult film; a full-blown subculture.
Although "Rocky Horror" featured some brilliant young actors who would go on to spend multiple decades populating everything from "Bull Durham" to "Clue" to "Fight Club" to "Phineas and Ferb," a lot of the film's cast did not go on to become household names. If you're wondering what happened to Magenta, Riff Raff, Columbia, and all the rest, don't worry. We see you shiver with antici … pation, so let's catch up with the cast of the film to see where their lives have taken them, all our favorite sweet transvestites and creatures of the night.
Susan Sarandon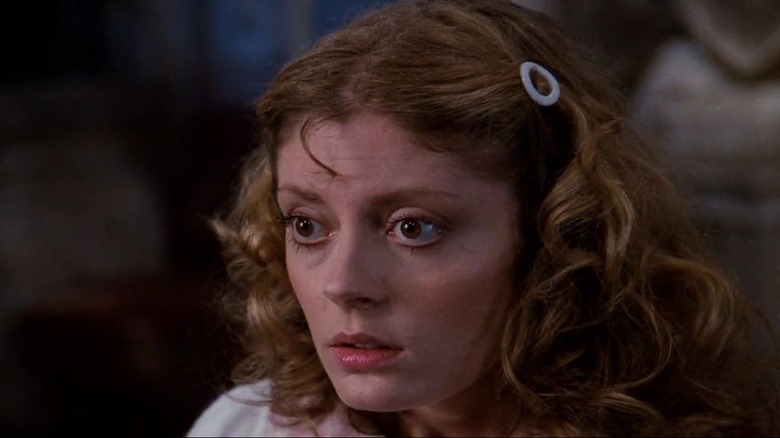 20th Century Studios
Hollywood legend Susan Sarandon had one of her first major acting roles in "The Rocky Horror Picture Show," playing the part of Janet Weiss. Janet is one of our two point-of-view characters in the film. She and her fiancé Brad are a pair of hopelessly uptight normies who wander into the perverse world of Frank-N-Furter's castle, with no concept of what they're getting themselves into. Though at first Janet is taken aback by the brazen sexuality of her hosts, soon this good-hearted good-girl realizes that "[she] wanna be dirty."
After "Rocky Horror," Sarandon went on to have a robust acting career, appearing in hit films like "Thelma and Louise," "Bull Durham," and "The Witches of Eastwick." She won an Academy Award for her role in "Dead Man Walking," and she's been nominated for five Academy Awards, six primetime Emmys, and an astonishing nine golden globes. She remains very busy and in-demand, having recently appeared in such films as "The Jesus Rolls" and "Ride the Eagle," as well as shows like "Search Party" and voice work on "Skylanders Academy" and the occasional "Rick and Morty" episode.
Outside her acting, Sarandon has been deeply involved in political activism for decades. She worked with UNICEF to raise awareness of HIV and AIDS in Africa, helped film fundraising videos for Heifer International (a nonprofit organization that fights world hunger and poverty), and has spoken out against the death penalty and the war in Iraq. In 2018, she was even arrested while participating in a protest against the US government's immigration policy.
Tim Curry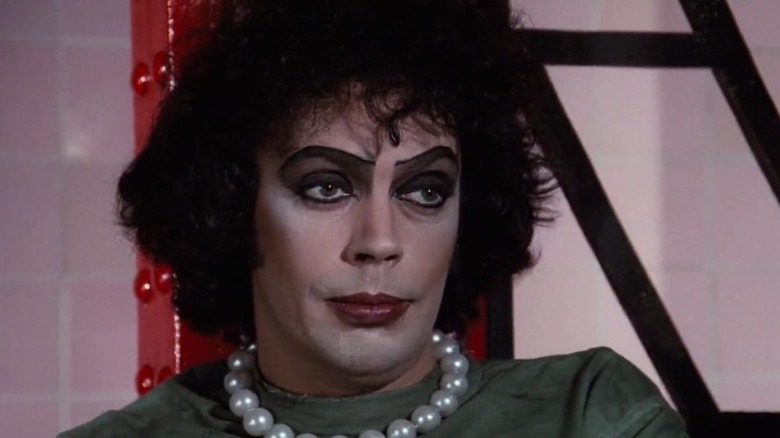 20th Century Studios
Without a doubt, the most iconic performance in the "The Rocky Horror Picture Show" has to be Tim Curry's portrayal of Dr. Frank-N-Furter, the sexy, villainous mad scientist from outer space who disregards all known human laws of science, morality, and gender. Frank ended up being Curry's breakout role, kickstarting a monumental, eclectic acting career.
Across the decades that followed "Rocky," Curry went on to portray a wide variety of similarly unsavory characters in both television and film, such as Darkness in the movie "Legend," Wadsworth the butler in "Clue," Hexxus in "Fern Gully," Long John Silver in "Muppet: Treasure Island," and Pennywise in the 1990 television miniseries "It." Outside of film, Curry has also had an active career in live theater, music, and audiobooks. He has earned three Tony nominations for his work on the stage, released three solo rock albums, and was even nominated for a Grammy for his work in the multi-voice cast audiobook of "A Series of Unfortunate Events: The Bad Beginning."
However, Curry's life has not been without its struggles. After suffering a stroke in 2012, the actor now uses a wheelchair. Since then, he's cut back on his on-screen acting work substantially, though he does still perform regular voice work. Curry also showed up in the 2016 remake of "The Rocky Horror Picture Show," this time in the role of the Criminologist.
Barry Bostwick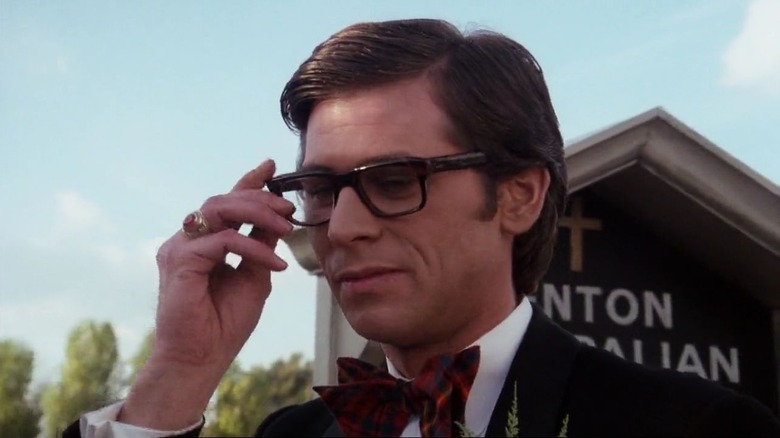 20th Century Studios
Oh, Brad. Janet's well-meaning fiance does indeed love Janet with all his heart, but unfortunately, he's as square as a slice of wonder bread. For that reason, Brad ends up being totally unprepared for the tidal wave of raw sexuality that is Frank-N-Furter, and when the good doctor visits Brad's bedroom that night, the young Mr. Majors gives into his base instincts. By the end of the film, Brad is dancing around and wearing lingerie with the rest of them, his once narrow mind now expanded forever.
Playing the role of Brad is the always-wonderful Barry Bostwick. While Bostwick didn't exactly become an A-lister after his role in "Rocky Horror" (being the headliner of a mega-bomb like 1982's "Megaforce" didn't help), he has nonetheless had a healthy acting career that now spans six decades. He's appeared in dozens of films, guest starred on numerous television shows, and even had a central role in the beloved '90 sitcom "Spin City." Bostwick has also won a few awards, including a Tony for "The Robber Bridegroom" and a Golden Globe for his part in the TV miniseries "War and Remembrance."
Bostwick was diagnosed with prostate cancer in 1997, but don't worry. The actor had surgery to remove his prostate, and seemingly made a complete recovery. Since then, Bostwick has continued to act regularly. Notably, Bostwick was one of two "Rocky Horror" alums to appear in the 2010 tribute episode of the television series "Glee," along with singer/actor Meat Loaf.
Richard O'Brien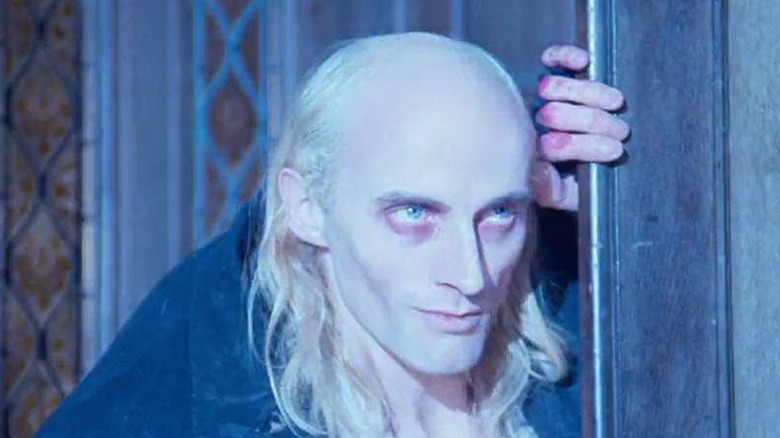 20th Century Studios
After Brad and Janet's car breaks down, they seek refuge at a strange castle, and the door is opened by gaunt man with a vile, smoldering stare. This is Riff Raff, Frank-N-Furter's butler and handyman. At first he seems awkward and assuming, but when the music kicks in, this odd fellow shows that he can deliver some smooth dance moves and killer screaming vocals.
Riff Raff's actor is Richard O'Brien, and as if his triple threat performing talents weren't enough, he also wrote the original stage show that "The Rocky Horror Picture Show" was based on, and co-wrote the film adaptation. After "Rocky Horror," O'Brien continued to appear in both stage musicals and cult films, with roles in movies like "Flash Gordon," "Spice World," "Dark City," and "Elvira's Haunted Hills." He also wrote and appeared in the oft-forgotten semi-sequel to "Rocky Horror," the 1981 film "Shock Treatment." From 2007 — 2015, he voiced the dad on "Phineas and Ferb."
Also notable is that, in recent years, Richard O'Brian came out as queer — or, in his words, "third sex." On his gender identity, he has said: "I believe myself probably to be about 70% male, 30% female." That being said, nowadays some members of the queer community aren't all that eager to praise O'Brien as a paragon of progressive values. In multiple interviews, the actor has repeatedly claimed that he does not believe that transgender people can ever truly become the gender they identify as. In 2016, for instance, he said, of trans women, "That is a huge jump and I have all the sympathy in the world … but you aren't a woman." It seems as though as time goes on, as much as we love both O'Brien and his work, sadly both contain a few outdated views, and both are slowly becoming somewhat more problematic faves.
Patricia Quinn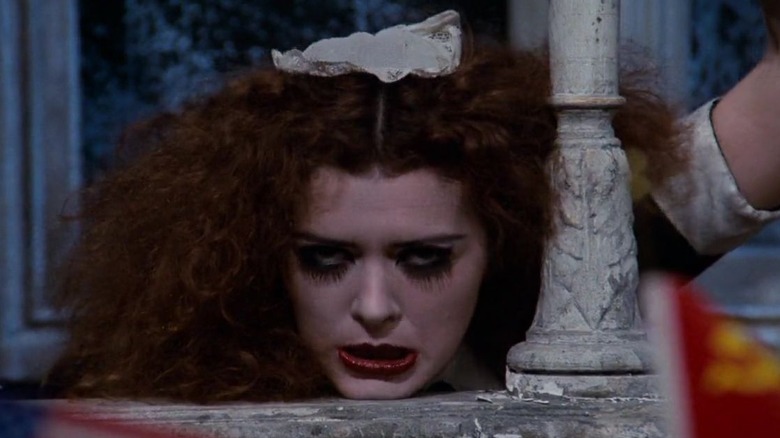 20th Century Studios
"The Rocky Horror Picture Show" opens with a pair of red lips floating in a black void, then, as those lips begin singing the song "Science Fiction Double Feature," the opening credits roll. For those who are not in the know, those lips belong to none other than Patricia Quinn, the actress who, in the film proper, plays Dr. Frank's broody maid Magenta. (Although the voice was provided by Riff Raff's actor Richard O'Brien.)
Though far from a household name nowadays, Quinn has continued to get regular work as an actor in the years since "Rocky Horror," with appearances in the classic BBC television miniseries "I, Claudius," the film "Monty Python's The Meaning of Life," the "Doctor Who" serial "Dragonfire," and the Rob Zombie film "The Lords of Salem." She was also one of a handful of "Rocky Horror" actors to return for "Shock Treatment."
But perhaps the most eventful in year in Quinn's life, for good and for ill, was 1995. Over the course of that year, she married actor Robert Stephens, who was subsequently knighted and then shortly after that, he passed away. This means that, even though the couple's marriage and Sir Robert's knighthood were both relatively brief, to this day, Patricia Quinn has the title "Lady Stephens." Reflecting back on her tumultuous life in a 2017 interview, Quinn said, "It's incredibly funny for a Rocky girl and Playboy bunny (that's another story) to be a lady now."
Nell Campbell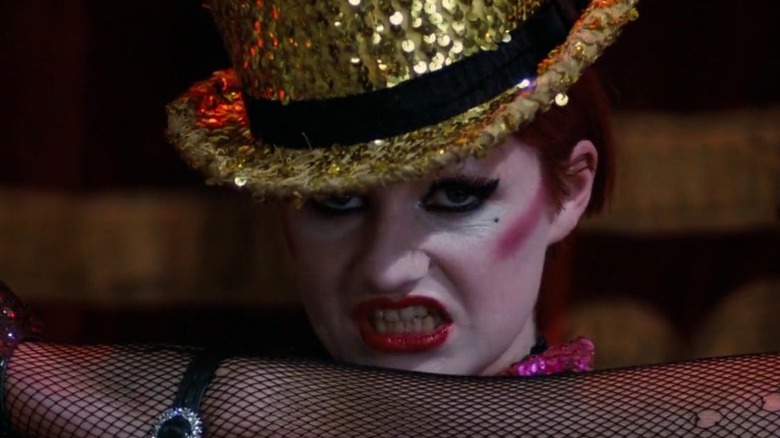 20th Century Studios
As Brad and Janet continue to explore Frank-N-Furter's castle, one of the many peculiar denizens they encounter is a scorned former lover of Frank-N-Furter named Columbia, referred to in the credits as "Columbia (a groupie)." Though Frank might not remember her, audiences could never forget Columbia with her big vulnerable heart, her quirky soprano singing voice, and her sparkling gold top hat, all making her a highlight of the film.
The actress playing Columbia is Australian actress/singer Nell Campbell. In addition to her solo music career, Campbell has quite a few acting credits to her name, appearing in films like "Jubilee," "The Killing Fields," "Shock Treatment," and the 1998 version of "Great Expectations." She also had a part in another movie musical that's every bit as iconic as "Rocky Horror," the 1982 film version of "Pink Floyd — The Wall," and funny enough, in that film she is also credited as "a groupie." She's also appeared in numerous stage productions, including the 2003 revival of the Broadway musical "Nine."
In 1986, Nell Campbell became a small business owner when she opened her own nightclub, a trendy little hole in the wall called Nell's. In an interview, Campbell described the club as "elegant and romantic in a faded way — not unlike myself." The club was a fixture of the New York scene in the 80's and 90's. Nell's was even name-dropped as a favorite hangout of the fictional Patrick Bateman in the novel "American Psycho." But sadly, the club did eventually close, in 2004.
Jonathan Adams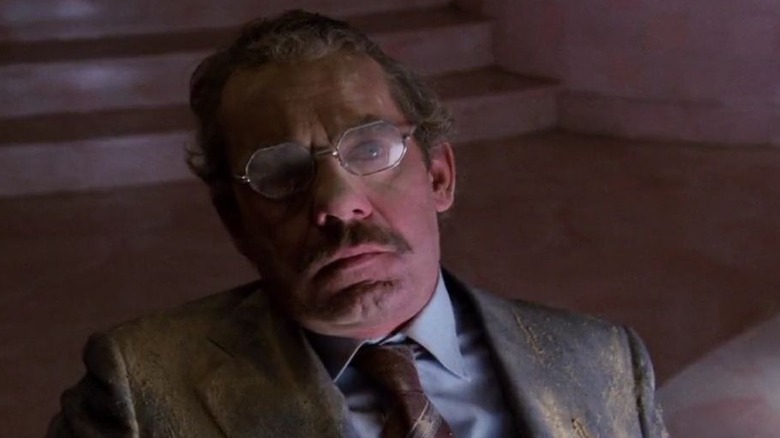 20th Century Studios
Midway through "The Rocky Horror Picture Show" we're introduced to Dr. Everett Von Scott, who is not only Brad and Janet's former teacher and friend, he's also Frank-N-Furter's rival — a conservative old sourpuss who is the opposite of Frank in every way imaginable. Like much of the "Rocky Horror" cast, actor Jonathan Adams was also a cast member in the original stage musical, "The Rocky Horror Show." However, Adams played a different role in the stage production, that of the Narrator.
In truth, this shifting of roles was quite representative of who Jonathan Adams was as a person. From how he has described himself, it seems as though Adams was not comfortable doing any one thing for all that long. He explored making many different types of art over the course of his life. Adams continued acting in film and television after "Rocky Horror," appearing in productions like the 1977 television serial "Jesus of Nazareth," the 1985 film "Revolution," and the 1990 George Romero/Dario Argento film "Evil Eyes." He was a cast member of the stage show "Tomfoolery," a musical revue based on the works of comedy musician Tom Lehrer. He also composed music, some of which he performed on the BBC radio program "Round Midnight." He even made some visual art, specializing in surreal collages. In a letter to his father, Adams wrote, "acting, piano playing, singing, painting, writing: I want to do everything."
Jonathan Adams died on June 13, 2005 at the age 74 from a stroke. Here's hoping he had enough time to do everything he wanted.
Peter Hinwood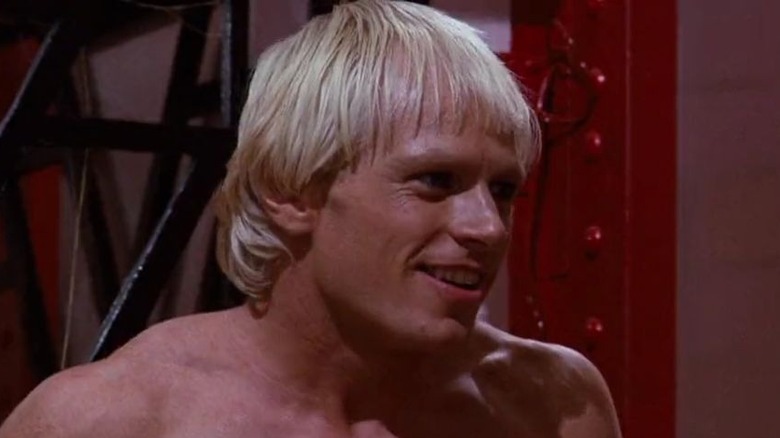 20th Century Studios
In some ways, he was the true star of the show: the titular Rocky Horror himself. Created by Frank-N-Furter to be his newest plaything, Rocky is a big muscular man with blond hair, tan skin, and tiny golden shorts. Although Australian singer Trevor White supplies the voice for Rocky, the body comes via a man named Peter Hinwood — and what a body it is. If you're wondering why you haven't seen Hinwood in anything else, that's because, unlike the rest of the main cast, shortly after he appeared in "The Rocky Horror Picture Show" he decided to quit acting forever.
There seems to be no big dramatic reason why Peter Hinwood decided to call it quits. According to a 2015 People magazine article, he simply didn't think that he was a particularly great actor, and one day realized he'd rather live a life outside the spotlight. Nowadays, he works as an antique dealer in London. In total, he has only four acting credits to his name, all from the 60's and 70's. Much like the life of his character in the film, Peter Hinwood's acting career was miraculous, beautiful, and far too brief.
Meat Loaf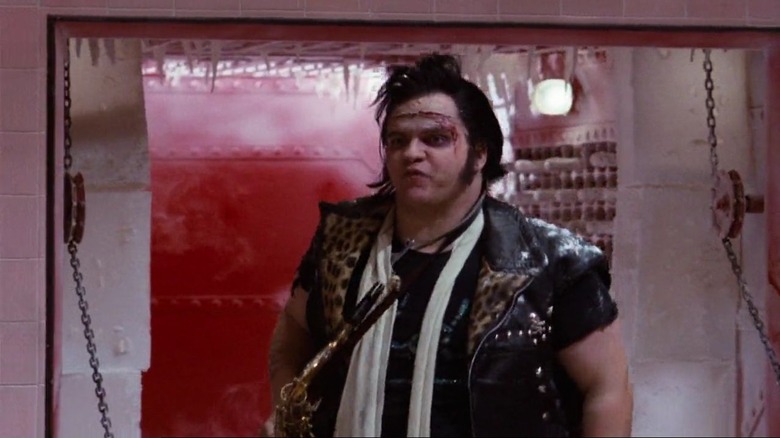 20th Century Studios
Midway through "Rocky Horror," a new character shows up to crash Frank's party. He is Eddie, the fun-loving zombie biker. It seems that Frank recently killed Eddie and took half his brain in order to make Rocky. Now, after losing half of his mind but seemingly none of his rhythm, Eddie sings the toe-tapping number "Hot Patootie — Bless My Soul" as he attempts to rescue Columbia from Frank's clutches. However, Eddie's time in the film ends up being short-lived as Frank, unwilling to be upstaged by this charming undead rocker, murders Eddie for presumably the second time, this time with an ice pick.
Despite his brief appearance, Eddie is nonetheless unforgettable, and the man who brought him to life — um, un-life? — is the actor/musician Michael Lee Aday, better known by his stage name Meat Loaf. A true rock and roll megastar, Loaf's debut album "Bat Out of Hell" remains to this day one of the best-selling records of all time, and he won a Grammy Award for Best Solo Rock Vocal Performance for the song "I'd Do Anything for Love."
But "Rocky Horror" was not Meat Loaf's only foray into acting. He has had dozens of film and TV credits over the decades, largely in comedic supporting roles. He played Tiny in "Wayne's World," Dennis the bus driver in "Spice World," and Jack Black's father in "Tenacious D and the Pick of Destiny." Meat Loaf even showed that he could handle drama just as well as comedy when gave a genuinely moving performance as a pivotal character in the movie "Fight Club" as middle-aged sadsack Robert Paulsen. Talk about a meaty role.
Charles Gray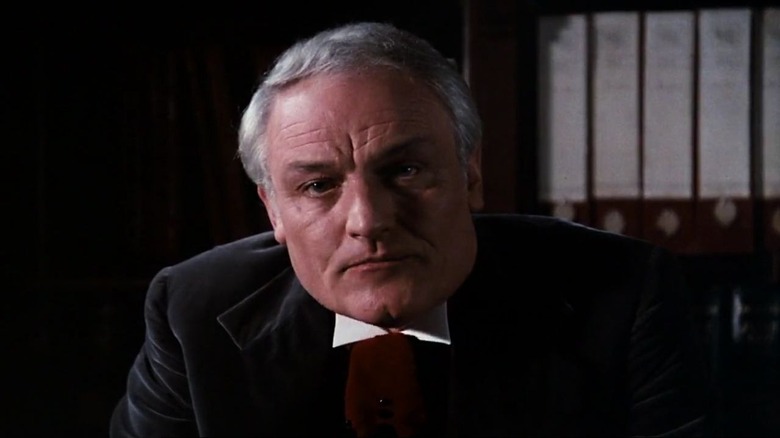 20th Century Studios
Periodically throughout "The Rocky Horror Picture Show," we take a short break from the action of the film for interludes with an unnamed man in a suit and tie, referred to in the credits as "the Criminologist." In these segments, the Criminologist reflects on events that have transpired with a detached academic coldness, foreshadowing upcoming doom for our heroes. Given the degree to which these short scenes seem at odds with the rest of the film's madcap tone, you may find yourself asking, who the heck is this weirdo?
The weirdo in question is none other than beloved British actor Charles Gray. Though not as well known by modern audiences, Gray would have certainly been one of the bigger stars in the cast at the time of filming. He got his start in British theater and television in the 1960's, then made his way into the mainstream with roles like General Herbert von Seidlitz-Gabler in the WWII film "The Night of the Generals" and Ernst Stavro Blofeld in the James Bond film "Diamonds Are Forever."
After "Rocky Horror," Gray went on to appear in a wide array of film and television projects, mainly as various old fuddy-duddy authority figures. Famously, he played Sherlock Holmes' stuffy brother Mycroft twice in two unrelated productions — once in the movie "The Seven-Per-Cent Solution" and again in the series "The Adventures of Sherlock Holmes." Gray was also one of several "Rocky Horror" actors to return in "Shock Treatment."
Charles Gray died at the age of 71 on March 7, 2000.