Uncategorized
The Secret of Monica Bellucci Who Looks Great at 56 and Says She Doesn't Want to Be 20 Again
Monica Bellucci is regularly at the top of the lists of the most beautiful women in the world, and she has been recognized as such for several decades in a row. She sets the example that says a woman can be gorgeous, even after 50, and at any size. Monica became successful after 30, became a mother at almost 40, and she proves that a woman is capable of creating her own destiny.
At Bright Side, we decided to reminisce about the path of this talented actress and find out why she is loved by so many.
From the Faculty of Law to fashion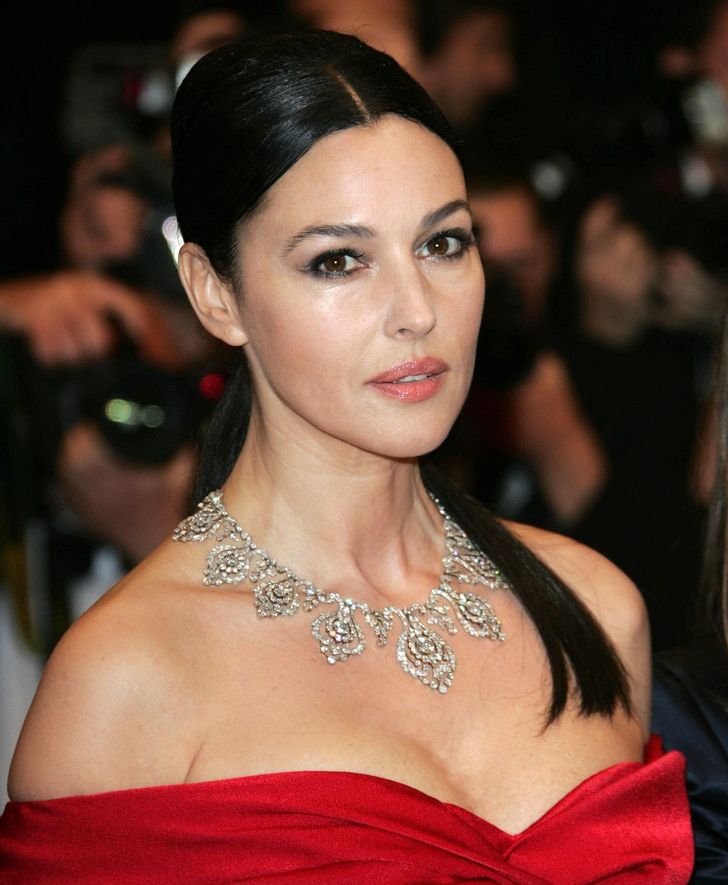 In her youth, Monica dreamed of becoming a lawyer and even entered the Faculty of Law. As a student, she had a part-time job at a modeling agency. She was noticed there and invited to go to Milan. So, she said goodbye to her dream of becoming a lawyer and went to conquer the famous fashion houses.
It's unbelievable, but Bellucci's popularity grew alongside her age. If at the dawn of her career she starred in commercials and walked on the runway, in her prime, she was on the covers of magazines, starring in iconic movies, and gaining the status of one of the most attractive women on the planet. The actress is proud of her age. One day she said: "I wouldn't want to be 20 again for anything."
Great career after 30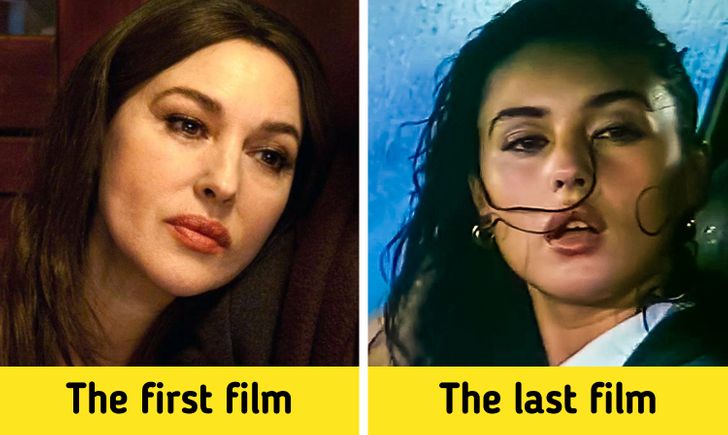 Monica's first movie was Vita coi figli when she was about 25, but she was internationally recognized after playing the role of Dracula's bride in Francis Ford Coppola's Bram Stoker's Dracula. But her most remarkable movie became Malèna, a movie about a woman with stunning beauty for which she was hated by the entire town. At that time, Bellucci was 36 years old.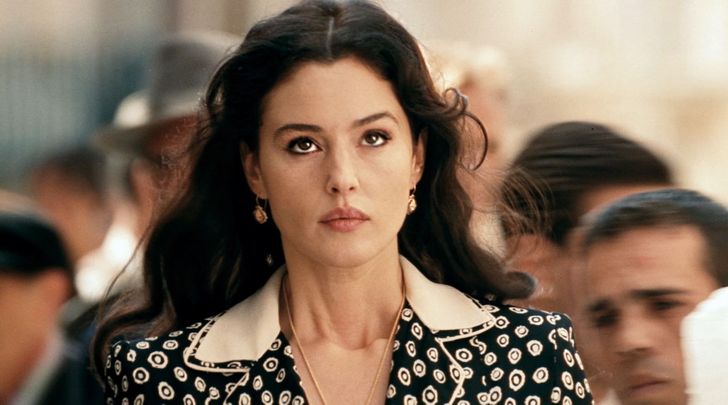 Monica scoffs at the suggestion that actresses can no longer play love interests after a certain age. And she proves it in practice. At 51, she became the most mature girlfriend of James Bond in Specter, and a year later she starred in Emir Kusturica's On the Milky Road playing the love interest of a Serbian milkman.
Since the late 1990s, almost every film where Monica appeared has become iconic. The drama L'Appartement brought Bellucci her first César Award nomination and made her position in the movie industry stronger. During that movie production, she met Vincent Cassel, and their relationship became really important for Bellucci.
Marriage with a heartbreaker who couldn't be trusted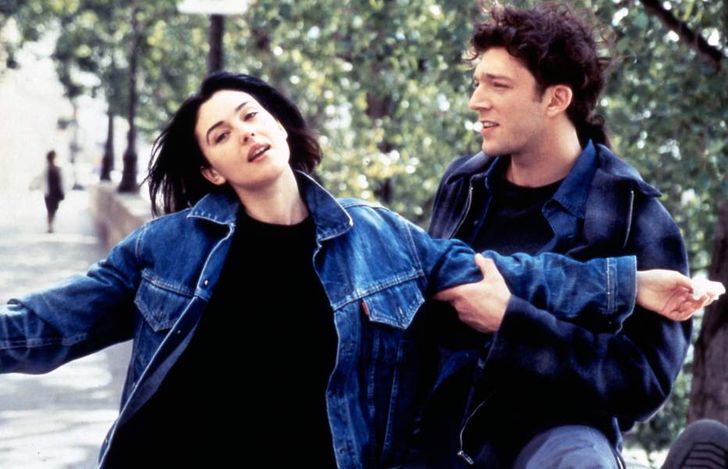 Bellucci and Cassel spent 17 years together, 12 of which they were married. The couple took their time in making their relationship official — both of them pursued their acting career, and due to frequent traveling and filming, their love developed from a distance. Monica gave birth to their first daughter at 39.
Monica and Vincent's second daughter was born when the actress was 45, and 3 years later the couple decided to get separated. Shortly before the breakup, Bellucci said, "Marriage, we never know how long it will last…Today, it works, but in a year, I don't know."
There is still speculation about what the reasons for the couple's separation were. Both Vincent and Monica spoke very respectfully of each other during interviews about their breakup, and they didn't say anything bad about their relationship. However, the actress mentioned that she never felt confident about her husband and couldn't trust him.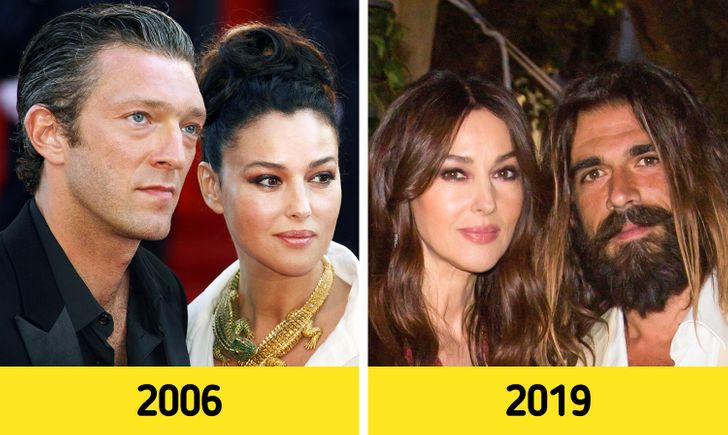 After breaking up with Monica, Cassel began to date a French model Tina Kunakey, who is 30 years younger than the actor. Later, their romance grew into a strong marriage. Monica, in turn, decided to enter into a new relationship after only a few years when French artist Nicolas Lefebvre became her boyfriend.
Unfortunately or fortunately, Bellucci and Lefebvre's romantic relationship didn't last long, and they decided to remain friends. Despite this fact, Monica claims that she's now living the best years of her life. And in bad weather, her beloved work and beautiful daughters keep her warm. Her eldest daughter Deva looks very much like her mother.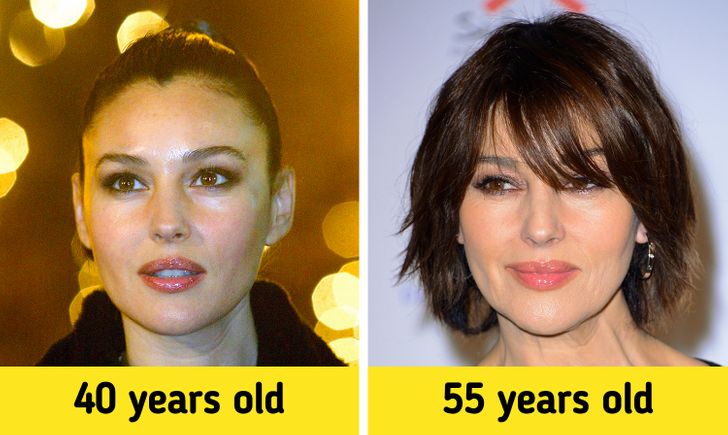 In her photos, Monica looks 10, or even 20 years younger than her age. Besides, the actress is so self-confident that she agreed to participate in a nude scene at the age of 52. After that, she dared to do a nude photoshoot for the cover of a glossy magazine.
Nowadays, Bellucci continues to act in movies and remains a sought-after model. To stay young and beautiful, she recommends the following rules:
Wash your hair no more than twice a week and use olive oil instead of a mask.
Never limit your food. However, if you have to lose a few pounds, make your portions smaller and eat more meat, fish, and vegetables.
Do yoga and swim. These exercises keep your body toned without excessive training.
Clean your facial skin thoroughly before going to bed, no matter how sleepy you are.