Uncategorized
The Staggering Amount Of Debt Redd Foxx Left Behind
Redd Foxx was best known for his comedy act, party albums, and for starring in TV sitcoms "Sanford and Son" and "The Redd Foxx Show," and "The Royal Family." The actor, born John Elroy Sanford, also starred in several movies, including "Ghost of a Chance" and "Harlem Nights." While his actual acting credits were few — IMDb lists his resume at just 15 TV shows and movies — Foxx was a pioneering comedian known as the "King of the Party Records" and he made a lot of money in his lifetime.
For example, in 1974 Foxx received $25,000 per episode on "Sanford and Son" (about $137,000 in 2021 dollars) plus took home 25 percent of the producers' net profits, per Get TV. That was a lot of dough back in the day — and that salary came in the early years of the series. Foxx would star in 135 episodes of the NBC sitcom, which added up to millions he earned on that show alone. He also appeared on a whopping 50 comedy albums and headlined hundreds of nightclub shows.
Foxx tragically died of a heart attack while rehearsing on the set of "The Royal Family" on October 11, 1991. He was just 68 years old. And while he was a notorious funnyman who worked steadily as an entertainer from the 1950s to the 1990s, fans were shocked to find that Foxx had a massive amount of debt when he passed away.
Redd Foxx was millions of dollars in debt when he died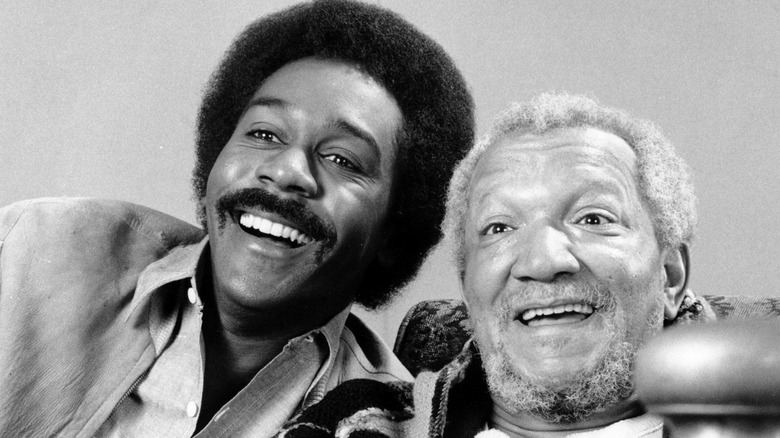 According to Celebrity Net Worth, at the time of Redd Foxx's death he owed millions in taxes. His net worth was listed as a negative $3.5 million when he died. Yes, negative. There was buzz about Foxx's tax issues a few years before his death. A 1989 Los Angeles Times article revealed that Foxx's Las Vegas home and seven of his vehicles were seized by the IRS for his failure to pay income taxes from 1983 to 1986. Foxx had already lost other properties and had filed for bankruptcy by 1983.
When IRS agents repossessed everything from his home but a bed, Foxx claimed, "I could have gotten in touch with Eddie Murphy or Richard Pryor or Frank Sinatra or somebody who knows that, you know, I have been helpful to a lot of people." Foxx received his property back the following year, but his cars and jewelry, including a watch gifted to him by Elvis Presley, were auctioned off to pay back his taxes, per the Associated Press. The IRS alleged that Foxx spent $373,000 of his $500,000 "Harlem Nights" paycheck on ″wine, women, song and gambling.″
Despite his temptations in Sin City, Foxx once described Vegas as "the greatest city in the world." "I look out my window for 100 miles," he was quoted as saying, per IMDb. "In Vegas, there's nothing to do but gamble, drink or have sex."