Uncategorized
The Story of Sophia Loren, A Hollywood Star Who Only Loved One Man For 50 Years
Sophia Loren was known to many as an amazing actress, but only known as a soulmate by one – Carlo Ponti. Sophia's dark, exotic eyes and long, bronzed limbs gave her an unparalleled beauty that stole the hearts of men the world over…
Illegitimate Child
Born in poverty, Sophia was an illegitimate baby of a single mother in Naples. Sofia Villani Scicolone would go on to live a fairytale, and she transformed into one of the most loved stars of cinema. But her early life was not so glamorous…
She Escaped To The Theatre
Her last name came from her father, Riccardo Scicolone, who refused to marry her mother, Romilda Villani, and would not allow her younger sister to take his name. According to Loren, she was taunted as a child for being illegitimate. Even as a young girl, Sophia found herself drawn to the theatre, making many trips to see her favorite Hollywood stars on the screen. She would sometimes watch four shows in a single day. And even at the age of 11, she knew her future would lay in films.
Miss Eleganza
It was 1950, and a young Sophia appeared as a contestant in the Miss Eleganza beauty contest in Rome. As though a ploy by Cupid, Carlo — a renowned Italian film producer — was one of the competition judges, and from the moment she stepped on the stage, he could not take his eyes off of her. "I immediately knew that she was someone exceptional. Something played off her that gave her a kind of illumination," Carlo Ponti said of the first time he saw her.
When They First Met
Sophia met the love of her life, Carlo Ponti, when she was just 17 years old. At first, he was just a director for her and Carlo took an interest in training her: he taught her manners, got rid her of accent, made her read books about art, and he insisted she learn English. He became a mentor to her, he protected her, and soon a strong feeling prevailed. It was their love that helped them overcome the many obstacles to happiness.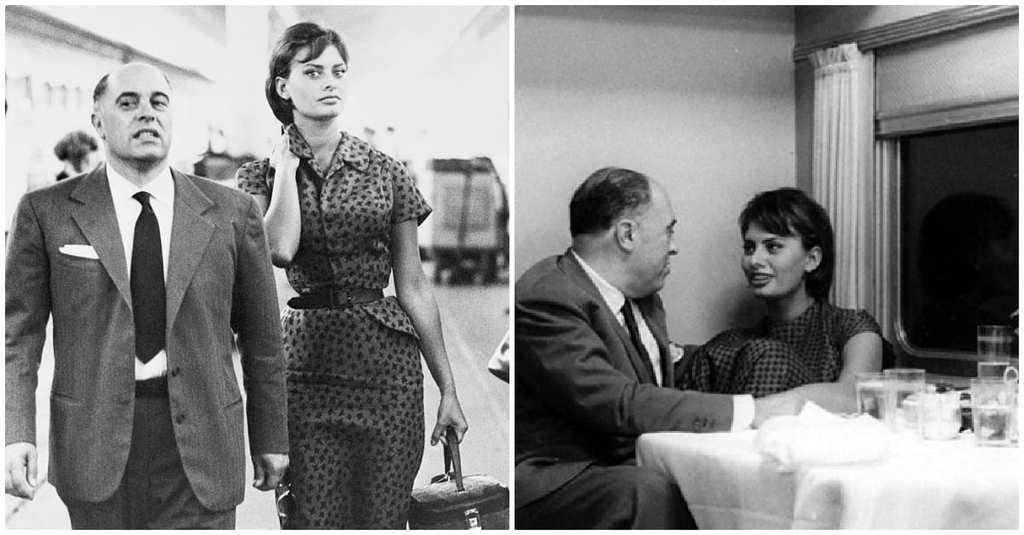 He Was Her Mentor
Despite there being immediate chemistry between them, Ponti was previously married, and despite being separated from his wife, the circumstances put a halt to their romance. "To Sophia it was just unthinkable to be the 'other' woman in his life, especially after her strict and conservative upbringing that she had grown up about the sanctity of a marriage." Carlo Ponti nevertheless took her under his wing, becoming her talent agent, and changing her name from Sofia Scicolone [the name of the father who was never there for her] to Sophia Loren.
They Grew Closer
With the help of Carlo, Sophia appeared in an astounding thirty films, and it was during this period that the pair grew closer and closer, becoming inseparable. Sophia only had eyes for one man, despite their 22-year age difference. After four years of companionship, Carlo finally bought the now 20-year-old Sophia a diamond ring. They were secretly engaged for three years. Madly in love with one another, the pair would not believe critics who said their marriage would not work, and on September 17, 1957, in a simple and secret ceremony, they finally wed.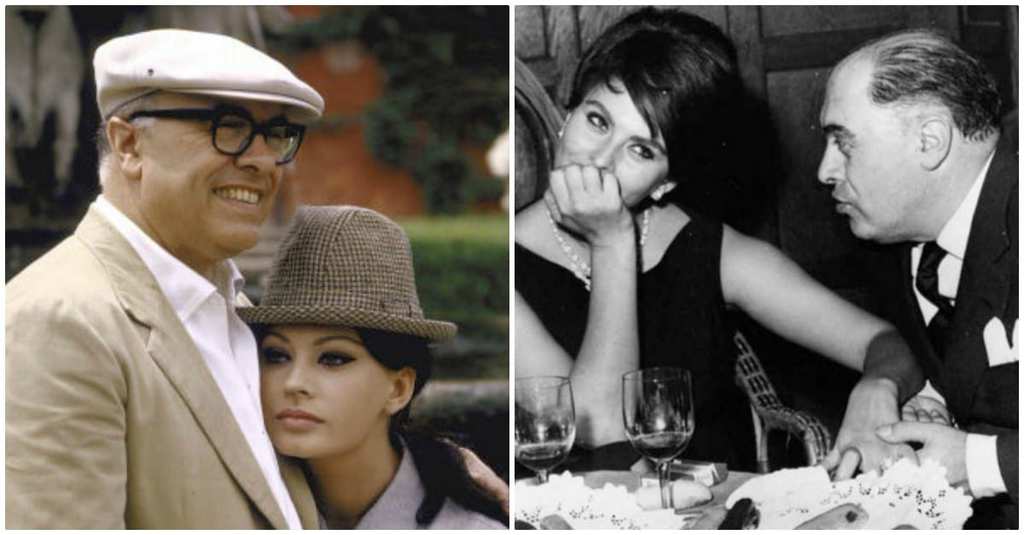 Then Came Cary
Sophia Loren and Cary Grant shared amazing chemistry in the movie Houseboat. They first met when they both played in The Pride and the Passion back in 1957. Loren was about to marry Carlo Ponti and faced a choice that was to determine both her personal life and her career. Grant asked Sophia to marry him while they were filming, but he belonged to another world in America. Sophia was scared to change her life completely without knowing if their relationship was real.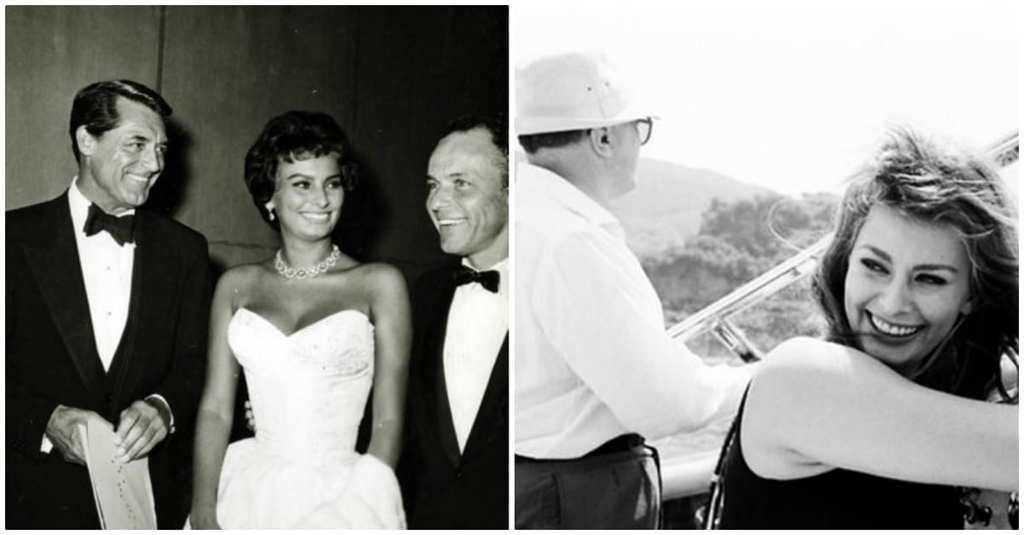 A Difficult Choice
"They were very different men. It was difficult. It was my first American-language film, and my English was so very terrible. I was upset. I needed help on many occasions with the language, and Cary would help me." When their filming of Houseboat finished, they exchanged numbers, and he said he would call. In fact, he did come to visit her on the set of an Italian film, Two Women, and then when she was acting in a film in New York, he came to the house.
Carlo Was Jealous
On the day Houseboat concluded, he sent her a giant bunch of yellow roses. She was leaving on the plane and boasted to Ponti about the yellow roses. "Yes, it wasn't a nice thing to do. I think I wanted to test him, to test how he felt. I was very young and thought if he got angry and jealous, it meant he loved me." In fact, Ponti was so jealous; he became angry and hit her. Jealousy doesn't equate to love, but for Sophia, it meant he cared.
Ciao
She was together with Carlo at this time and they already had a son. Loren said, "One day, Cary called me when I was in New York for another film. 'How are you?' 'I'm fine,' I said. 'Why are you calling?' And he replied, 'Because I wanted to say ciao.' That was it. He died. He must have known he was dying." She also said, "I felt that I could never fit in there. I never felt like I have a future there because of my nationality."
Sophia's Mother
Even though she had a father, he never married her mother, Romilda Villani, and was absent from her life. Her mother was also beautifully regal. When she was 17, Romilda won a contest held in Italy by MGM Studios to find a new star – and the prize was to go to Hollywood. It was her dream to be an actress, but her parents both said she was too young and didn't permit her to go. Romilda, according to her daughter, "oozed allure."
They Couldn't Get Married
By this time they couldn't get married because Ponti couldn't get a divorce – the laws in Italy at that time were extremely strict and dictated by Catholic rules. Adding to this vulnerable point in time came the gently seductive, impossibly charming Grant, who courted her while on the Pride and the Passion set. They had many intimate dinners. Why didn't she take Cary Grant? Loren explained, "You know, I had to make a choice, Carlo was Italian; I know it was the right thing to do for me."
Father Figure
The older, respected father figure is something that she was always searching for, which is perhaps why she loved Carlo Ponti, who was 22 years older. He was her emotional substitute for a father. The first problem was that Carlo Ponti was already married and had two children. Back then, one had to obtain permission to divorce from the Vatican, but he couldn't get permission, and so the lovers had to do it in another country. They eloped to Mexico in 1957, where Ponti got his official divorce and married Loren.
The Marriage Was Illegal
But after returning home, the spouses were faced with new problems. In Italy, their marriage wasn't accepted. So Ponti was accused of bigamy and Lauren of illegal cohabitation. They didn't even have the right to appear together in public, they were in love and didn't want to go along with the rules of society and end their relationship, so they decided to leave Italy and lived in exile for many years while they sought a solution.
They Had To Move To France
Attempts to resolve their issue proved unsuccessful, and in the end, the couple acquired French citizenship and moved there. Ponti's ex-wife also had to acquire French citizenship in order to file for divorce. Finally, Sophia and Carlo got married again in 1966. This time their marriage was official. A seemingly unlikely pair, as time passed, their love only continued to deepen and flourish, just as they would have continuing successes in their careers in film & television.
Starting A Family
Loren didn't want to just be a married woman; she dreamed of being a mother and desperately wanted to start her own family. Unfortunately, this wasn't that simple as the actress had already had two miscarriages. After some tests she soon discovered that her hormones were imbalanced and that was the cause of her miscarriages. So she underwent hormonal treatment and after being prescribed estrogen shots and undergoing fertility treatments, Loren finally had a successful pregnancy.
Reclusive Lifestyle
When Sophia finally became pregnant she was 34 years old, but doctors had her on bed rest as a precaution. She was cautious and followed their advice and led a reclusive lifestyle from a hotel room in Geneva for months. It was on the 29th of December in 1968 that she gave birth to their first son Carlo Ponti Jr. Four years later on the 6th of January 1973, she gave birth to their second son Edoardo Ponti.
Charged
She may love Italian food, but the country's religiosity, rules, and regulations certainly didn't please her. Indeed, her husband was convicted in Italy for income tax evasion, misuse of government subsidies, and illegal export of Italian assets and artwork, resulting in a four-year prison sentence. Loren was charged for complicity in the crimes but was later acquitted. The paintings Loren was accused of smuggling included works by Picasso, Braque, de Chirico, and Canaletto, which were valued at around $6.7 million.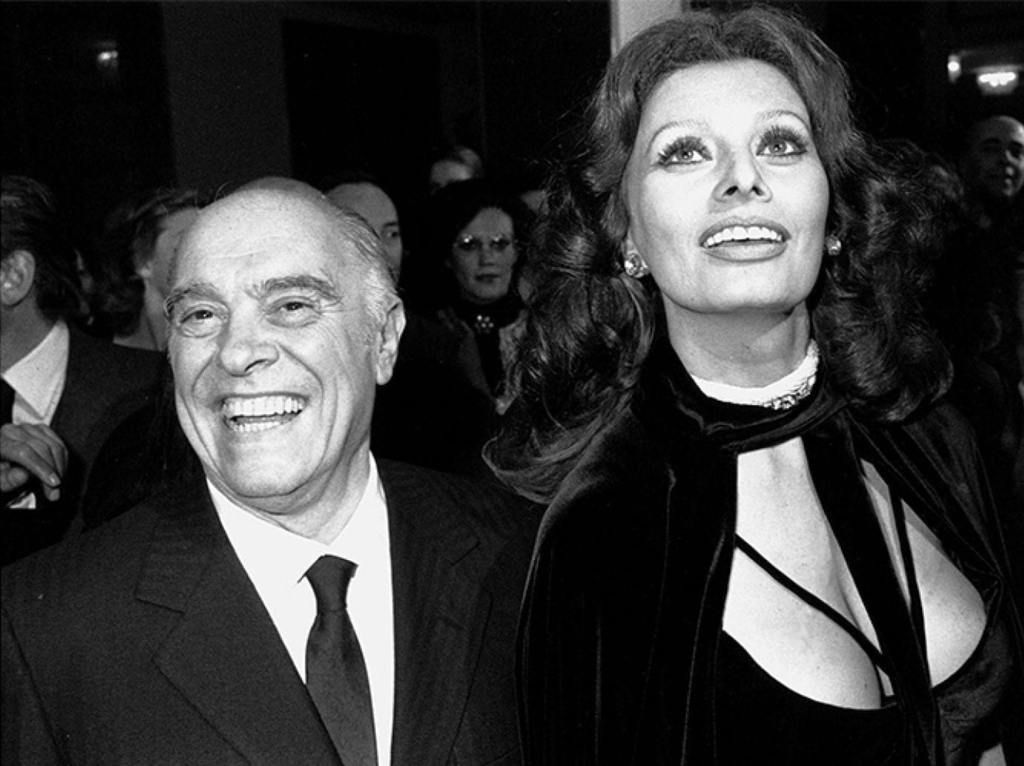 I Was Innocent
"It was painful because I was innocent all that time. It was bad management, but they went on with the trial. They gave me one month in jail and released me after 17 days." "No, it took 40 years. Forty years later, I won the trial. I had paid every penny. I made a lot of films outside of Italy, and it was convenient, so we moved." Despite having to move, they were happy; they were in love and stayed together for half a century.
He Watched Over Her
Once she cut her hair to look like an actress who was very successful at the time, Lucia Bosé, and Carlo said to her, "You should always wear your hair short." "Each time I did something that he had a liking to, he would always say, 'You should always do that.' And yes, this gave me confidence. He watched over me and he … took my insecurities away. It seemed like he would take care of me, which no other man had done," Sophia said.
Prison Sentence
She says that the first time she met Ponti, she immediately felt at home. She noticed after she saw him, she felt calm. Carlo Ponti made her into what she is, and together they steadfastly withstood all the blows of fate. After her and Ponti's run-in with the Italian law regarding marriage, they were essentially exiled from the country. Loren missed Italy so much that Ponti would drive her to the top of St. Gotthard Pass in Switzerland so she could just glimpse her homeland.
Why Did She Feel Like This?
"I would think to myself, 'Why do I feel like this?' Because I trusted him. I was terribly young. I just turned 17 when we first met, and it wasn't until a long time later that we got together." she said of her husband. He gave her confidence and one day he bought her an outfit, and he said, "You should always wear suits because it looks very good on you." He always made a point of focusing on what was positive…
Carlo's Passing
The couple eventually moved again, this time from France to Geneva, Switzerland, where they lived quietly and happily. It was the New Year of 2007, and Carlo, having trouble breathing, was rushed to the hospital. He was now 94 years old, and Sophia & Carlo's relationship had spanned an amazing 50 years. Carlo remained in the hospital for ten days, fighting, but eventually passed away on the 10th of January 2007. Sophia had not left his side for the entire ten days.