Uncategorized
The Truth About Elizabeth Taylor And Debbie Reynolds' Feud
Despite the fact that legendary actresses Elizabeth Taylor and Debbie Reynolds have both passed away, their masterful bodies of work continue to connect with movie buffs young and old. From Taylor's turn as Cleopatra to Reynolds' timeless Singin' in the Rain, their powerhouse performances earned them a permanent place in Hollywood history. Yet, while their individual legacies will forever endure, these ladies also found themselves at the center of controversy at the peak of their careers. However, this feud didn't form as they battled for some coveted role. In fact, their rivalry wasn't professional; it was personal.
But to fully grasp the complexity of their relationship, one must travel back to the early '50s, as Reynolds was new to MGM studios. By the time Reynolds arrived in Tinseltown, Taylor was already an established actress. Despite their differences, Reynolds told People they became fast friends. "We went to school together on the lot, when she was in between films," Reynolds recalled. "I was just a beginner, and she and I were not in any manner alike, but we got along very well because I was in awe of going to school with Elizabeth Taylor. And if anyone said they weren't, then they were lying. Or blind."
While many might've expected Reynolds to crave what Taylor had, Taylor was ultimately the one who broke the bond of sisterhood when she captured the attention of Reynolds' husband, singer Eddie Fisher. So, how'd these two end up in this extremely public love triangle?
Frank Sinatra told Debbie Reynolds she shouldn't marry Eddie Fisher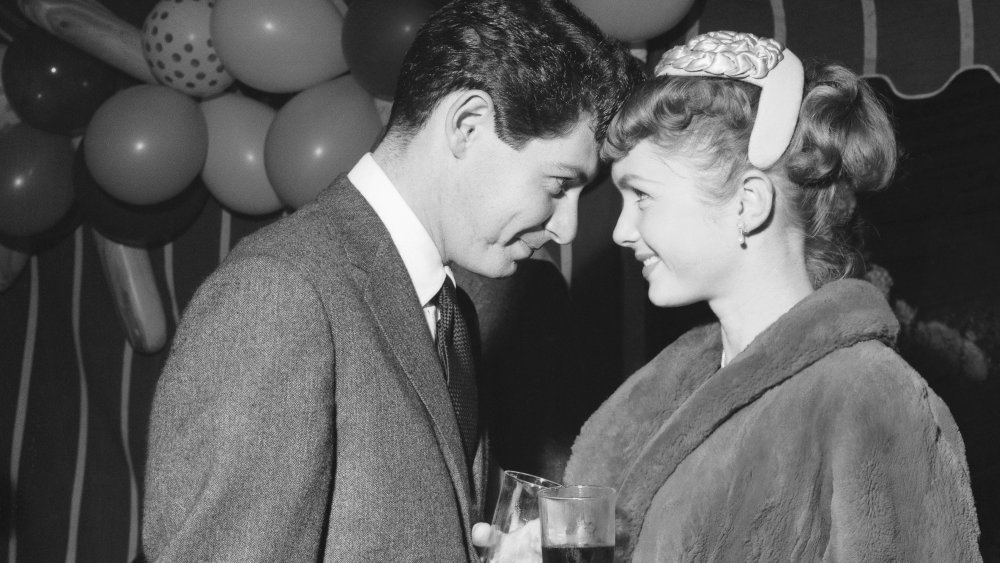 Michael Ochs Archives/Getty Images
While Debbie Reynolds fell fast for Eddie Fisher, her The Tender Trap co-star Frank Sinatra tried to talk her out of marrying the singer. "[Sinatra] said, 'Oh, don't marry Eddie.' He said I shouldn't get married to a singer," Reynolds told People. "'We're not faithful. It's ridiculous for you to take this on.' I said, 'Why? I don't think that I will listen to you, I really think he's adorable.' My mother thought he was adorable." But, as everyone knows, Reynolds married Fisher in 1955 and they welcomed two children, Carrie and Todd.
During this time, Reynolds and Fisher remained close friends with Elizabeth Taylor and her husband Mike Todd, after whom Reynolds' son was named. Everyone became so close, in fact, that Reynolds served as Taylor's matron of honor and Fisher served as Todd's best man when the pair wed in 1957. According to Biography, however, Taylor and Todd's marriage was brief, as the film producer died one year later when his private plane crashed in New Mexico.
Stricken with grief, Taylor found comfort in Fisher's arms, as he flocked to her side after Todd's death. As actress Carrie Fisher, Reynolds and Fisher's eldest child, wrote in her one-woman show Wishful Drinking (per Biography), her father "rushed to [Taylor's] side, gradually moving to her front." And just like that, the Unsinkable Molly Brown star was thrust into the industry's most high-profile love triangle of their time.
Debbie Reynolds was 'the last to find out' about Elizabeth Taylor's affair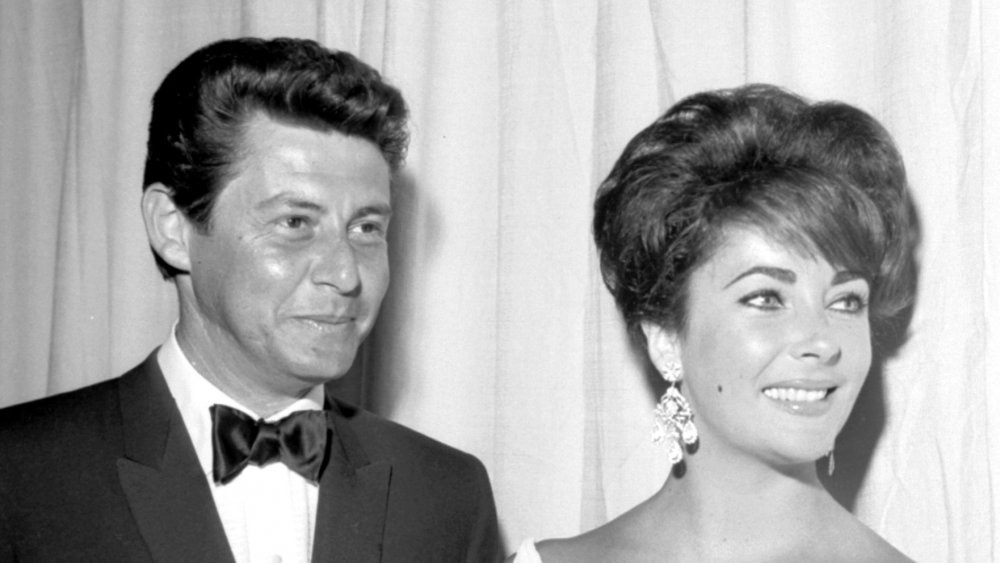 Michael Ochs Archives/Getty Images
Although Eddie Fisher separated from Debbie Reynolds for the widowed Elizabeth Taylor only one month after Mike Todd died, Reynolds told the Daily Mail that she didn't see it coming. "I was the last to find out about the affair," she said. "There had been hints in the papers and I had noticed that when I turned up at functions or parties on my own my friends were whispering. Although I didn't want to find out the truth, I had to face up to it. Even so, it was a great shock to find them together. It left me shattered."
Reynolds also noted that, having been raised in an incredibly religious household, she was a virgin when she married Fisher and didn't believe in divorce. However, Fisher and Taylor told Reynolds she was "keeping them and true love apart," so she acquiesced and granted him the divorce he requested as she attempted to keep the scandal's impact to a minimum.
Yet, while their affair altered Reynolds' entire world, the star never held a grudge. "I never felt bitter about Elizabeth," she told People in 1983 (per Biography). "A man doesn't leave a woman for another woman unless he wants to go. You know, when Mike Todd died, I sent Eddie to help Elizabeth. I don't think she ever really loved Eddie. He was an interim interest during her mourning period." That's probably why the two women eventually reconciled.
Elizabeth Taylor and Debbie Reynolds rekindled their friendship at sea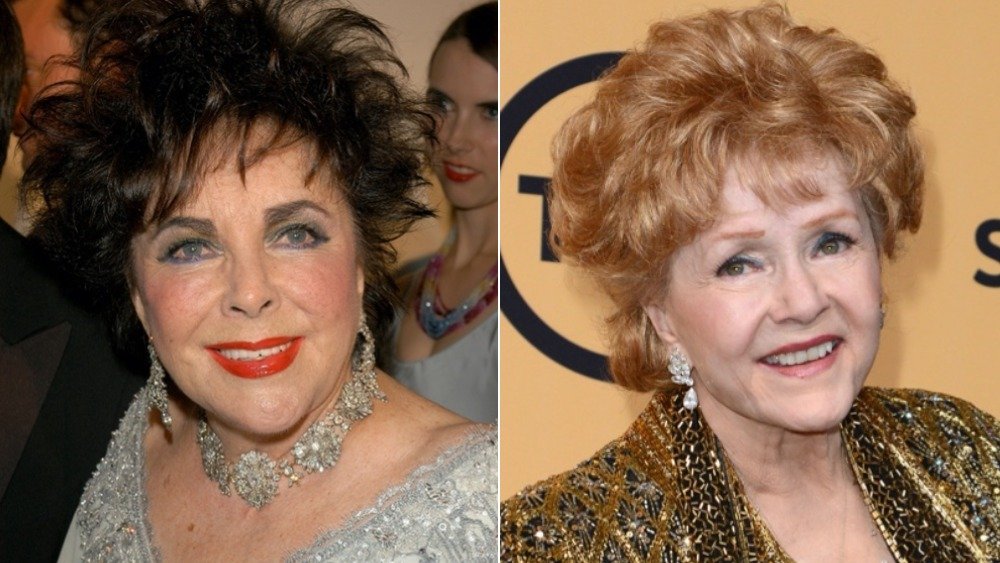 Stephen Shugerman, C Flanigan/Getty Images
When Eddie Fisher and Elizabeth Taylor married in 1959, Debbie Reynolds lost her husband and her best friend at the same time. But seven years later, when Reynolds and Taylor both found themselves aboard the Queen Elizabeth, Reynolds opted to put the past behind them. "We got on the same boat to go to Europe—the Queen Elizabeth. I sent a note to her and she sent a note to me in passing, and then we had dinner together," Reynolds explained (per Vogue). "She was married to Richard Burton by then. I had been remarried at that point. And we just said, 'Let's call it a day.' And we got smashed. And we had a great evening, and stayed friends since then."
According to CinemaBlend, the two went on to star alongside Shirley MacLaine and Joan Collins in the 2001 TV movie These Old Broads — Taylor's final acting credit — written by Reynolds' daughter Carrie Fisher. Carrie included a storyline in which Taylor's character stole Reynolds' ex-husband, yet the two remained friends. Reynolds joked with People when she said Taylor "liked [Eddie Fisher] well enough to take him without an invitation!"
Ultimately, they overcame that "lapse," as Reynolds called it, and she welcomed Taylor back into her life. "You have to look at what life is all about, and is it worth it? And, is he worth it?" she added (via Vogue). "The friendship was perhaps worth more." Behold, the power of forgiveness!