The festival will also honour Mad Max: Fury Road producer Iain Smith.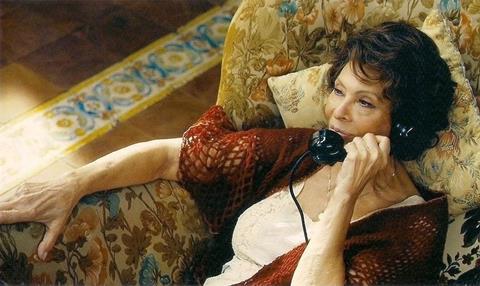 Legendary Italian actress Sophia Loren and Mad Max: Fury Road producer Iain Smith will be guests of honour at the 15th edition of the Transilvania International Film Festival (TIFF, May 27 – June 5).
The festival kicks off this evening with the world premiere of Romanian director Nae Caranfil's comedy 6.9. On The Richter Scale.
The festival's closing gala on June 4 will see Loren [pictured in 2014 short Human Voice] – who is visiting Romania for the first time – receive a Lifetime Achievement Award, while Smith – who came to Romania to produce Anthony Minghella's Cold Mountain in 2003 – will be presented with the Transilvania Trophy for Special Contribution to World Cinema on the same evening in Cluj's National Theatre.
Competition
This year's 12-strong Competition includes nine first features such as Bogdan Mirică's Balkan anti-Western Dogs, Iranian director Ali Abbasi's horror film Shelley, and Marina Seresesky's Madrid-set tragicomedy La Puerta Abierta.
The jury includes the Berlinale's Wieland Speck; Bill Guentzler, artistic director of the Cleveland International Film Festival; Bulgarian actress Margita Gosheva (The Lesson); and Polish director Tomasz Wasilewski, who will present his third feature, United States Of Love, out of competition.
Animals and food
The festival team, led by TIFF artistic director Mihai Chirilov and festival president Tudor Giurgiu, have introduced fresh innovations for this year's edition.
A Culinary Cinema event will feature a screening of Pierre Deschamps' My Perfect Storm, dedicated to the genius of famous Chef René Redzepi and his famous restaurant in Copenhagen, Noma, and followed by a gourmet party with Chef D'Artagnan at Colin's Gastro Pub.
In addition, the FIPRESCI jury will award its International Critics Prize this year to a film screening in a new sidebar, #Animal, which will be focusing on the relationship between man and animal in its various forms.
"The idea of a cine-zoo at Transilvania IFF came to me thanks to a slew of recent movies in which animals hold key roles: White God, Of Horses and Men, Dog, The Lobster, and Rams," Chirilov explained.
The line-up of 10 titles will include such films as Nicolette Krebitz's Wild, Imam Hasanov's Holy Cow, Gyula Nemes' Zero and Olmo Omerzu's Family Film.
Romanian Days premieres
International guests coming to Cluj will be able to attend TIFF's Romanian Days (June 2-4), which will feature 29 features and shorts.
They will include six new features such as Paul Negoescu's independently-produced comedy Two Lottery Tickets, and black comedies from Gabriel Achim (The Last Day) and Igor Cobileanski (Flying Lessons).
In addition, Cristi Puiu's Sieranevada will have a special screening coming shortly after its world premiere in Competition at Cannes.
Other sidebars
TIFF will also dedicate Focus programmes to filmmaking from Lithuania and Lebanon, and a midnight slot of Latin American horror as well as staging the third edition of its Transilvania Pitch Stop for first and second feature film projects in development by Romanian and Moldavian film directors as part of its Industry Programme.