Uncategorized
Dean Martin, Ted Knight, And Tim Conway Team Up For A Hilarious Skit On 'The Dean Martin Show'
Dean Martin was one of the hottest names back in the day, and probably still is. He was an actor, singer, comedian, and producer back in his day, and everyone wanted to work with him. He hosted his own show called The Dean Martin Show, in which he teamed up with Ted Knight and Tim Conway for a hilarious skit.
The skit was called "The Bar" and opens to Martin sipping a ginormous glass of whiskey and smoking a cigarette when Knight comes into play. Conway is the third and last to hit the stage and his comedy is enough to make Martin break character and laugh.
There are tons of great references in the sketch, from Ted Knight's character, Ted Baxter, to longtime friend Frank Sinatra, and subtle dirty jokes that earned an eruption of laughter from the audience. Many people have commented on the skit, wondering just how much of Conway's dialogue was improvised since it caused so much laughter on Martin's and Knight's end.
The sketch itself works very well because they're all playing themselves, making references to other parts of the show business industry. There's a lot of subtle jabs at each other, themselves, and at the industry, while still being funny and lighthearted. These three gentlemen thoroughly enjoyed performing the skit. As Conway was notorious for going off script often, it's no wonder all three of them were just cracking up!
The Dean Martin Show began in 1965 and ended in 1974. It ran for a total of 9 seasons with over 260 episodes. He originally was very reluctant to even do the show. He had outrageous demands for the production team, stating that he required a high-paying salary and only needed to show up for the actual taping of the shows and that was it. The network actually agreed to this and the rest was history.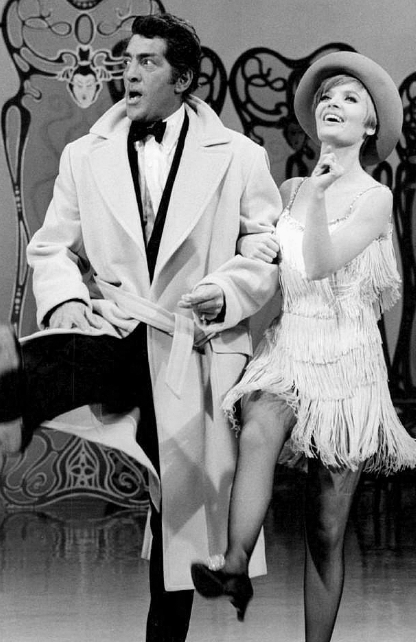 He had a multitude of regulars and recurring guests on his show. He did a lot of solo performances on his show in addition to joint performances with guests. He also implemented a 'mystery singer' segment on his show, one of them being friend Frank Sinatra at one point, where they both sang "Strangers In The Night" together.