The Nanny
Fran Drescher Shares The One Specific 'Nanny' Episode Everyone Talks To Her About
Fran Drescher skyrocketed to fame with the sitcom The Nanny. Drescher played the titular and starring role of Fran Fine from 1993 to 1999. With her and the show so beloved, naturally, fans have certain points they like to bring up with her on multiple occasions.
With The Nanny newly available on HBO Max for streaming, Drescher finds herself in the spotlight once again. To celebrate, she shared some insights into her experiences with the show, her career, and what fans got out of it all too.
Miracles do happen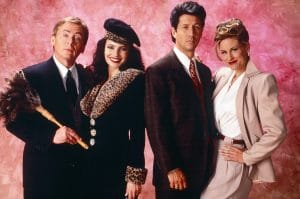 The enduring '90s sitcom The Nanny came to HBO Max streaming on April 1. It was not, in fact, an April Fool Day Prank, but actually a move that led to a resurgence in the show's popularity. That it even made it this far, series lead Fran Drescher considers miraculous. "They didn't really have the budget," she revealed, speaking of the sitcom's premiere, which is also her favorite episode.
She went on, "They didn't want to give us all the money, so we kind of borrowed everything to do it and then as soon as we got picked up, that was when we did the animated opening titles. That was when we got that beautiful set with the curved staircase and all that."
The moments that stood out to Fran Drescher
With 146 episodes spanning six seasons, Drescher's had a lot of time to collect fond memories. But the pilot remains among her favorites because of what it represents. "The pilot was an amazing pilot, because you really wanted to come back and spend more time with these people you just met," she explained. She went on to express these feelings of wonder for the show overall. She emphasized, "First of all, I'm grateful. Because it's a miracle. Everything about it was meant to be. I was meant to become famous only so I could do all the other things that I do and be able to have a platform to do them on."
Though, another episode has earned her affection. Drescher went on, "The other episode that I loved is when I go with C.C. to the sushi bar, and I never had sushi before and I eat the wasabi and it clear up my sinuses. That, to me, has kind of become like the candy on the conveyor belts of I Love Lucy. Everybody brings it up wherever I go. So I can tell that it's one of those memorable things. What was your favorite moment in The Nanny?