Uncategorized
Inside the 20-Year Feud of Legendary Comedy Duo Jerry Lewis and Dean Martin
Mutual pal Frank Sinatra planned the surprise reunion that broke their silence.
It sounds like the plot to one of the 16 movies they made together: Two friends with little in common but their admiration for each other go their separate ways after extraneous circumstances test their bond, only to heal the rift when life brings them back into each other's orbit.
Such was the case of life imitating art for icocomedy duo Jerry Lewis and Dean Martin. The pair stopped speaking to each on the 10th anniversary of their first act together, People notes, and didn't reunite until 20 years later, when mutual friend Frank Sinatra arranged a "surprise on-air reunion" on Lewis's muscular dystrophy telethon in 1976. Even then, it wasn't until the funeral of Martin's son, Dean Paul Martin Jr., who died in a plane crash in 1987, that the men fully reconciled. They remained casual friends until Martin's death in 1995.
Lewis, who died Sunday at age 91, first spotted Martin performing at New York City nightclub. Recognizing raw talent, Lewis jumped at the chance to meet Martin, later, when they played the Havana-Madrid club on the same night in 1946. As he revealed in his 2005 memoir, Dean and Me: A Love Story, Lewis, nine years younger than Martin, approached his future comrade by asking, "You workin'?" They struck up a friendship and began experimenting with routines off the clock.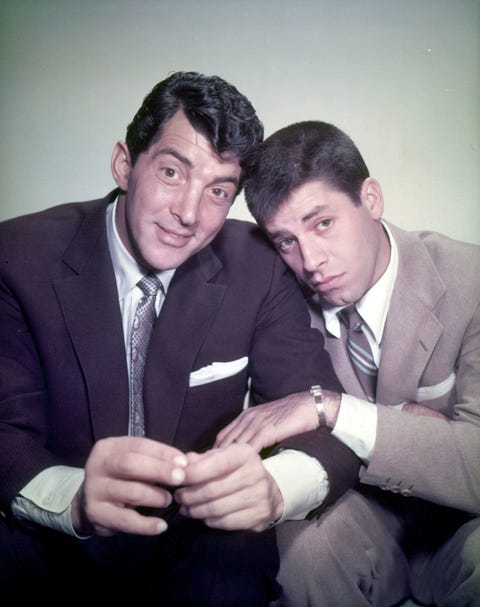 Then, when a slot for a singer opened at Atlantic City's 500 Club, Lewis talked the owners into hiring Martin. The odd couple finally had a chance to perform the bits they'd practiced on July 25, 1946—the result was a runaway success that kickstarted a new chapter in their careers.
Lewis played the funnyman to Martin's suave, handsome onstage persona, a combination that proved irresistible to audiences. "When these two guys got together and opened at the Copacabana, you would not believe the pandemonium that existed in that club," singer Steve Lawrence told People."It just went nuts, and you couldn't get in the joint after that."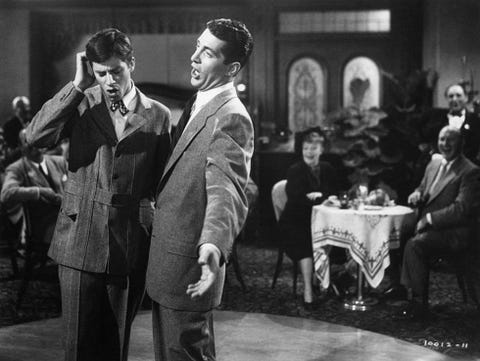 Martin and Lewis in 'My Friend Irma' (1949)GETTY IMAGES
In their decade together, the "sexy and slapstick" duo, as Lewis once described their style, made 16 films together and co-hosted The Colgate Comedy Hour variety series, among other radio and television appearances. Towards the end, however, resentment grew between the friends, and they argued frequently, according to the The Hollywood Reporter.
Their problems escalated during promotion of their 1954 film Living It Up, when Look magazine cropped Martin out of a photo, according to USA Today. The pair completely ignored each other while making their final movie, Hollywood or Bust. Lewis later copped to his ego problems, describing himself, in his memoir, as a "bully" during this period. As a farewell, Martin and Lewis performed one last show together at the Copacabana in New York City, 10 years to the date after their first routine.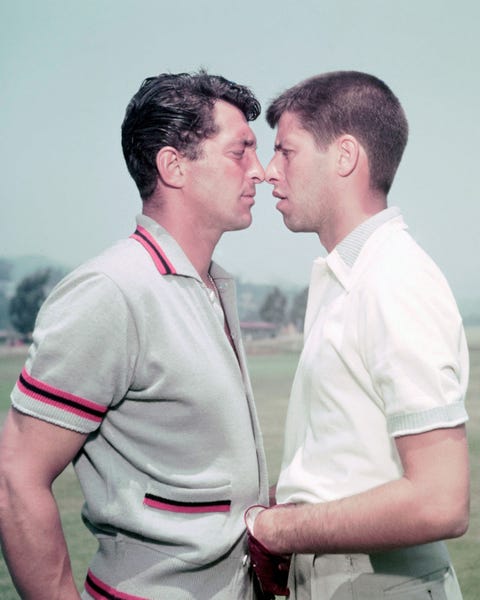 When Sinatra orchestrated their surprise reunion during Lewis's annual Labor Day fundraiser in 1976, he caught Lewis "completely off guard," according to Vanity Fair. Martin, who'd been hiding in telethon co-host Ed McMahon's dressing room, crossed the stage and greeted his former partner with a hug and a kiss, eliciting a standing ovation from the audience. Lewis wasn't so thrilled: "You son of a bitch," he can be heard saying to Sinatra.
"So, how ya been?" Lewis asks.
"You know, it seems like we haven't seen each other for 20 years," Martin says.
"Well, you know, there was all those rumors about our breaking up—and then when I started the show and you weren't here, I believed it."This content is imported from YouTube. You may be able to find the same content in another format, or you may be able to find more information, at their web site.
"They loved each other," Martin's daughter, Deana, told Vanity Fair last year. "There was something amazing about Dad. He was nice and sweet and kind to everyone, and he would let things go. But when he had it up to here, he'd had it up to here. There was no fight or any yelling. He would just be done."
On Monday, Deana Martin commemorated "Uncle Jerry" with an Instagram post. "I've loved him all my life and will miss him greatly," she wrote.