Keanu Reeves
Keanu Reeves Makes Unexpected Appearance at Couple's Wedding Reception
Abride and groom got the shock of their lives at their wedding after Keanu Reeves made an unplanned appearance at the reception.
Planning a wedding can be stressful with a 2020 survey of over 2,000 newlyweds conducted by retailer Zola finding that 40 percent of couples considered the experience "extremely stressful."
Meanwhile, 71 percent of respondents claimed it was more nerve-wracking than most major life events, including finding a new job.
When it comes to the wedding, the bride and groom simply want everything to go off without a hitch – no pun intended – but it can sometimes pay to expect the unexpected
While things don't always go to plan, it's important to roll with the punches and, every now and then, the stars can align to create an opportunity to add something extra special to the proceedings.
That was certainly the case for James and Nikki Roadnight.
The U.K. based couple tied the knot this past weekend after two happy years together, marrying in front of friends, family, and Nikki's 5-year-old daughter.
However, an already magical day took an unexpected turn during their reception at the idyllic venue of Fawsley Hall in Northamptonshire when James discovered Reeves was staying at the hotel.
Nikki told Newsweek: "My husband saw him in the bar area and told him he'd just got married and invited Keanu to come over to say hello and have a drink with us if he wanted to.
"He was very friendly and said he would later on. We didn't know if he would or not but it was cool that my husband had spoken to him!"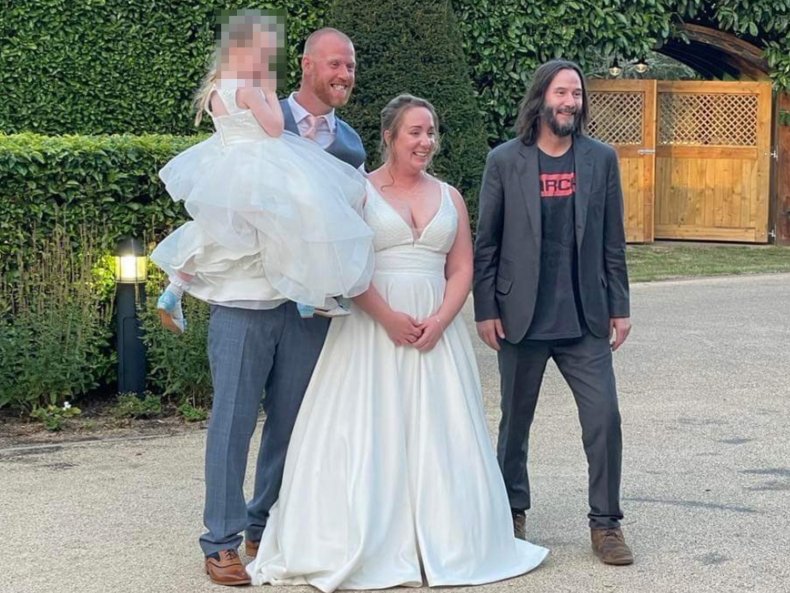 An hour later, a member of staff at the hotel approached the bride to inform her a "very special guest" was outside and wanted to speak to her.
When she got there, she was greeted by the John Wick star.
"It was all very exciting and I went to say hi and introduce myself, and I offered him a drink but he declined that and said he'd just had a long flight so wouldn't stay long but he was so kind and friendly and congratulated us on our wedding," she said.
"He was kind enough to do some pictures and our wedding photographer was able to capture some too! Then he took the time to speak to some of our guests and have more photos done!"
She said both her and her husband, as well as her guests, were left "a bit starstruck" by the encounter, though it made for quite the talking point on her big day.
Nikki said: "My mum, Jo, took photos and shouted for everyone to yell 'Speed' as she took the photo. We laughed about that as it's one of his older films! We are big fans. I absolutely loved The Matrix movies and really big fans of the John Wick films too! It was so cool!"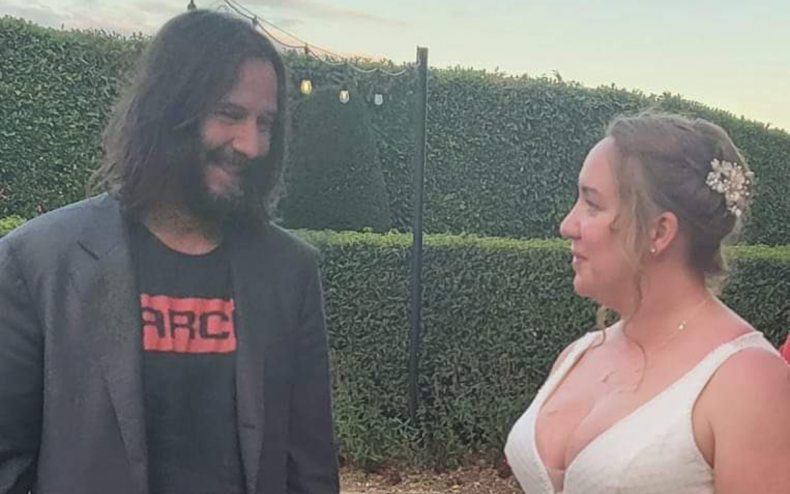 The encounter and Reeves' approachable demeanor were the icing on the wedding cake for both James and Nikki.
"The wedding was absolutely perfect anyway and we had the most magical day," the bride said. "Keanu Reeves dropping by to say hello was just out of this world. Something to remember and the start of many more adventures together."