Uncategorized
Married With Children Reunion! Katey Sagal, Christina Applegate, Ed O'Neill & David Faustino Together Again 17 Years Later
Sagal's former costars showed up to honor her star on the Hollywood Walk of Fame, just in time for tonight's premiere of Sons of Anarchy's final season
The Bundys look like one big happy family…for a change!
Seventeen years after the last episode of Married With Children aired, Ed O'Neill, Katey Sagal, Christina Applegate and David Faustino–aka Al, Peg, Kelly and Bud–were all together again Tuesday in honor of Sagal, who received a star on the Hollywood Walk of Fame.
The precise timing of course coincides with tonight's premiere of the seventh and final season of Sons of Anarchy, the gritty FX series that has won Segal a new generation of fans for her role as crass, determined, fiercely protective and super-unstable family matriarch Gemma Teller.
Her current TV son, Charlie Hunnam, was also on hand today to support the mother of all motorcycle club old ladies.
But back in the dayMarried With Children enjoyed an 11-season run on Fox before signing off in 1997—and look how the Bundys are looking in 2014!
Sagal, who was nominated for four Golden Globes for playing big-haired, whiny housewife Peg Bundy, finally won one in 2011 for playing Gemma (and most Sons fans—not to mention its creator and Sagal's husband, Kurt Sutter—will tell you that she's been repeatedly robbed, as has the show, in the Emmy department).
PHOTOS: TV shows that your favorite stars are geeking out over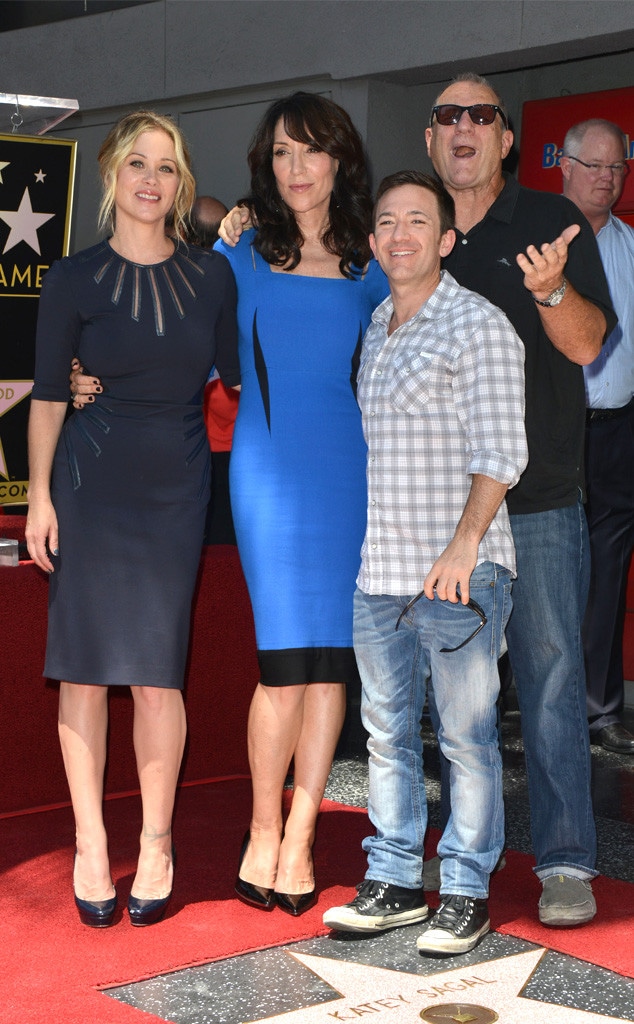 Tony DiMaio/startraksphoto.com
Since her breakout role as bleached-blond, popular-with-the-boys Kelly Bundy, Applegate went on to Broadway, the big screen and several of her own sitcoms, and won a Best Guest Actress Emmy for playing Jennifer Aniston's sister on Friends. The actress and frequent So You Think You Can Dance guest judge looked lovely today in a Catherine Deane dress.
O'Neill stars as family patriarch Jay Pritchett on some ABC show called Modern Family, which has only won the Best Comedy Emmy for five seasons in a row now.
Faustino, pervy little Bud Bundy all grown up now at 40, has worked consistently in television, most recently playing himself on Real Husbands of Hollywood and lending his voice to The Legend of Kora.