Uncategorized
THE TRUTH ABOUT ROCK HUDSON'S RELATIONSHIP WITH ELIZABETH TAYLOR
Rock Hudson might have been best known for his films with bubbling co-star Doris Day, but his closeness with actress Elizabeth Taylor forged a friendship that would last the rest of his life. And for Taylor, her love and devotion to Hudson inspired her to immerse herself in charitable causes benefiting HIV and AIDS patients.
The two stars were already big names in Hollywood by the time they co-starred in the 1955 film that would give rise to their relationship. Hudson, who had achieved stardom with the film "Magnificent Obsession," had emerged as an A-List actor after years of playing bit parts. Taylor had made the difficult transition from a teenage star with roles in films like "National Velvet" onto the A-list herself, garnering roles in "Father of the Bride" and "Elephant Walk (via IMDb).
Hudson and Taylor, on screen together for the first time, had the makings of a Hollywood hit. After being cast in the film adaptation of the Edna Ferber novel "Giant," the two not only had great on-screen chemistry but also began a tight relationship.
TAYLOR AND HUDSON BECAME CLOSE ON THE SET OF GIANT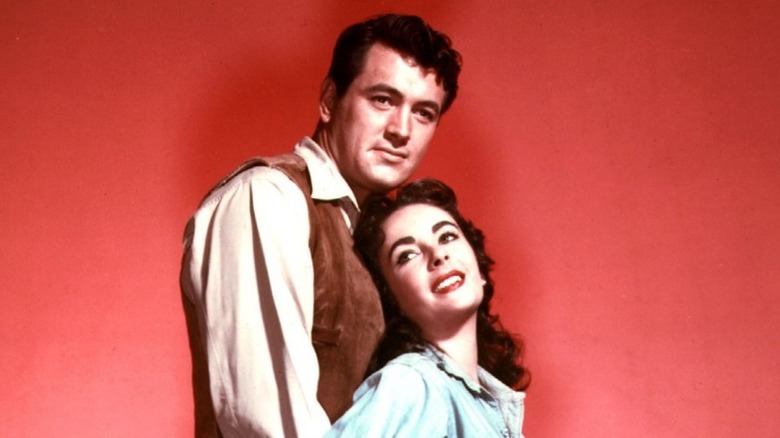 United Archives/Getty Images
Released in 1956, "Giant" is the story of a Texas horse rancher who visits a farm in Maryland to buy a horse. The rancher meets and falls in love with the horse owner's daughter, whom he marries. It's a saga about change in America that takes place over the married couple's next two generations. Receiving top billing in this film were Hudson and Taylor, who played pivotal roles of the family patriarch and matriarch. Joining them on screen was up-and-coming star, James Dean.
People report that Hudson and Taylor grew close during the filming of "Giant." They became "drinking buddies" from the start, forming a friendship that would last until Hudson's death from AIDS complications in 1985. The Selvedge Yard tells of how the relationship between Hudson and Taylor was filled with "jokes, pranks, and laughter," with Hudson's closeted homosexuality making their bond stronger.
DEAN'S UNTIMELY DEATH SHOOK TAYLOR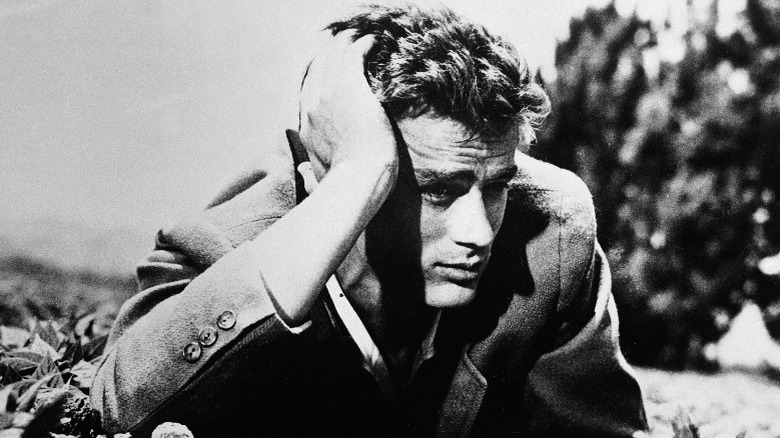 Hulton Archive/Getty Images
The work on "Giant" was met with an unexpected tragedy before the film was completed. On September 30, 1955, James Dean was killed in a car crash when the Porsche he was driving collided with a Ford Tudor sedan (via History). The driver of the Ford escaped relatively uninjured, and Dean's passenger was able to survive moderate injuries. Dean, however, wasn't as fortunate. He was taken to the hospital where he was pronounced dead (per OK News). 
Taylor, who had also grown close to Dean on set, was shaken by his untimely death. When the news was broken to her by "Giant" director George Stevens, Hudson later recalled that Stevens "wasn't kind to her" (per Chicago Now). Hudson went into further detail, claiming that Stevens made Taylor return immediately to work. Further defending his co-star, Hudson stated that "George forced her to come to work after Dean's death. He hadn't finished the film. And she could not stop crying."
TAYLOR KNEW OF HUDSON'S SECRET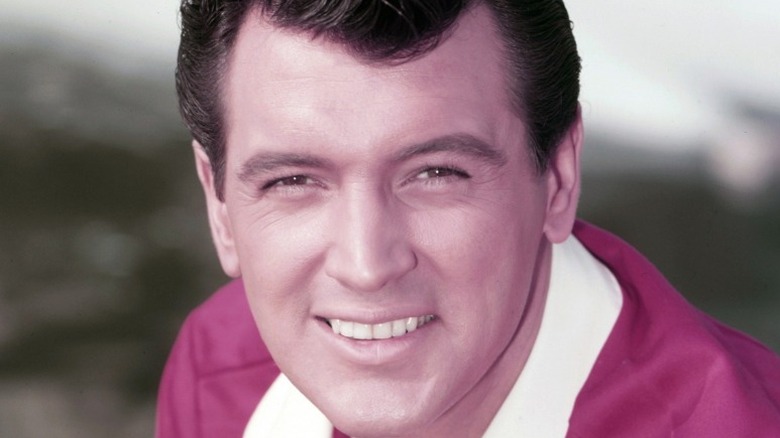 Icon And Image/Getty Images
In a time where being anything but heterosexual would tank your career, Hudson kept his homosexuality a closely guarded secret. Following strict rules from his agent, Hudson and his lover at the time, Lee Garlington, were strongly urged to not be photographed together. In fact, the only photo taken of the two of them together in the States was of them in a bar in New Orleans, according to Garlington (via Fox News). 
According to Garlington, Taylor knew of his relationship with Hudson. It was Taylor who suggested that the two of them sneak away to the then-quiet beach town of Puerto Vallarta, Mexico. Without any paparazzi or fans, the two of them would be able to live their lives like a normal couple while visiting.
Taylor must have known that Hudson being public about his relationship with Garlington would have its risks, a fact not lost on one of Hudson's modern biographers. "Sadly, at the height of his fame, being authentically who he was would have resulted in a terminated contact and a shattered career," said Mark Griffin, who authored the Hudson biography "All That Heaven Allows."
TAYLOR REMAINED CLOSE TO HUDSON UNTIL HIS DEATH IN 1985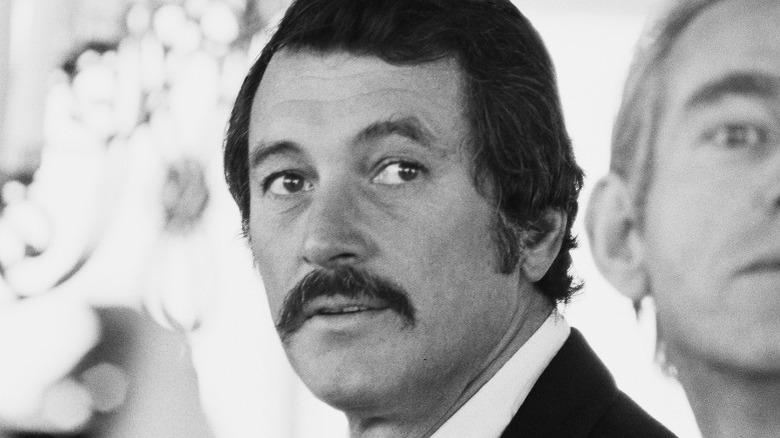 Evening Standard/Getty Images
When Taylor heard the news of Hudson being in the hospital with complications from AIDS, she schemed with his doctor to get into the hospital, unannounced, to see him. People Magazine interviewed Hudson's doctor, Michael Gottlieb, in 2015. Gottlieb recalls how the pair snuck up to Hudson's 10th-floor room in a freight elevator so that they could be undetected by media and security. He noted that they didn't have a pass and were effectively breaking and entering to see Hudson. Gottlieb also describes how Taylor was concerned about Hudson's condition, even going so far as to ask him if it would hurt her friend if she hugged him. 
When Hudson died on October 2, 1985, Taylor planned a memorial service for him at his Beverly Hills home. It was a fond farewell, complete with Mariachi music and margaritas. Regarding the memorial party and Taylor, Hudson's business manager Wallace Sheft stated that it was a "beautiful job," and that she was "very devoted" to Hudson.
TAYLOR BEGAN A LEGACY OF AIDS AWARENESS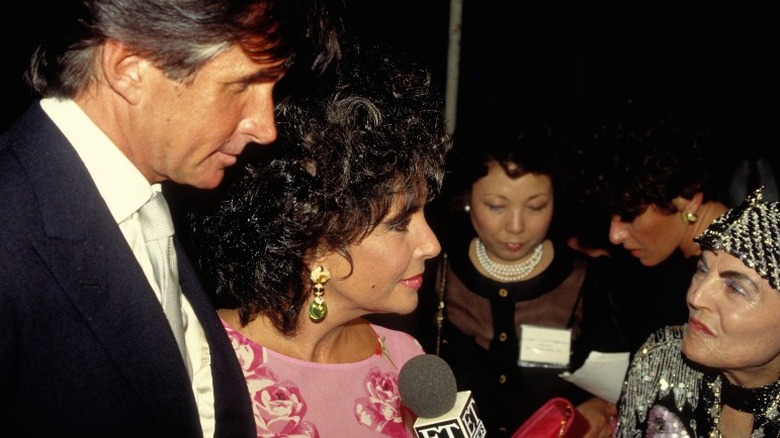 mark reinstein/Shutterstock
Though Taylor was devastated by the news of Hudson's illness and his passing in 1985, she channeled her grief towards noteworthy causes. People credits Taylor with becoming one of the first A-list stars to demand action and raise awareness for HIV and AIDS. The New York Times reports that Taylor was one of the sponsors for the 1985 event "Commitment to Life" event, which set a goal of raising $1 million for the AIDS Project of Los Angeles. It featured entertainment by Cyndi Lauper, Sammy Davis, Jr., Carol Burnett, Rod Stewart, and other stars of the day. Along with raising awareness, the event had the dual purpose of eliminating stigmas associated with AIDS, HIV, and the patients who contracted these serious conditions.
Taylor also founded The Elizabeth Taylor AIDS Foundation in 1991. This organization has helped to raise over $17 million to date which has been spread to nearly 700 different organizations across the world.